PPA Benefits
Tools & Knowledge Used by Photographers Who Run Profitable Businesses!
       Create YOUR FREE account     Join PPA Today!
If you're serious about earning income from photography, the world's largest and most-experienced association can help you do that! And if you're on your way to making photography your full-time career, you have to become a member! Because…
Photographers who are members of PPA have access to a multitude of resources that will help you be more profitable…
And in the long run, it costs you more to NOT be with PPA! How? Because there are SO MANY resources included with the PPA membership that it would be crazy to pay for them a la carte!
Take a moment to explore the variety of resources that PPA offers. We're a nonprofit and we're here to help you make and save more money!
ADVERTISEMENT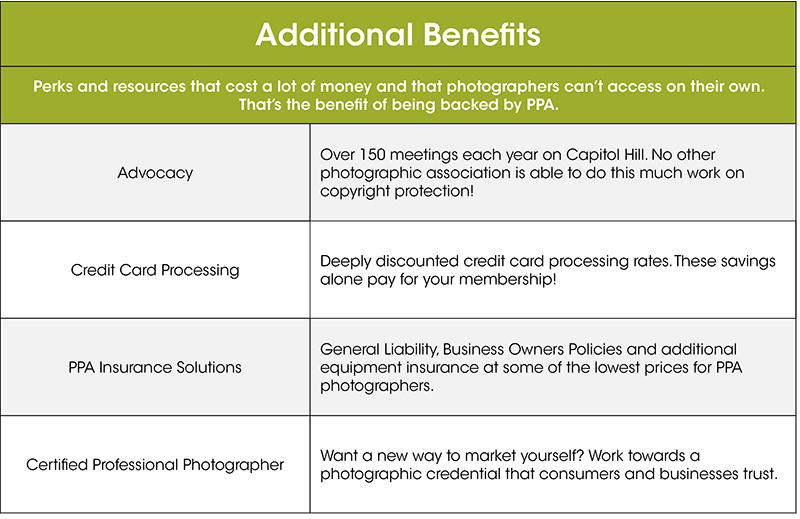 Student? International? There are different membership types for different kinds of photographers, so compare them to see which is right for you. 
The best way to get it all, of course, is to join PPA as a Professional Active member! Once you take the reins of your membership benefits, YOU WILL BOOST YOUR PHOTOGRAPHY BUSINESS! And if you're not ready quite yet, consider the FREE PPA ACCOUNT! You'll get lots of freebies, videos, articles, webinars, and more! It will help you:
Be More Confident 
Be More Informed
Be More Prepared
       Create YOUR FREE account     Join PPA Today!