Alli Peck's heart-warming portraits from a land of snow and ice
The Great Plains of Canada are wildly beautiful, with open prairies and deep green forests stretching eastward for miles from the base of the Rocky Mountains. Though they extend mainly across the so-called "prairie provinces" of Alberta, Saskatchewan, and Manitoba, they begin humbly in the northeastern edge of British Columbia, where the jagged mountains end peaceably in a majestic backdrop. Winters are long and cold here, with heavy snowfall and sustained below-freezing temperatures that yield unwillingly to the quick summer months.
In the midst of this natural splendor, maternity and newborn photographer Alli Peck has fostered a thriving studio, Glow Portraits by Alli. Never mind the severe winters. It's clear that this area is beloved to Peck. "We have the most amazing northern lights up here," she says. "And the sun is so bright, with a perfectly blue sky. Sometimes it's so cold that if there's any moisture in the air, it just freezes like diamonds. It's so beautiful."
Situated on some acreage in the small rural town of Charlie Lake, Peck's studio is conveniently located in a detached building adjacent to her home. Part of Canada's growing oil and gas sector, the area is a draw for young workers, which for Peck translates into a steady stream of budding young families.
"It's an amazing area to work in," she says. "We have one of the highest birth rates per capita in Canada. With all of these expecting moms and newborns, I definitely saw the need for portraits of babies and bellies."
Peck has been photographing those delightful baby bumps and precious newborns for 10 years, and in the process she's become a sought-after mentor and teacher. She limits workshops to two or three each year, mainly, she says, because it takes four plane rides to get just about anywhere. But she happily hosts one-on-one mentoring sessions for anyone willing to journey to her neck of the Pacific Northwest. Her years of working with expectant mothers and delicate newborns have made her a confident teacher and artist. She's fine-tuned her style, from lighting to color to post-processing, and resists the temptation to stray from her successful formula.
"I believe that the focus should always be on the mom or the baby," she says. "I know what I enjoy doing, and I stay true to that. My clients trust me and my vision."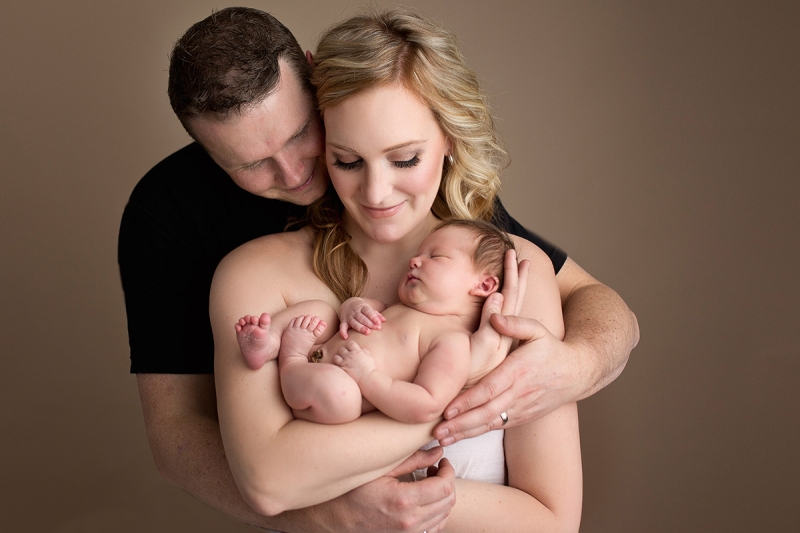 PECK'S SUCCESSFUL FORMULA
Control focus with light and color. Soft color palettes, neutral backgrounds, and bright, diffused lighting are Peck's trademarks. Though she was trained to use a three-point lighting system with all of its trappings, she prefers to simplify with one large light source on most days. For newborns, that typically means a single light behind an 8-foot octobox off to one side to simulate bright, natural window light spilling across baby's features. For maternity portraits, she'll use a similar setup but set at a more dramatic angle for a stronger outline of the woman's robust form.
"Pregnancy just amazes me, so I always make it about the mom," says Peck. "It's all about the right combination of posing and lighting, finding what's flattering to their natural shape."
That's where color and texture come into play as well. Some mothers are comfortable in tight, clingy lace, while others want long, flowing fabrics. Regardless, Peck is a stickler for keeping the look simple and clean. Solid colors, light backgrounds, and limited textures drive the viewer's eye straight to mom's graceful figure.
For newborns, similar rules apply, though Peck allows more texture in the form of weathered woods, chunky knit blankets, and plush furs. The color palette remains muted to drive the focus back to that creamy newborn skin.
"I always try to keep the other elements simple," she says. "I don't want to overwhelm the subject with a lot of props. I also want something timeless, that in 10 years they'll still love."
When it comes to posing, similar rules apply. Peck wants subjects to look natural and serene, comfortable in front of her lens.
"That's what most new photographers want to know about, posing and editing," she says, adding that she'll be speaking to those topics at PPA's Imaging USA 2016 convention in January. "There are so many little tricks that every established photographer uses, and posing for newborns and maternity is really a lot of the same with everyone, so it really comes down to your own styling and editing techniques. I use clean edits and keep things simple."
For example, Peck will color-correct a newborn's sometimes purplish skin or lightly soften baby acne and flaking. For maternity, she softens stretch marks at the mother's request, but she doesn't remove them entirely. Instead, if a woman has more marks than she'd like to reveal, Peck uses posing and lighting to make them virtually disappear or a drape of gauzy fabric to provide more coverage.
"It's a fact of life that our bodies change," she says. "You can Photoshop a photograph of a pregnant woman and turn her into something very different. But you don't really want to do that. A woman is going to look the way she looks when she comes into the studio. It's all about turning her to a certain angle or softening certain aspects that she's unhappy with."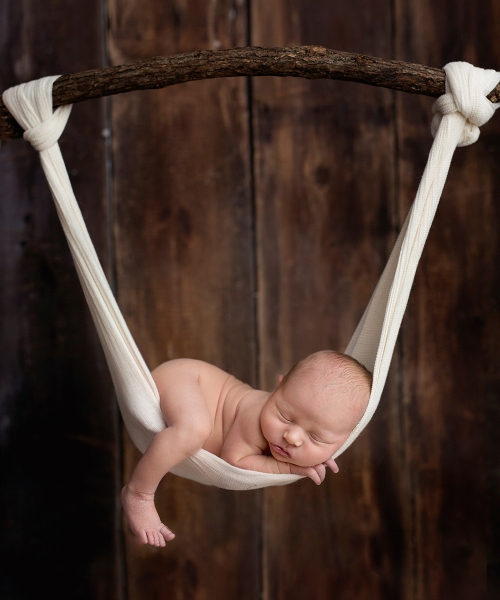 Set the tone by taking control. The other question Peck is most commonly asked by her students is how she gets her clients naked.
"From the very beginning, when they first walk through the door, you have to set the tone," she says. "You have to make them feel beautiful, like they want to show their figure. If you tell a woman to look down at her belly and smile, you're going to get a huge grin and her chin on her chest. They have no idea how to pose. You have to do a lot of directing and talking and just making them feel beautiful."
Peck says she'll often put the camera down to show her clients the pose she's looking for. Getting naked or showing more than the usual amount of skin can be daunting, especially for pregnant women, who often feel their bodies are working against their self-esteem. She's even twice been known to get naked herself to help put a nervous boudoir client at ease. "It was crazy but it worked!" While Peck acknowledges that you don't have to go au naturel to make clients feel comfortable, the underlying message is that the photographer sets the tone for the session. Showing confidence as a photographer is key, and that often comes only with experience.
While British Columbia offers an abundance of majestic landscapes, the natural splendor Peck sees in her own studio isn't lost on her.
"So many women have negative images of their bodies and just aren't comfortable, especially with the changing pregnant body. Being able to have them trust me and to show them how truly beautiful they are is so special to me."
RELATED See a gallery of images by Alli Peck.
Stephanie Boozer is a writer in Charleston, South Carolina.