The Nikon D850 is the flagship of Nikon's centennial year, a summation of everything its designers know about what photographers want from a camera. But how is it as a video camera? Like all hybrid still/video cameras, it's not a perfect filmmaking machine. But those shortcomings may only matter to dedicated video shooters. For still photographers who shoot video, the Nikon D850 serves as an extremely capable digital video camera.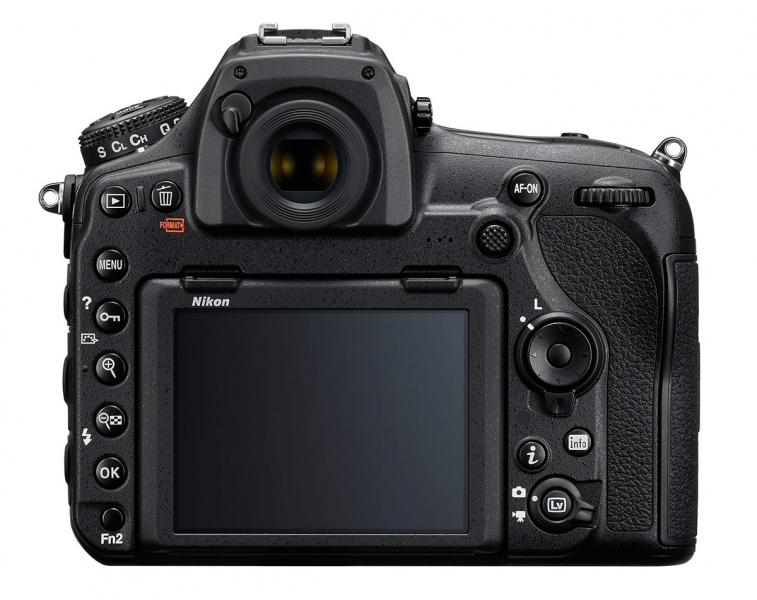 Format size
As a novice filmmaker, I really appreciate that in 4K UHD, Full HD (1080p), and HD (720p) modes filmmakers have the choice of using the full width of the sensor, or an APS-C image area width. This relates primarily to focal length choice and depth of field. For example, if you're using a 24mm lens, you have the choice of either a 73.7-degree horizontal angle of view using the full width of the sensor or a 53.1-degree horizontal angle of view if you choose the smaller DX image area. The DX choice is close to the horizontal angle of view you'd have with a 35mm focal length lens when filming in FX format. If you're looking to create a cinematic look with more limited depth of field, using the FX image area will give you a consistent depth of field, no matter what size the image format—an f/1.4 lens of a given focal length remains an f/1.4 lens of that focal length. Conversely, keeping a narrow angle of view with deep focus means shooting in the DX-format with a shorter focal length lens.
Over-exposure and focus peaking indicators
New to Nikon cameras and DSLRs in general are zebra striping to indicate overexposed areas and focus peaking to highlight (red, yellow, blue, or white) what's in focus.
The overexposure zebra indicator is pretty straightforward, and you can choose to have it activated at eight different brightness levels: 255, 248, 235, 224, 213, 202, and 180. These are 8-bit photography values as opposed to Luma percentage values, but they measure the same thing. I set the camera so the zebras appear for any value over 248 to retain important highlight details. You might also use the zebras as a creative tool to indicate correct exposure for light colored subjects against a dark background. The Highlight indicator settings are located in Custom Settings Menu G2.
Focus peaking is really handy both for video and live view still shooting, and it works rather well, with three degrees of peaking sensitivity. It does have some idiosyncrasies, however.
It doesn't work at the higher levels of live view magnification.
You can't use focus peaking and the highlight indicator zebras at the same time. I don't know why this is the case, but I hope we'll be able to use both simultaneously in a future firmware update. 
There's no focus peaking in 4K video mode.
The camera and autofocus lenses need to be switched to manual focusing; electronic VR must be turned off; and Active D-Lighting in video mode must be turned off as well.
Formats and frame rate options, including slow motion and time lapse   
The D850 can shoot in HD, Full HD, and 4K formats at a variety of frame rates, including slow motion (in Full HD format only), and it can also shoot in-camera processed 4K time-lapse sequences. You can capture 8K time-lapse sequences, but they'll need to be assembled in post-processing using Final Cut Pro X, Adobe CC Premiere, or similar software.

One feature missing from the D850 is Log-Format recording. While Nikon's Flat Picture Style profile is clearly the best choice for shooting video, the advantages of having a true logarithmic output as an option instead of being limited to the 8-bit MOV or compressed MPEG-4 formats are somewhat akin to the differences between shooting in NEF and "partially cooked" TIFF or JPEG formats. A true Log-format records the full dynamic range of the sensor. Do your research and decide if you want or need to do post-capture editing on your video. With the Nikon D850, the Flat Profile will be best if you plan to do color grading and editing.
Sound
There are built-in stereo microphones along with internal recorder options for Noise Attenuation, a choice between Wide and Vocal frequency response ranges, and wind noise reduction. There are also separate stereo 3/8-inch connections for external sound input and headphones. While the sound quality is decent, for higher quality sound, photojournalist Michael Schwarz recommends that along with the camera's sound recording tools you use an external recorder with multi-channel capability and possibly a mixer along with whichever types of microphones are best suited to the subject and situation (a run-and-gun shoot is a very different situation than an interview filmed in more controlled circumstances). Michael also recommends using the camera's audio as a guide for video editing software to automatically synchronize with the externally recorded audio.
The Nikon D850 features USB 3.0 and HDMI outputs, useful for using external video monitor-recorder combinations such as those in the Atmos Ninja series.
Power
Remember that if you shoot a lot of video, keeping your sensor "hot," using the Live View screen feed, and shuffling data to the XQD or SDXC media means you'll need multiple spare batteries.   
The Nikon D850 is clearly one of the best digital still cameras made today, holding its own and then some in terms of image quality with current medium-format offerings. While there is some room for improvement on the video side of things, it's quite capable in that arena. While I still think of DSLR and mirrorless cameras as hybrid beasts when it comes to video, we are now well past the days when camera makers would say, "Oh, yeah it shoots video too." These classes of camera are not equal to the caliber of professional video cameras, but they're getting close.
Ellis Vener is contributing editor of Professional Photographer.