It wasn't anything he'd had in mind for the session. But suddenly it was perfect. "The makeup artist brought the model in to show me the makeup, and the model had hot rollers in her hair," photographer Thomas Dodd explains. "I was like, 'Oh, oh, come here, come here, come here!'"
The model wasn't amused, he admits. "She's like, 'I can't believe he's taking my picture.'" But the profile portrait he made served as the foundation for what he deems his first iconic work, "Brainstorm" (below, right). And it became the catalyst for building his reputation as a fine artist.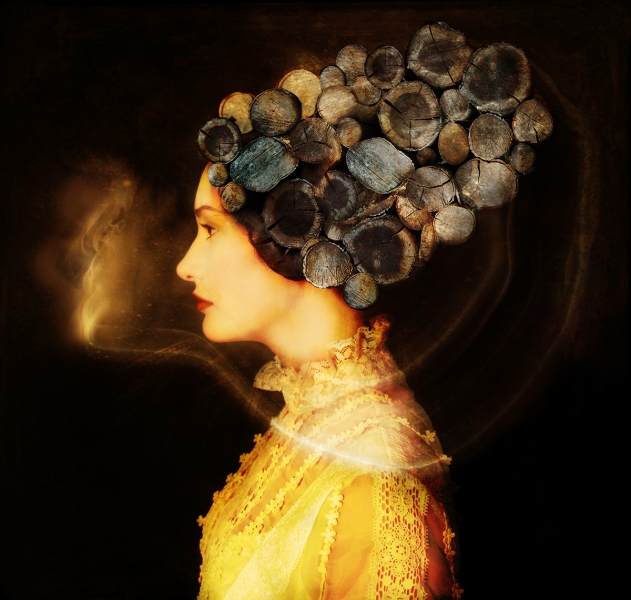 In post-processing, Dodd sampled a photo he'd made of firewood and meticulously shaped each log to each roller in the model's hair, then built on that to create a stack. "As I was doing that I was thinking of a concept that jazz musicians use called 'woodshedding,'" says Dodd. A new artist will join a jam session only to find that his or her skills aren't up to snuff. "It's like head cutting. They shame you," Dodd says. "If you really want to get better, you retreat to your room and you woodshed. You get better. You pick up your chops."
"I look at art the same way," Dodd says. "In the evolution of an artist, it's easy to get caught up in [believing] this is how I do things and this is the way I create and this is my style. Sometimes then that becomes the laurels that you rest upon and you stop progressing and you start coasting."
"Brainstorm" was a step up. "I did that in 2010, and it brought me some attention," he says. It was then that Dodd's fine art photography began to emerge on a national level.  
First, music
Dodd's career as an artist began with 1980s punk rock, which inspired him to learn guitar, start several bands, and eventually led him to the Celtic harp and a 1990s group called Trio Nocturna. The band put out three records, toured, and enjoyed a fan base, but by the early 2000s had stopped performing. It was a dark period, says Dodd, who by that time had been working in music for 25 years. 
"I think it was around 2005, I was messing around on the internet and I found a website called yafro.com, now defunct," he says. The site had a component called mod clubs that allowed users to upload photos of themselves that anyone could edit. "I got very intrigued by that, and at first it was just fun messing around," he says. After a few months using Photoshop, Dodd realized the way he felt editing mod club photos was the way he'd felt making music. "I'd found my passion again," he says. So in 2006, he began getting serious about photography, bought his first camera, and started working with models. "And that's what I've been doing ever since."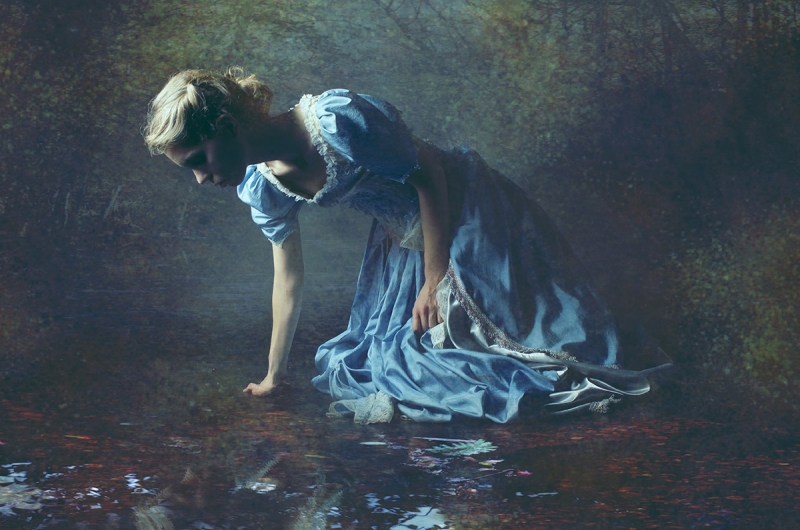 Archetypal
Dodd's style evolved out of those first mod club manipulations. With those images, "I wanted to see if I could take a mundane kind of selfie and turn it into an art piece," he says. Back then, the webcam photos people often uploaded were heavily pixilated, so he found ways to conceal those flaws, and in doing so developed a certain look. "I think almost from the onset—though it certainly took years to develop the style—my approach was with an eye toward making things painterly and fine art."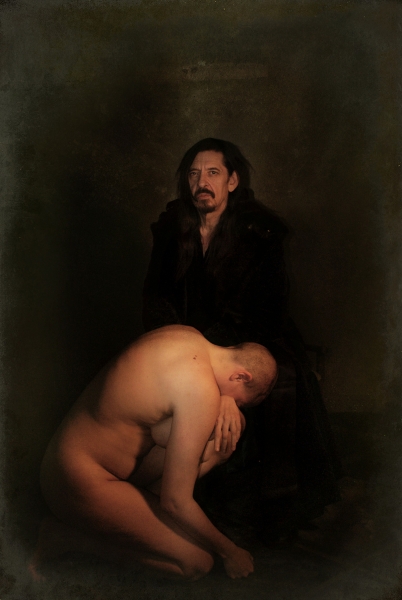 Dodd says he's always enjoyed storytelling, drawing from myths and historical lore to guide his concepts, image making, and editing. As a kid he loved tales like "Rumpelstiltskin" and "Rip Van Winkle;" as an adult he studied the writings of mythologist Joseph Campbell, who "tied everything to archetypes," Dodd explains. "There are these stories, there are these symbols that are embedded in our consciousness. If you look at all ancient cultures and civilizations, you will see these common themes."
These themes—"a well that never runs dry," he says—make their way into Dodd's art, sometimes purposefully, sometimes not. "It's a very vast storehouse of creative information. It's like having a blueprint for creativity that you can then put your own spin on."
Though Dodd often plans sessions—model, wardrobe, makeup, sets—with a certain myth or story in mind, once the session begins, he follows his creative impulses. "I like to call it being an improvisational conceptualist," he says. For example, there was one session he styled and prepped that required a model who was willing to shave her head for the portrayal of a heretic and some "middle-aged guys with really interesting faces" who would depict her evil inquisitors. But by the end of the session, the concept had transformed into something different: a symposium of a lobotomy demonstration, Dodd says.
On approaching galleries
Do your research. Make sure you're submitting to a gallery that will be interested in your style of photography. For example, Dodd doesn't submit his fine art work to a gallery that shows only traditional black-and-white darkroom prints.
Follow submission instructions. Some galleries require a promotional package with prints and a bio. "Needless to say, that should all be very professional looking and should stand out from the herd," Dodd says. "Maybe put a nice logo sticker on it and make the package look real nice."
Emails may work, too. More often these days, Dodd finds that a well-written email and a couple of low-resolution photos—so you don't clog up someone's inbox—can be a foot in the door.
Submit to group shows. Group photography shows are a good place to start when you're first entering the gallery scene.
Start at the bottom. Just as a band starts out playing at coffee shops and small venues, artists, too, start at coffee shops and bookstores and then progress up the gallery chain. Don't even think about contacting the most prestigious gallery in town when you're starting out, Dodd says. "You're not going to get it." 
Expect rejection. It's part of the process.  
Follow your bliss
He's also allowed his intuition to guide his career path. When Dodd started making photographs, he considered commercial photography, lining up a few gigs in music and fashion. But he felt stifled working toward another person's vision.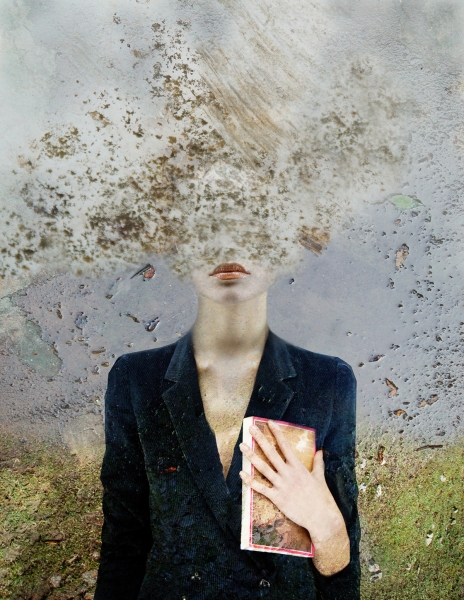 So he dropped commercial work and focused on his art—ideal for his creative spirit, not so ideal for his bank account. To supplement his income in those first few years, Dodd worked for a home healthcare agency, which offered flexible hours, a steady paycheck, and didn't sap his creative energy. Eventually he began submitting his work to galleries, a pursuit that is an art unto itself.
Dodd has practical tips for photographers who want to submit work to galleries (see "On Approaching Galleries") but says networking plays an important part. If he's interested in a particular gallery, he often reaches out to artists the gallery represents to see if they have advice about getting the gallerist's attention. (He prefers reaching out to painters over photographers because he finds them to be less competitive.) Often they have guidance—call at this time, don't email, speak to this person. Better yet, that artist may check out your work and become your "well-respected source," says Dodd, "a role we used in the music industry. If you wanted to get your demo tape listened to, you needed a well-respected source—a band [the label] respects—to say, 'Hey, check these guys out.' It's the same thing in the art world."
Gallery success boils down to social intelligence, Dodd says. Galleries are flooded with submissions, so you have to stand out from the pack without seeming desperate. It could be as simple as going to the gallery and starting up a conversation with the gallerist about the art there. "After 10 minutes of talking about it, they might ask you, 'What do you do?' They're going to be more predisposed to like you because you didn't just barge in going, 'Me me me me me,' which is what a lot of artists do."
Another way Dodd differentiates himself and makes his work more marketable to galleries is by offering one-of-a-kind photographic works. Not only does he paint his images digitally, but he hand paints each print using acrylics and Venetian plaster, a process that takes 12 to 16 hours over several days. This final step individualizes each work, making it more valuable to collectors, he says. "If I present my work as traditional photography—like, mat it and frame it—something's missing." His hand-painted prints sell faster and at a higher price point. "It's very beneficial for me and for the galleries that sell my work," he notes.
On gallery sales
Always have consistent pricing. "You should have the same prices in Chicago as you do in Montgomery, Alabama," says Dodd. "People should never find that your prices are cheaper somewhere else."
Never fudge on your limited print editions. It's common for fine art photographers to sell limited editions, but if you say there are only 25 prints, that means 25 prints—not 25 8x10s, 25 11x17s, and 25 20x16s. "It's really important to have that clearly communicated with your curators. Collectors need to know that, too," says Dodd.
Never sell directly to a collector. If your art is represented by a gallery, the gallery receives a cut of the sales price. Sometimes a collector tries to buy a piece directly from the artist and eliminate the middleman. Don't do it. It's tempting, but it could get you blackballed in gallery circles.
Pay it forward
With a decade of fine art photography under his belt, Dodd is now making himself available as an educator. He'll be teaching a session called "The Painterly Photo" at Imaging USA 2018. And he regularly offers webinars and one-on-one Skype mentoring sessions on topics including marketing and photo editing.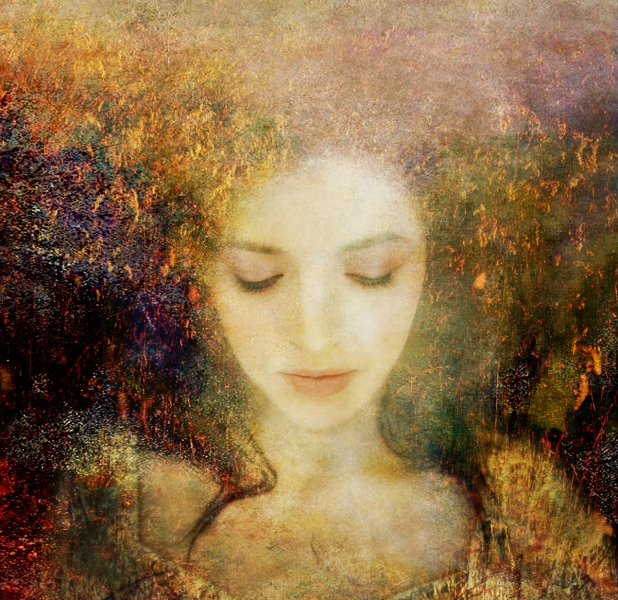 Dodd recalls one photographer seeking advice on moving into the fine art arena. "I did a critique of his portfolio," Dodd says. "I saw that he was trying to push his model work, but really his landscapes were exceptional." Dodd encouraged him to turn his focus to landscape photography since landscapes sell better, appeal to a wider audience, and can be licensed through interior designers, hotels, and businesses. "That was a year ago, and I think he's making a living doing it," says Dodd. "He's really taken off with that."
Watching photographers apply his advice and teachings to their own work is rewarding. Plus, teaching keeps Dodd learning. "The better you are at teaching, it makes you better at your craft," he says. It makes you pinpoint deficiencies and go back and work a little bit harder. In other words, you woodshed. 
RELATED: See a gallery of Thomas Dodd's work. 
Amanda Arnold is associate editor of Professional Photographer.