Why would you want the Adorama Flashpoint eVolv 200 TTL Modular Strobe with built-in R2 radio remote? Because there are times when a speedlight isn't powerful enough and a more powerful monolight is too much hassle. The eVolv 200 has some sophisticated features yet it's simple to use. In Adorama's Flashpoint R2 family it fills a power niche between three larger and more powerful siblings—the Xplor 600, the Xplor 600 Pro, and the StreakLight 360Ws Flash TTL monolight—and the Flashpoint Zoom Li-on R2 TTL On-Camera Flash Speedlight flash. It's only slightly larger than a hot shoe flash but a lot more powerful, and it's smaller, lighter, and faster to set up and use than a monolight.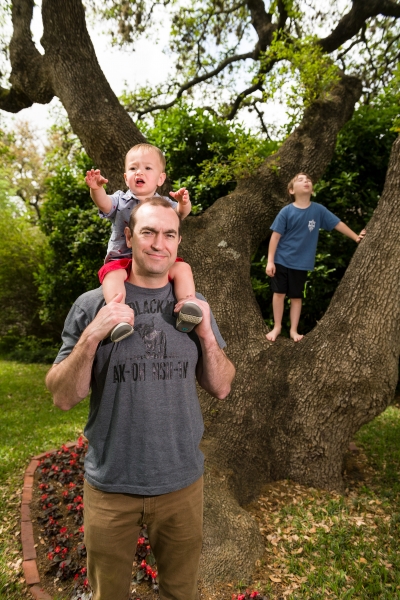 DESIGN AND CONTROLS
The strobe's design is minimalist, with interchangeable light producers on one end and controls on the other. There's no built-in stand mount, just two threaded sockets for standard 1/4"-20 threaded bolts. A detachable stand/umbrella mount is included in the basic kit. Powered by a high-capacity internal, removable, and rechargeable lithium-ion battery, the eVolv 200 incorporates a built-in transceiver for the R2 radio system along with a 3.5mm port for other types of sync connection. Firmware is updatable via a USB port.
It's the balance of power, features, and size that make the eVolv 200 a great choice for photographers who want more power but not the bulk or cost of a larger monolight. It has enough power, features, and modifiers to be its own system. The basic kit contains standard and bare tube flash heads, battery and charger, a stand mount, and a combination barn door, grid spot, color filter set. Optional modifiers include a snoot, a 4.2-inch diameter mini reflector, a 5-inch wide hemispherical diffusion dome, and a 12-inch beauty dish. There's a bracket mount for use with Bowens-S mount reflectors and soft boxes and a twintube bracket for mounting two bare tube eVolvs side by side in a Bowens-S reflector/soft box mount. For video work you can get the eVolv 200 LED Head, a 60-element array with 3.6-watt max wwwoutput. The only thing missing is an extension head similar to the one for the Xplor 600 monolights, but given the small size of the eVolv 200 it's not really necessary. All of the accessories are reasonably priced.
The 2.4GHz R2 radio system integrates with current Canon, Fujifilm, Nikon, and Sony camera TTL control systems—all you need is the transmitter. The built-in receiver is non-brand specific: If you and your assistant are using different manufacturers' cameras, tune the transmitters to the same channel and group the strobes as the flash, then both of you can use the same flash alternately without changing receiver settings. Flash Exposure Compensation covers a 6-stop range in 1/3 increments. Adorama claims a wireless connection range of up to 330 feet, but that depends on physical aspects of the location.
Along with the three sync modes—standard, rear curtain, and high-speed (up to 1/8,000-second shutter speed)—there are six custom function options:
            F1: Audio signal to confirm firing and recharge
            F2: Optical slave modes
            F3: Length of time before the flash drops into energy conservation mode
            F4: Delay before flash firing, between 0.01 and 30 seconds (manual or multi modes only)
            F5: Mask feature that makes two exposures, one for the main light on the subject and one for the background (which is useful for studio still lifes)
            F6: Displays t0.1 flash duration
If you want to capture a range of motion during a single long exposure—like a leaping dancer—the flash can fire up to 90 times in sequence up to 99 times per second in the stroboscopic multi mode. The maximum brightness per flash is attenuated by the frequency and number of flashes.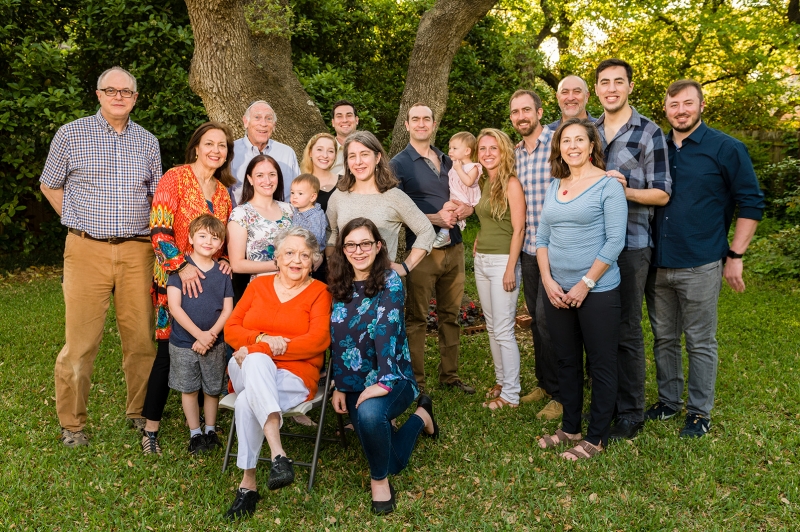 LIGHT QUALITY, QUANTITY, AND FLASH HEAD OPTIONS
With both heads the color temperature is stable at close to 5,600K from top to bottom of the 8-stop range. Your choice of flash head also has an effect on flash duration. Using the more precise t0.1 measurement, Adorama claims that the IGBT-controlled flash duration for the standard head, which uses a short linear flash tube, is 1/220-second at full power to 1/13,000-second at minimum, and the bare tube head 0.1 flash duration time ranges from 1/220-second to 1/11,300-second.
How much brighter is the eVolv 200 compared to a high-end hot shoe mount flash at full power? I compared the eVolv 200 to a Nikon SB-5000 AF Speedlight set to manual and full power. The Fresnel lens on the standard eVolv head produces an even beam pattern to cover the angle of view of a 35mm lens on a full-frame camera, so I set the Speedlight's beam angle to 35mm. At a five-foot distance the eVolv was nearly four times brighter, 1.8 stops. The internal reflector in the SB-5000 can be zoomed in to produce a narrow, intense beam or defocused for a wider beam, which is not possible with the standard eVolv 200 flash head. Another thing that stood out in my tests was the consistent flash-to-flash at minimum power (1/128 or 1.5625Ws), something more powerful monolights have problems with.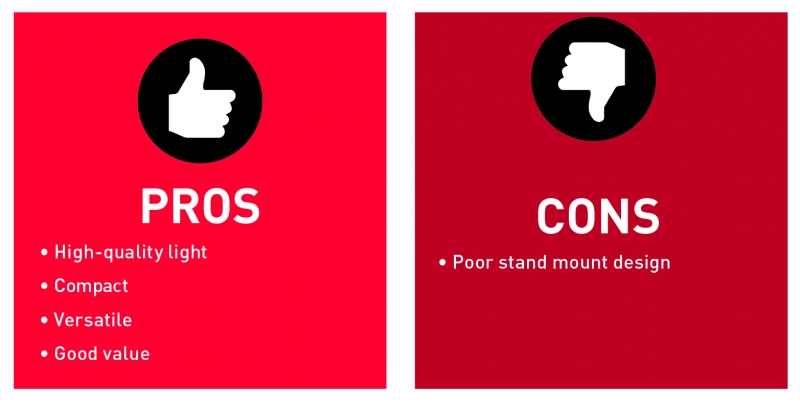 The standard flash head for the eVolv 200 has a built-in 20-watt LED modeling light, useful for working in dark conditions or when using the barn doors and grid spot in a dim studio, but not powerful enough for general work. The bare tube option (no modeling light) works well in a soft box, umbrella (with the umbrella reflector), and other reflectors or when you want very hard-edged shadows.
BATTERY
Adorama claims that the 14.4V 2,900mAh lithium-ion battery is good for 520 full-power flashes with recycle times ranging from 0.01 to 2.1 seconds. In TTL mode, because the flash was rarely being used at full power, I found that I could go all day on a long shoot and have plenty of energy in reserve. Recharging the battery from depleted to full takes around four hours.
Overall, you get a lot of versatility in a compact unit with the Flashpoing eVolv 200 TTL Modular Strobe, and at $299 it's really a steal.  
RELATED: Output test results from the Flashpoint eVolv 200
Ellis Vener is a contributing editor to Professional Photographer.