It took a bathroom remodel to establish the niche, but Ute-Christin Cowan's milk bath maternity and child portraits became the unique offering she wanted.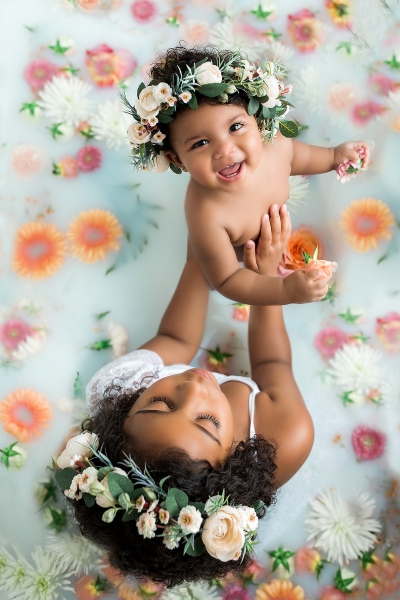 After seeing another photographer's milk bath maternity portraits, Cowan took a workshop and began offering milk bath sessions. The only problem was she didn't have a proper bathtub in her studio, so clients who booked the session had it in their own home, or Cowan would borrow bathtub time at a friend's house. When it became clear the sessions were a hit, Cowan and her husband upgraded the bathroom in Cowan's home studio with a 6-foot tub. Here's what's helped make the sessions a success:
EVAPORATED MILK. While some photographers use whole milk for these sessions, Cowan finds it more efficient to use evaporated milk because it's cheaper, doesn't expire, and is easier to store. The more evaporated milk she adds to the water, the creamier the look; the less she adds, the bluer the hue. She adjusts based on the flowers she's using: Cool colored flowers look nice in a blue-tinted milk bath; warmer colored flowers look good in a creamier bath.
REAL FLOWERS. Silk flowers must be sprayed with Scotchgard to prevent them from sinking in the bath; plus, they'd need to cleaned and dried after a session, Cowan says. So she uses in-season flowers and foliage procured from a local florist who takes Cowan's vision board to the flower market and even creates flower headpieces for subjects based on Cowan's direction.
ACROBATICS. To make the portraits, Cowan stands on the surround of the tub and points her camera down on subjects, which can be tricky. "I am climbing around like a monkey," she says. To stay safe, she wears no-slip socks, uses a wireless trigger for her lighting, so she isn't dragging a cord around the tub, and makes sure the camera strap is around her neck. She would love the look of a clawfoot tub for photos, but that would mean using a ladder to get the angles she wants—and the necessity of a larger bathroom.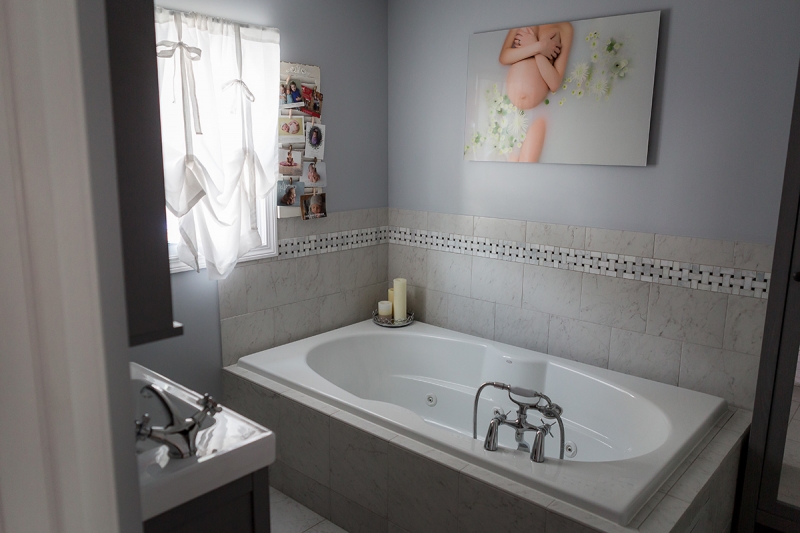 SHORT WORK. The bath stays warm for 20 to 30 minutes, which is also the average length of time the baby stays happy. Soothing music helps everyone feel comfortable.
LIGHTING. The setup looks like this: a Paul C. Buff 64-inch soft box with an Einstein light right next to and angled slightly toward the bathtub, plus a wireless trigger.
SAVVY MARKETING. At first she tried to market her milk bath portraits on Facebook, but many posts never reached her followers due to nudity. Instead, she blogs about the sessions, shares photos in her newsletter, and uses them for her print samples, so clients see them during sales meetings. In the studio bathroom—the same one she uses for the sessions—there's a large milk bath wall portrait above the tub for clients to admire.  
Amanda Arnold is associate editor of Professional Photographer.