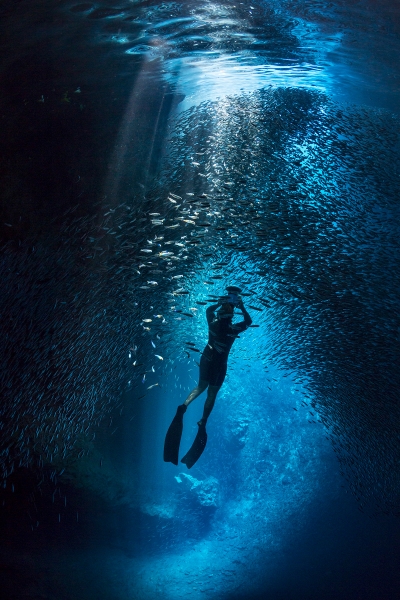 The humpback whale's brain contains three times the spindle cells as the human brain, says Jem Cresswell, whose series "Giants" documents the gentle mammals. "In humans, spindle cells are linked to cognitive skills, empathy, social organization, and rapid gut reactions," he says. No one can say whether these cells do the same for whales. But "having spent a lot of time around them, it's very obvious to me how emotional they are."
"Giants" is a play on anthropomorphism, he says. "I wanted to see if people would have a human sense of emotion about these images even though it's not a human subject."  
How do you find the whales?
Cresswell: Each year many humpback whales migrate from Antarctica to the breeding grounds of Tonga. The island group of Vava'u provides ideal sheltered, shallow water to court, mate, and give birth. … I travel around the islands via boat with an experienced guide who has a wealth of knowledge on their behavior.
Is it safe in the water with the whales?
Cresswell: The boat I use has an incredible licensed Tongan guide and captain, Sione, who's been swimming with humpback whales for many years. Sione makes all the decisions as to whether we enter the water or not and has in-depth knowledge on the behavior of the whales. We're always looking for particular interactive behaviors. … We only swim with certain whales, snorkeling or free diving with them—no scuba. I always enter the water as calmly as possible, keeping my heart rate low and wait to see the behavior. There are obvious signs if the whales are comfortable, and we will not approach until it's evident they're happy for us to be in the water with them.
Do the whales ever interact with you?  
Cresswell: Many a time a curious whale will come over for a closer look. It's amazing to witness their conscious movements, to see their eye follow you as they put their pectoral fin down to ensure they don't bump you as they pass. A lot of whales can be very interactive, particularly confident calves and sub-adults, and some even imitate certain movements. Encounters may last from a few minutes to a few hours. Most of the images that made the series are from when a whale has been curious and come over for a closer look. This has allowed me to capture the eye contact images I was envisioning.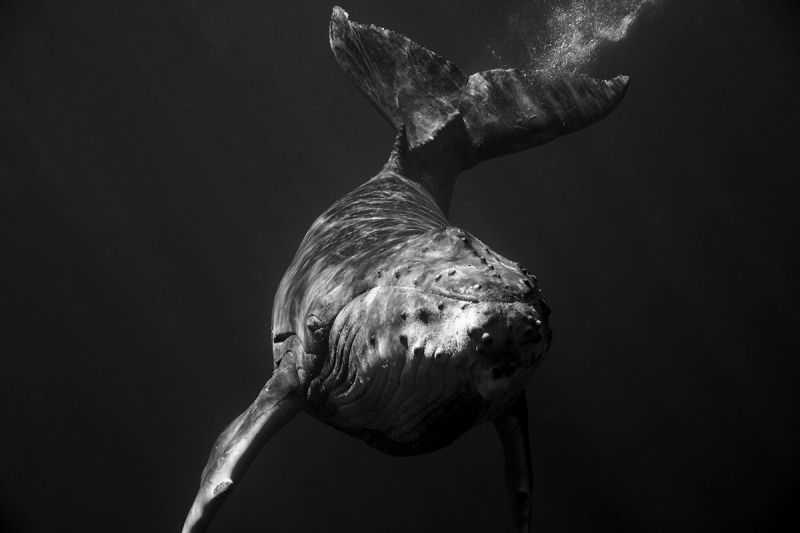 What equipment works best for you?
Cresswell: The images in this series were taken on the Canon EOS 5DS R DLSR with either the Canon 16-35mm f/4 IS USM lens or the Canon 24-70mm f/2.8 II USM lens. All this was housed in an Aquatech Water Housing, a buoyant, light, easy-to-use housing. The resolution of the 50-megapixel 5DS R was necessary for the final print size, along with better autofocus underwater than what's available with other 50-100 megapixel cameras. I used typically longer lenses underwater than what most people would use for a subject this large, but as I was trying to achieve portrait-style images with some depth, it was important to steer away from wider angle lenses, which generally feel much less intimate under water.
Amanda Arnold is the associate editor of Professional Photographer.