In an evolving landscape of client demands, photographers need to be versatile. You can be in the middle of an assignment shooting stills when the client asks you to shoot a short video. You could be shooting a video with your mirrorless camera and decide you want to capture higher resolution still images. Assistants need to be on their toes as well, being knowledgeable in stills, DSLR and mirrorless video, and even cine photography.
Versatility requires adaptable gear. With the introduction of the Flashmate L-308X-U light meter, Sekonic has solved the versatility issue for light metering. With three metering modes, it handles still photography, DSLR and mirrorless videography, and high-end digital cine camera video production. Not only is the L-308X-U versatile, it's affordable and compact enough to slip in your pocket.
The L-308 meters are labeled entry-level by Sekonic, lacking some of the advanced functions of the higher priced LightMaster Pro L-478 and Speedmaster L-858 meters. While it remains lower in price, the L-308 models boast plenty of features. The L-308X-U combines the features of the L-308S still photo meter with those of the L-308DC videographer meter, and adds a couple of new features valuable to everyone. These include a backlit LCD that activates automatically below EV 5 and a shutter speed of 1/850 for videographers.


There are three metering modes available in the L-308X-U: Photo for still photography, HD Cine for DSLR and mirrorless camera videographers, and Cine for cinema-grade cameras. A custom setting allows you to choose the default metering mode, but you can easily switch between them with the Mode button. The sliding lumisphere lets you measure incident or reflected light. There's also an optional Lumidisc for measuring illuminance and lighting ratios.
The modes are intuitive. In Photo mode you can measure ambient light using shutter speed or aperture priority and cordless and corded flash with shutter speed priority. Switching to HD Cine mode, you have the option of selecting shutter speed, frame rate, and illuminance measurement. The Cine mode allows the selection of frame rate, shutter angle, and illuminance. Illuminance measurements are available in lux, foot-candles, or none through a custom setting.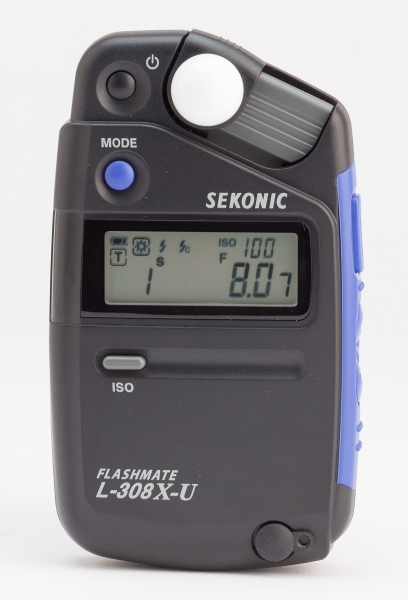 If you have multiple light meters on set or you are the first or second assistant, you can easily calibrate the L-308X-U to a master meter. The calibration range is +/-1 EV in 1/10 EV increments. Unless the master meter is a more expensive Sekonic, you may want to calibrate the master meter to your L-308X-U. I found it to be exceptionally accurate. Photographers shooting film will love this meter for its accuracy also.
Light sensitivity is greater than what you might expect from a meter costing $220. At ISO 100 the L-308X-U can measure ambient light from 0 to 19.9 EV and flash from f/1 to f/90.9. Repeatability is stated to be less than 0.1 EV, which is apparently more accurate than my flash units as I saw greater difference than this with repeated flashes.
The Sekonic Flashmate L-308X-U is suitable for most professional photographers including beginning photographers who need their first independent light meter. It's also good for photo assistants. Its operation is intuitive and extremely accurate. While a belt-mounted case is included, its pocket-friendly size makes the L-308X-U extremely handy. It's also convenient to have the meter powered by a single AA battery. Although it doesn't incorporate the advanced features of the top-tier Sekonic meters, it is likely as much meter as most photographers need.  
Stan Sholik is a commercial and advertising photographer in San Clemente, California.