Sony Alpha A7S II
The standout performance in the 12.2-megapixel Sony Alpha a7S II full-frame mirrorless camera—even in comparison to its a7 Mark II-series siblings—is in low light and high ISO capture. While its ISO 100 to 102,400 range (expandable to 50 and up to 409,600) is the same as the original a7S, the a7S II delivers expanded dynamic range and an estimated one-stop better performance with regard to image noise thanks to enhanced processing algorithms. The camera's new 5-axis image stabilization and a dampened shutter make it easy to shoot handheld at slow shutter speeds while minimizing camera shake. A new silent shooting mode is perfect for wedding ceremonies and other occasions when shutter sounds can be intrusive. As a bonus, silent shutter is also available in 5 fps continuous shooting mode.
As with the other Mark II updates in the Alpha line for the a7 II and a7R II, this model features internal 4K recording and a slightly revamped body and control layout.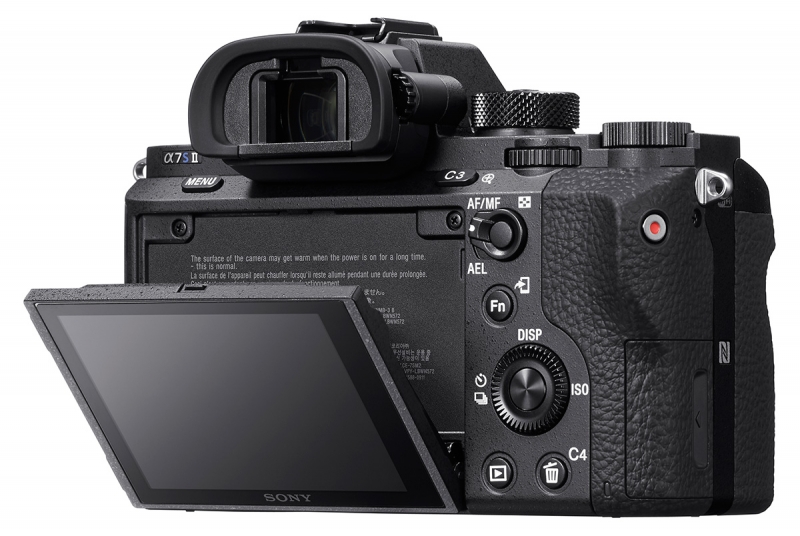 One of the welcome changes is a deeper grip that gives you a more solid hold on the camera's sturdy magnesium alloy body, while adding a minimal increase in size and weight. At approximately 5x3.875x2.375 inches and 1.61 pounds with battery and media card, the a7S II is highly portable.
It's perfect for wedding, event, and street photographers who prefer to be quick on their feet and unencumbered by gear.
The a7s II internal 4K video recording capability, in full-frame format with full pixel readout and no pixel binning, adds to the camera's shoot-anywhere portability, but it also supports clean HDMI output for 4K and full HD uncompressed output to an external recorder or monitor even when recording to a media card (see "Media Card," facing page). Its video capabilities are impressive, though it requires some geeky tech language to describe. The camera's XAVC S codec can record at a high bit rate up to 100Mbps. Its combined attributes translate to excellent video and minimal jaggies and moiré.
New picture profiles have been added for increased dynamic range, and the Gamma Display Assist converts the S-Log recording for on-camera monitoring to a more natural looking image with stronger contrast than the flat profile being recorded so you can better assess the footage while shooting.
Slow motion fans will appreciate the a7S II's ability to capture full HD footage at 120fps for 4x/5x slow motion video.
This feature-rich camera offers a wealth of additional technology and functionality, including the option of uncompressed 14-bit raw capture, a copy of Capture One Express for Sony raw converter, focus peaking, enhanced Zebra function, and Wi-Fi/NFC.
USER EXPERIENCE
The a7S II is not the smallest or lightest mirrorless interchangeable lens camera, but it's one of the most well built. Control layout is logical, convenient, and customizable. Although I used one of the custom buttons to access the a7S II's manual focus point setting, I'd still prefer to have a dedicated button for that. Users may want to assign a custom button to movie recording because the dedicated red record button is tiny and not easily accessible.
I tested the camera with native lenses: the Sony Zeiss Distagon T FE 16-35mm F4 ZA, the FE 35mm F1.4 ZA, and the FE 24mm F/4 ZA. All felt well balanced. Though the 35mm lens was a little heavy, its incredible sharpness and speed were worth the weight. Multiple adapters and third-party lenses are also available.
I prefer to shoot at a minimum of 1/125-second shutter speeds, but with the a7S II's 5-axis image stabilization, I was able to handhold the camera at far slower shutter speeds. Even a 1/8-second exposure remained blur free. For night shooting, the a7S II exceeded my expectations with its almost noise-free images at ISO 25,600 and notably restrained noise patterns at ISO 51,200, which allowed me to set shutter speeds fast enough to freeze moving objects. For low-light photographers, the highly effective image stabilization and ISOs high enough for action-stopping shutter speeds is a real win. Though one photographer's idea of acceptable image noise will differ from another's, the a7S II has one of the best—if not the all time best—high-ISO/low-noise performance I've ever seen in hundreds of cameras I've reviewed.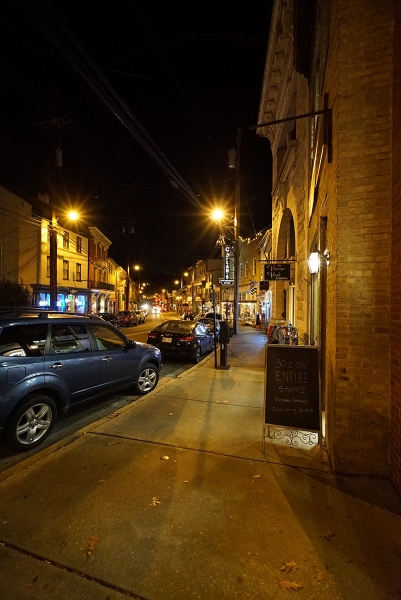 RESULTS
The dynamic range is impressive. Shadow and highlight details remained visible, and exposures were balanced. The glow of bright street lamps was slightly clipped depending on the angle of view and prominence in the frame. Still, the weave of curtains illuminated from behind in a store-front door were visible, as was the texture of brick and other architectural details. Interestingly, the camera occasionally underexposed brightly lit daytime scenes.
Autofocus accuracy, even under extremely low light conditions was good. The camera almost always locked in focus quickly, even at night. Images were sharp and details crisp.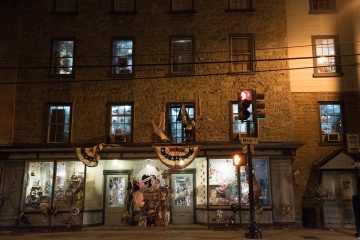 Video capture with the a7S II can be as simple or as advanced as your skills. It's easy to capture nice footage without too much effort, but to make the most of the camera's motion capabilities you'll want to learn about the different picture profiles and how to make the most of color grading and other post-processing tasks.
Continuous AF was occasionally less responsive to moving subjects than I'd like, and there were instances of rolling shutter. However, I noticed little to no moiré or other aberrations. Even without using advanced picture profiles, video clips were pleasing to the eye, with good color reproduction and exposure.
On a side note, just as we were going to press, Sony issued a firmware update for a "sunspot" problem, a black dot that appeared in the middle of a bright light at certain settings. This anomaly occurs most often in PAL 25p but is rarely found in NTSC 30p or 60p, and I was unable to reproduce the condition in my tests.
The a7S II is designed for use in challenging lighting conditions. Wedding and event photographers, photojournalists, and others who need a camera that overcomes the constraints posed by limited light will find it up to the task.
Videographers and even photographers who are still in the early stages of shooting motion will appreciate the integration of advanced video capabilities in a compact, versatile camera.
At $3,000, it's a serious purchase but provides a lot of value for the investment.
Theano Nikitas, a full-time freelance writer and photographer, has been writing about photography for 20 years.