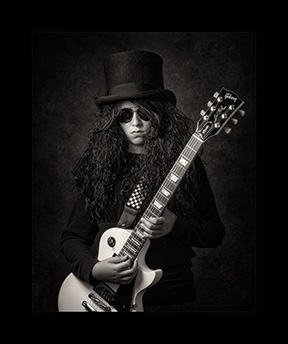 Date: September 8, 2017
Location: Pete Rezac Photography Studio, Reno, Nevada
Subject: Pete Rezac's son dressed as musician Slash
Circumstances: Halloween costume
Equipment: Nikon D750 Camera, Nikon 85mm 1.4D Lens, Studio Titan camera stand, Sekonic 758dr light meter, Paul C. Buff lighting and modifiers, medium softbox key light, strip box for separation light, 20-degree grid with barn doors for background light, 60-inch umbrella for camera axis fill light, Backgrounds by Maheu gray muslin background, Matthews 2x3 black flag, Matthews C-stand, large white stand fill reflector, Pocket Wizard transmitters
Story behind the image: "Character portraits are one of my favorite genres. My pre-teen son is learning to play the electric guitar and is a big fan of 1980s and '90s rock-and-roll bands. We thought that Slash of Guns N' Roses might be a great Halloween costume, and I thought it would make a compelling low-key portrait, as Slash is known for his trademark top hat, massive curly dark hair, and sunglasses. At a costume shop we found the perfect top hat and wig, and we got a pair of cheap mirrored sunglasses. The Les Paul Studio guitar is my son's. As with all my portrait work, I wanted the composition to be simple yet captivating. I had him stand for posture and so the guitar would hang lower on his body. I wanted his head in the top third, his nose pretty much resting on the top third line, to give him a confident look.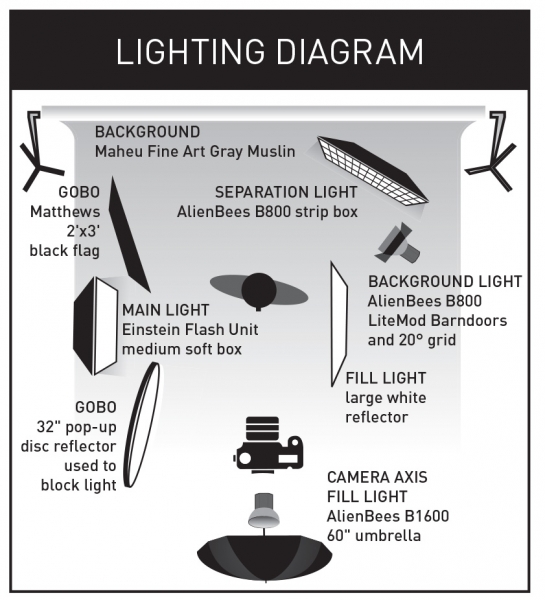 "This image was photographed with a 4x5 view camera, and this cropped digital version is the proof to confirm lighting. The lighting is typical for about 90 percent of my work. I like to light from the left side of the frame with a medium softbox as the key light. As a portrait photographer, my No. 1 priority is the face, so once I have the subject posed and lit, I block and tackle the light with flags to lessen the exposure on other areas of the body. Once the main light is established, I set the separation light to help outline the shadow side of the body from the background, usually about 1 to 1 1/2 stops below what my key light is set. I position the background light just behind or to the right side of the head: In this frame it was behind to give depth to the picture. I start my background light at two stops below the main but adjust it to taste. I think we ended a stop under on this image. Finally, I establish the camera axis fill light, which I try to have at two stops below the main when shooting digital; when shooting film, it's what I use to establish the exposure, usually f/22 to f/32.
"This is a special picture as a form of documenting our son's growth and development and his particular interests at this part of his life. He also is my creative muse. I get crazy ideas and off to thrift shops or second-hand stores we go. He was the first sandlot baseball player I photographed, he's been a pirate, Harry Potter, a skateboard kid, a football player, a magician, cowboy, golfer, golf caddy, and, now, a rock star. Some of these have lead to concepts I offer clients. Through them all he's inspired me and is my favorite subject to photograph."
Eric Minton is a writer and editor in Washington, D.C.