Lights! Camera! Action! Harking back to early filmmaking days, these memorable words evoke visions of Hollywood directors and their ability to create realism through skillful lighting. Deanna Duncan, M.Photog.Cr., and Cris Duncan, M.Photog.Cr., CPP, of CjDuncan Photography of Lubbock, Texas, use cinematic lighting concepts to create dramatic realism in their photographs, which they say increases profits in the sales room. They'll speak on this topic at Imaging USA 2019 in January.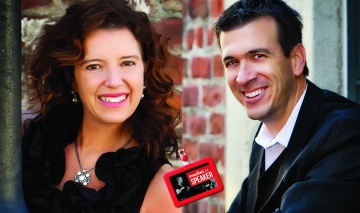 "The whole premise behind lighting for sales is we start with a concept called a true narrative," says Deanna. She explains that in the making of a film, the roles of costuming, set design, lighting, directing, and distribution all help tell the story. And that's the same tack the Duncans take in prepping for each session.
COSTUMING
"If we have a family who is going to be outdoors, and we know that backdrop is going to be a deep green, we will help them choose colors that harmonize with that deep green," explains Deanna. "If we are working with a senior and she is super bright, she is bold, we know that we are going to be looking for a high-key or mid-high-key environment to tell that particular story. So we are going to be suggesting very bright, bold, solid colors for her."
SET DESIGN
The location or setting of an image has to make sense in relation to the subject—either there's a logical reason the subject is at the location or the location supports the subject in terms of the colors and the key of the overall photography, explains Deanna. 
At the crux of lighting for sales, of course, is the ability to make realistic lighting the top priority not only for beautiful images but also for happy clients and a healthier bottom line. "I think the big thing that I've learned from cinema is that all their light is believable," says Cris. For example, when lighting a scene outdoors, keep in mind that there's only one sun, he notes wryly: "Lighting coming from one direction in an image has more impact than if we have multiple light sources coming in from multiple directions." That doesn't mean Cris doesn't use multiple lights to create a single light source, however. "That appearance of one light might actually be eight lights because this guy loves cumulative light," chimes in Deanna.
LIGHTING
To make the light believable, Cris says he looks at the scene and asks himself, What's the quality of light, what's the quantity of light, and where is the light coming from? Using his knowledge of the tools he has at hand in the conditions he's given, he creates and sculpts light.
A photographer's ability to do this will affect sales. The Duncans once planned to photograph a senior in a bright setting, abundant with flowers, but the light disappeared 30 minutes before they arrived. "You can't just say, Well I'm sorry, we missed the light," says Cris. Instead, he recreated how the daylight had looked with a CTO gelled light to provide a back-lit warm glow around the senior and then added lighting for her face. "We have a high-energy client, so the lighting needs to correspond with her personality. The location is bright and bold and full of warmth and saturation, so I want to light the image with those same qualities," Cris says. In doing so, he was able to make the image come together. The sale naturally followed.
Creating believable light allows photographers to improve sales by increasing the number of sessions completed during limited seasons. "The fall is a very busy time for us in Texas," explains Cris, noting that fall color may last 14 to 20 days. "We're packing a lot of families in that time frame, so we have to be ready to photograph whether we have a sunny day, an overcast day, or anything in between." For example, with the Bashrum family, it was an overcast day but the family "wanted something a little bit brighter and not so dull," Cris recalls. Using strobes, Cris was able to brighten the large family group and their dogs to create the classic, bright, colorful fall portrait they wanted despite the overcast, dull day.
"With strobes outside I get consistent color, I can make a specific output, I can modify the light to match what I need for my clients, I can get the direction-of-light pattern on their face, and I can work throughout the day," he says. "I have more control than depending on Mother Nature and more [sales volume] than just doing two sessions a day at sunrise and sunset."
Masterfully using those strobes to create realistic light and lighting patterns takes practice. Deanna suggests digging into your current lighting toolbox and challenging yourself and your tools' capabilities, just as Cris does on a regular basis. "There was a day Cris walked into the studio and said, 'I'm going to try to do high-key light seven different ways today.' He just tried to use his tools in new and different ways that day and it stretched his mind and it gave him new tools in the tool box, so the next time some challenge came in, he had more solutions," Deanna says.
Like the day a senior wanted the Duncans to photograph him in a black tux against a white building, next to a white Corvette in the bright Texas sun. All was good, except the senior couldn't keep his eyes open in the glaring sun. So the Duncans moved the senior across the street. Now the background was in full sun, the senior was in shade, but the connection was lost unless the senior could be lit believably.
"We had to select a light source that was going to give us the type of quality that the sun would," says Cris. "So we had a very focused, direct, small light source. We positioned that light source so it's coming at a direction that matches what the sun was doing on the background. I have to light the foreground in my subject, God is lighting the background, but those two have to come together and look as if it's one light source doing one job," says Cris. It worked. It was believable. And it resulted in a good sale for the studio.
DIRECTING
Once the lighting is determined, Cris and Deanna share the role of director in interacting with and posing clients. "Our goal is that the moment the client steps into our scene or steps into the session, that it's just fun, it's enjoyable, that they have great memories," says Cris. "That's exactly what they do in a film," he explains, noting that so much is done pre-production. "You've got a million-dollar-an-hour star that's coming on the set and they need to make everything flow, and that's how we want to treat our clients." The Duncans don't get frustrated as they're trying to make things work because they planned and set everything in place beforehand.
"It may take a little more time to set some of the gear up," he adds. "But once it's in place, then our clients—like actors on set—they're free to work in the scene," which allows Cris and Deanna to capture a range of natural expressions, interactions, and images that sell.
A great example of what can happen when the stage is set is the Janson family portrait. "The Janson family is a family that loves to have fun together, and the dad is a hoot," Cris recalls. "Deanna and the client had come up with a story for their family portrait, so they were aware of the script. Deanna staged the scene while I set up the lighting. When the client arrived, we were all ready for them to assume their roles in the story. All we needed to do at that point was a little direction—'Look more stunned.' 'I need a bigger expression.' 'Lean back away from the fire.'"  Since the set design and the lighting had been established before the family arrived, directing the family was minimal to make the story come together. The end result was a fantastically fun, and award-winning, image that the family loved.
DISTRIBUTION
For the filmmaker, success comes when the movie is distributed and moviegoers flock to theaters. For the photographer, success comes in many forms, but nothing sells better than believability, say the Duncans.
So, the next time you hear lights, camera, action, think of lighting for sales and the possibilities you will have for more action in your sales room.  
Joan H. Walker has worked as a photojournalist for most of her career. In addition to editorial work, she specializes in creating fine portraiture.