Now in its fifth generation, the 20.1 megapixel Sony RX100 V is a pocketable powerhouse. Like its predecessors, the RX100 V is compact, solidly constructed, and full of features. The camera is also outfitted with a Zeiss Vario-Sonnar T* 24-70mm f/1.8-2.8 lens.
Built around a newly developed 1.0-inch stacked Exmor RS CMOS sensor, the RX100 V also features an improved image processing system with a new front-end LSI chip and a Fast Hybrid AF system. While its specs are impressive (you can read more about them), what really counts is how it performs in real life.
The same day it was announced, along with the new Sony a6500, I had a chance to put the RX100 V through its paces for a couple of hours. Sony set up a studio full of challenging scenarios with jugglers, dancers, acrobats, and other fast-moving subjects for journalists to test out the camera's 24 frames per second (fps) continuous shooting speed. This is a huge increase over the RX100 IV's 16fps continuous rate. (Choose the first image in the grid at the end of this article and click through.)
But it's not just the continuous shooting speed that impresses. You can capture 24fps at full resolution for up to 150 shots with AF/AE tracking. Thanks to the camera's Fast Hybrid AF system (which uses both focal plan phase detection AF and contrast detection AF) and with its 315 focus points across 65 percent of the sensor, autofocus was fast and accurate. In fact, Sony rates the autofocus response at 0.05 seconds, which seems about right for single still images. At a high-speed capture of 24fps, not all of my test shots were perfectly sharp, but the ratio of hits versus misses was impressive. During shooting, the collection of focus points tracking the subject moved quickly and, for the most part, decisively.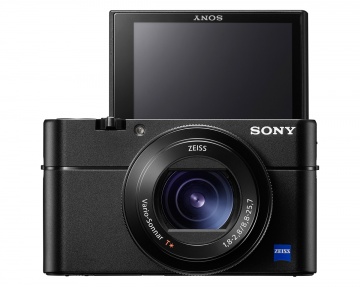 Shooting at 24fps may be overkill for some circumstances unless you want enough still images to create a stop action movie. Additionally, it's easy to fill up an SD card and run down the battery when operating the camera at full speed for long periods of time. But you'll never miss a split second of the action. Fortunately, continuous shooting options include 10fps and 3.5fps at full resolution, too.
While the RX100 V is 4K capable, I was seduced by its HFR (high frame rate) mode and spent a lot of time shooting slow-motion movies. HFR capture time has been doubled, with a trio of capture speeds: 240fps, 480fps, and 960fps. I shot at 480fps since 240fps was a little too fast and 960fps produced video that was a little slow for my taste. I found that quality, especially focus, of HFR was improved over the Mark IV model. The main drawbacks to shooting in HFR remain: You can't adjust the zoom lens once you start shooting, and the camera locks up while the video is being created. Still, HFR is one of my favorite features, and the RX100 V does an excellent job in this mode.
Other new features for the RX100 V include an AF-A mode, which switches between AF-C and AF-S modes. A high-speed Anti-Distortion Shutter, available at up to 1/32,000 second, minimizes rolling shutter. And if you want to shoot underwater, a new underwater housing will soon be available for about $350—perfect for wet trash-the-dress-shoots or, since it's depth-rated to 130 feet, a scuba trip.
After shooting with all five versions of the RX100, I've seen Sony progressively improve this premium compact camera. It's a little pricey at $998, but there's no doubt that the RX100 V's superpower performance, as well as feature set and image quality, will make its mark among a wide range of photographers.
Theano Nikitas, a full-time freelance writer and photographer, has been writing about photography for 20 years.