As a PPA Affiliate, you need to get the most out of your membership. One way PPA helps you do this is by enhancing your state or regional photographic competitions through the Certified Professional Photographer Award.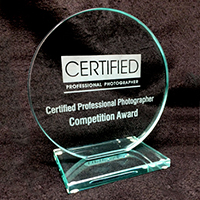 The Certified Professional Photographer Award recognizes the highest-scoring Certified Professional Photographer (CPP) print, album or electronic submission in competition. For events that no longer score images, the award will be chosen in head-to-head judging. Recipients will receive an award with the CPP-credential mark etched in a glass presentation piece. The cost of the CPP Award plaque is $70.00. 
And, if you want, make it a special occasion! Hand out the award to the recipient at a meeting or even an awards banquet! CPP award winners are also listed online under the CPP news section and are encouraged to submit their winning image for use in the CPP Lounge slideshow at Imaging USA!
Learn how to order a Certified Professional Photographer Award.