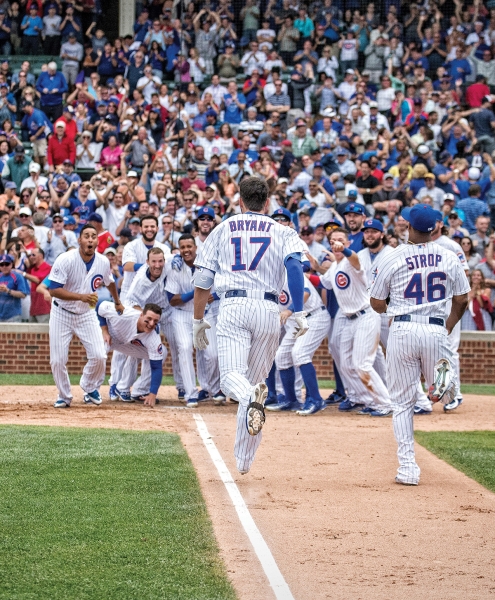 Anatomy of an Image
Date: August 24, 2015
Location: Wrigley Field, Chicago
Subject: Kris Bryant walk-off home run
Circumstances: All in a day's work
Equipment: Canon EOS 1D X, 70-300mm lens
The image on the right made the cover of Sports Illustrated, but it was just part of a day's work for Chicago Cubs official photographer Stephen Green. Green typically arrives at the stadium about three hours before first pitch and checks with players in the clubhouse to see if they have any special photo requests. After a quick meal, he shoots pregame activities: on this day, a gymnastics team performance, a check presentation, ceremonial first pitches, and the National Anthem. He also takes candid images of players interacting with each other, coaches, and fans.
After shooting some game action—such as starting pitcher John Lester throwing his first few pitches—Green works on corporate assignments. On this day he photographed the stadium's private clubs for marketing brochures. He roams the stadium getting images of the crowd and stadium details while remaining mindful of both the game's progression and evolving light.
With Lester on his way to pitching a complete game shutout, Green positioned himself behind home plate for the top of the ninth inning to get the celebration on the mound. However, Lester gave up the tying run, and as the teams headed for the bottom of the ninth, Green made for the third-base photographers well. "I knew that if it was going to be a play at the plate, a walk-off home run, or a walk-off hit, it was going to be a great picture." When Bryant hit his home run, Green caught an image of him rounding third with "Hey Hey!" displayed on the outfield scoreboard in the background. Green then scrambled out of the photographers well and ran to third base to get Bryant's teammates greeting him at home. "That picture made itself by being in the right place at the right time," Green says. Despite this money shot, Green's work was not done: He still had to photograph the after-game celebration of players dousing Bryant with a Gatorade bath.
Eric Minton is a writer and editor in Washington, D.C.