So you want to be an artist
The way many photographers are attempting to differentiate their work is to label it fine art. But Google "fine-art photography," and you'll see a plethora of images that may have little or nothing in common with each other. What is fine art? That's a big question. Fine art is not a style, it's not defined by subject matter or technique, and it differs around the world. I can't give you a definitive description of what constitutes fine-art photography, but I can share the six elements that go into my fine art.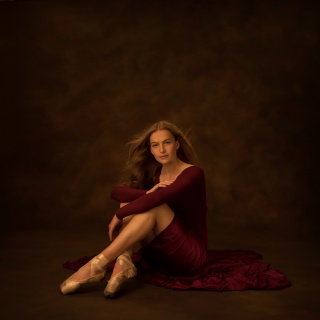 1. CONSULTATION. The consultation process is imperative for creating and selling fine-art portraiture. If you're going to make a fine-art piece for a customer, you need to start talking about it from day one. From the moment clients walk in the door, the only photography they should see is fine art. Every piece is printed on fine-art canvas or fine-art paper and displayed on the wall, where fine art belongs. Have available some unframed pieces made specifically for them to touch and feel. Point out the difference in quality between ordinary prints they're used to and fine-art prints. Once I start discussing the look and feel a client wants for a fine-art piece, I sometimes pull out a piece of paper and start to make sketches of possible concepts, which is helpful for both of us. There are times when a detailed consultation is impossible; in that case, I book extra session time and have a conversation for 30 minutes before we get started.
2. CREATION. In most cases, the concept for the portrait is discussed and planned in advance. Every element is discussed, from feeling (expression), to wardrobe and background (the color palette), to the lighting and the final photographic finish (straight photography, painted, or conceptual). I don't use many props in fine-art pieces. I use a specific lighting setup, and I have an aesthetic style that works for me. I love traditional paintings and traditional photography, so I tend to embed that in all my work. Your own fine-art style may be very different and may take time to emerge in the course of your work.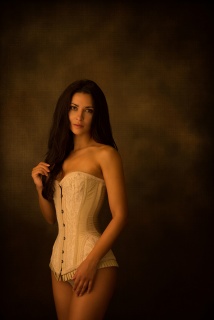 3. PRINTING. Printing fine art is more important than the creation of it in camera. For me, the selection of the fine-art paper is a huge decision. What is my color palette? Is it cool or warm? Does my image need some texture or will it look better smooth? You don't know these things unless you invest time in exploring and educating yourself. You need to teach yourself about paper and ink and how the two interact. Fine-art paper is expensive, but you need to consider it an investment in your business as you're learning about it. To start, choose an image you love, a black-and-white image, and a saturated image. Print each one on the regular paper you use. Then print them again on every fine-art paper you think you like. As you flip through these sample images, you'll see how the color shifts, how the various textures and sheens play with your images, and finally, you'll come to see what you like best. This is your paper palette. Do you have to print your work yourself? No. Search labs that sell fine-art paper and get samples from all of them. I stick to about eight papers and canvases in my studio because I find that my images work nicely on that media.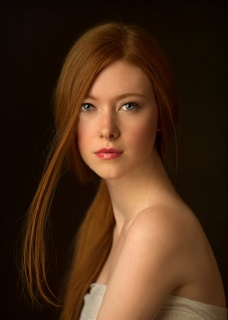 4. PRESENTATION. Pay attention to presentation, particularly if fine-art portraiture isn't a major part of your business. Start by considering how you present your standard work: Is it bagged, in cases or boxes? Is it matted? Framed? Whatever the case, your fine-art pieces should be presented differently. Get new packaging for those pieces, which will differentiate your fine art all the way through delivery. All my fine-art paper pieces are professionally framed with spacers, proper mounting, and museum-grade glass or, if it's larger than 40 inches, premium acrylic (due to weight). All pieces are handled with white gloves to avoid fingerprinting. My canvas pieces are all on Masonite and framed. In many cases, I personally hang or send a crew to hang fine-art pieces.
5. PRINT COMPETITION. It's one thing to call yourself a fine artist; it's another when someone else says that about you. Clients believe that descriptor more when it comes from a third party. Why is a piece of work in a gallery more exciting to a buyer than a piece of work they see on the street? Because of the opinion of an expert. My competition images are printed on the same papers I use for clients. In most cases, I enter the exact images I created for clients. Yes, this can be expensive, but it's a business expense in my marketing budget. I compete with what I sell every day. I don't sell digital files, so I don't compete with digital images. I sell fine-art prints, so that's what I compete with. Print competition is a great way to showcase your work, give yourself the added credibility of an expert opinion, and give you a launching pad toward branding.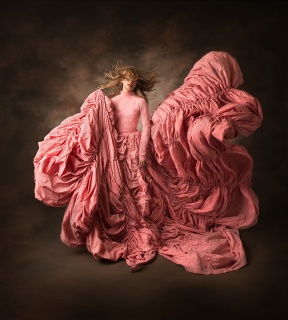 6. BRANDING. Over time, you'll see a pattern in what you define as your fine art. Are your fine-art portraits modern and chic? Are they traditional? Your brand starts from your person: how you dress, how you act, how you present yourself on social media. It moves to your website: your color palette, what you show, the fonts you use. It is present in your forms, your emails, your business cards, your logo. In your physical studio, decor, furniture, music, and in the fine-art portraits displayed on your walls. Your marketing campaign should always include fine-art portraits and the awards you've won for them. When people find you online or walk in your door, they should experience your fine-art brand through and through.
While "fine art" may be something of a buzz phrase these days, the concept shouldn't be taken lightly. Producing fine art takes time. It takes planning. It takes expertise and knowledge you won't gain overnight. If you want to produce fine art, push your work beyond the ordinary and give clients products they'll cherish for generations. Being a fine-art portraitist is a privilege; receiving a fine-art portrait should be a privilege as well.
Maria Bernal is the owner of Sofina Fine Portraiture in Sandy, Utah.