About five years ago, Dani Miller was having serious doubts about the future of her studio. She'd been in business for a handful of years, experiencing moderate success by taking on just about any photo work that walked through the door. Weddings, portraits, commercial shoots—this Jane-of-all-trades would do it all.
However, as she pondered her professional life, she wondered if she could keep it going. Was she too diversified in her work? Was her business model sustainable? When she couldn't answer those questions definitively, she resolved to make a change. Instead of photographing everything everyone wanted, she refocused on what she enjoys most: babies, children, and maternity. "I decided that clients will either love it or they won't, but at least I'd be following my own path and creating my own style instead of mirroring every popular trend that my clients saw somewhere else," says Miller, who lives in Truro, Iowa.
The transition started five years ago and took about three years to complete. During that time, Miller moved away from the bright, high-contrast work that had been in vogue and began crafting her own style designed around elaborate sets and custom-arranged portrait themes. The result has been a new theatrical style of portraiture that Miller feels is uniquely her own. The lighting is subtler, and the overall look has a classic feel.
Clients have responded positively, and new ones have flocked to her Sugar Hill Photography studio for distinctive images. As the transition played out, Miller became the go-to photographer in her area for child and baby portraits, and her newborn photography has gained particular acclaim.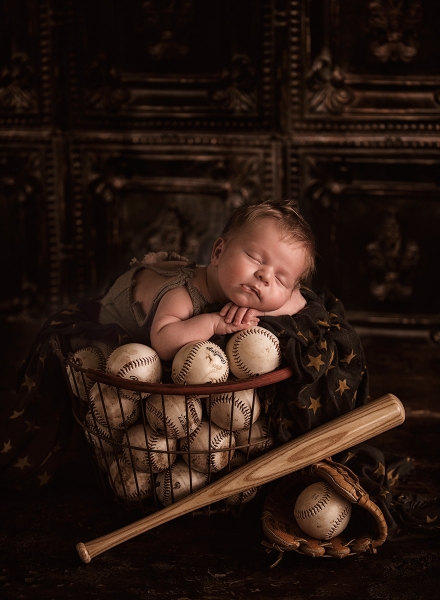 Setting the scene
Before working on a newborn portrait, Miller has a consultation with clients. She finds out what sort of looks and styles they like, their colors, even their family history. "The family history piece is important," explains Miller. "I want to discover more about their background so I can tell their story. People know that when they come to me, I am going to produce more of an heirloom art piece that connects to their memories."
Using the information from the pre-session consultation, Miller creates three scenes for each newborn session and sets them up before the client arrives for the shoot. She builds each scene with props and backdrops scavenged locally or purchased at thrift stores—simple pieces arranged in not-so-simple configurations to manifest her vision. She moves from photographing one scene to another in a planned sequence that takes into account the natural light patterns in her studio. The goal at each stage is to produce an image worthy of a framed fine art print.
Miller sets up most of her sessions in natural window light. When she does use studio lighting, she keeps the setup simple, employing a single Profoto B1 light modified by an 8-foot octobox and a reflector opposite the light. Her lighter, brighter images are typically the natural light captures. The darker, more atmospheric images come from the studio lights, shot with an intentional light falloff to achieve a more muted look.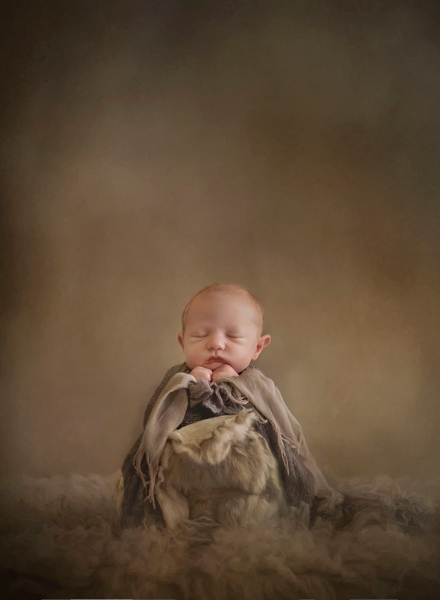 Parent participation
Miller discusses her goal of creating a fine art print as she works. This is important, she says, so the parents are aware of the end goal and feel like they're part of the process. She tells them what she's doing, asks for their feedback, and shows them how she's putting the concept together to create the final image. "When you just explain something but the parents can't see it, you are making a big gamble that they will like the end product," she says. "Having them come in and see the setup, see the actual items that I am using, and see how I am putting it all together, they can visualize it. They feel like they helped create the art piece."
Miller tries to capture everything in camera so she doesn't have to do post-processing on key elements later on. This way, parents can see the images as she's creating them, which builds realistic expectations. That helps during the sales process because they already understand what's been created and what the end product should be.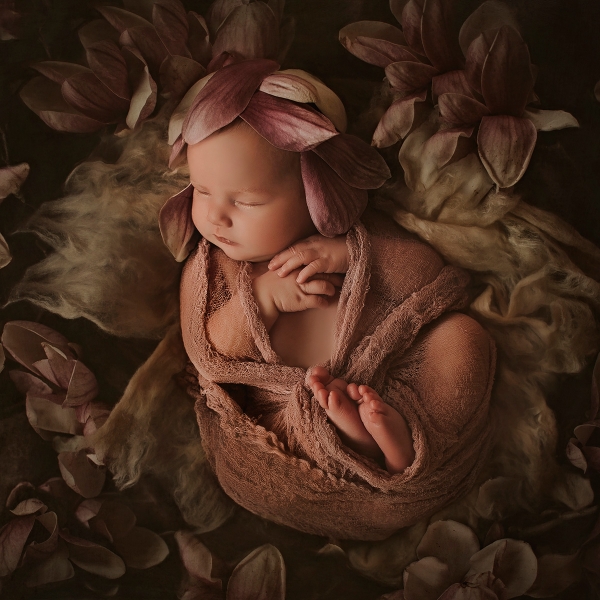 Working with baby
"What has worked for me and always has is doing my newborn sessions early in the morning," says Miller. She sets aside her prime morning shooting times for newborns and follows a tried-and-true process for helping babies to be happy and cooperative:
She tells clients to dress the baby in a loose diaper and a button-up. That way she won't have to wake the baby by pulling something over their head, and the loose diaper can be taken off easily without leaving creases in the skin.
She suggests that parents feed the baby before leaving home for the studio. Ideally, the newborn will fall asleep on the ride over and remain fat and happy upon arrival.
Miller asks the parents what temperature they keep their house and then sets the temperature in her studio to the same setting.
She heats a lavender-scented heating pad in the microwave then lets it sit for a half hour until the temperature is perfect—slightly warm but not hot enough to burn the baby or cause discomfort. The calming effect of the lavender scent is a plus.
Diffusing lavender and other calming essential oils in the studio helps reinforce a calm and easy-going atmosphere.
Miller turns on soft, classical music to set the tone of peacefulness.
Right before the clients arrive, Miller meditates to shed any of her own stress.
Once the clients arrive, Miller has them set down the infant in the carrier, and then she removes the child and gets them ready.
Following this method, Miller says she's never had a crabby baby at a session. Most important is that the parents and photographer work together. "When everyone participates and is invested in the process, then we can create something truly special," says Miller.  
RELATED: See our gallery of Dani Miller's work.
Jeff Kent is editor-at-large of Professional Photographer.