In 2008, Pye Jirsa surveyed the crowd at a photography conference and noted an important distinction between the speakers and the attendees. All were passionate about the artistry and craft of photography, but the speakers had an ace up their sleeves.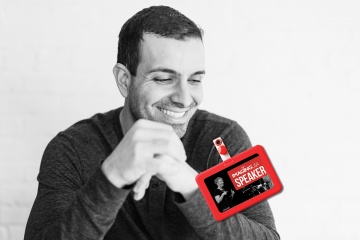 "I went to 20 different lectures, talked to people, looked at their photographs, and compiled a list of the differences between the people in the audience and the people on stage," Jirsa says. "The resounding difference was business."
At the time, Jirsa wasn't even a photographer. He and his eventual partners, brothers Christopher and Justin Lin, had left accounting jobs at Ernst & Young to lead an internet startup. But when the Great Recession struck, their investors withdrew, which led to a drastic change in career plans. Wedding photography hit Jirsa's radar at a friend's nuptials, where he quizzed the photographer about the field, and his analytical business brain kicked into high gear.
"The actual business of photography is one of the hardest things to learn," he says. "But I told the guys, 'We know that side. We need to learn photography.'"
Today, Lin and Jirsa Photography in Orange County, California, comprises a team of more than 50, including full-and part-time employees as well as contractors. It averages 350 destination and local weddings each year for a total of about 1,000 client commissions.
Despite these numbers, Jirsa and his team have created a boutique, personalized experience for their clients. For example, within an hour of receiving the initial lead, they're on the phone with a potential client.
They can do that today because they have the staff and the resources for it. The process wasn't always so easy. The early years were much less streamlined as the trio concentrated their efforts on learning photography. They had the business know-know. But giving clients images they would treasure? That was the learning curve.
Ten years in, Jirsa still sees that the biggest differentiator among professional photographers is business know-how. And he's happy to share his knowledge with others. Jirsa, Christopher, and Justin are co-creators of SLR Lounge, an online tutorial and business resource for photographers.
Through teaching and tutoring, Jirsa has observed three common pitfalls that sink photography businesses: failure to set realistic expectations, not putting business first, and a lack of focus on learning.
Set expectations
Hard truth: Passion and good intentions don't pay the bills. Photographers get into the business because they love making photographs; they get out of the business because they're bad at business.
"Most people approach the career and industry as, I like to take pictures, so I should start a business," says Jirsa. "We never really jump into any other area of our lives in that same manner. I would never say, I like my morning drive to work, so I'll be a racecar driver. It's completely different to enjoy something versus making it your business. Of the number of photographers that enter and leave the business, a huge chunk is due to lack of proper expectations."

When Jirsa and his partners first hung their shingle, they knew they would have to build slowly. They spent the first two to three years developing their photographic style and then incrementally increasing their pricing and offerings. They photographed about 50 weddings the first year and cleared about $35,000 to $45,000. Not a banner year, particularly when that had to be split three ways. But the partners were in this for the long-term, so they made adjustments along the way that would keep edging them forward.
Jirsa took the lead in developing the studio's product and style, how to light, how to shoot, the overall aesthetic. Justin tackled closing sales and management processes, and Christopher took on marketing and lead generation. That's where expectations came in. Each partner considered his interests and strengths, narrowed his focus, and then adjusted growth in his area accordingly.
This strategy works great for a three-partner studio, but Jirsa knows that's not the norm. For one-person shops, ask these questions to help set expectations: What are my strengths? What can I physically take on? What can I afford to outsource?
There's a quote from Bill Gates that Jirsa likes to repeat: "Most people overestimate what they can do in one year and underestimate what they can do in 10 years."
Have a plan and start out with the understanding that you won't turn a big profit for at least a couple of years. If you know you're laying the necessary groundwork for the coming years, you'll find it easier to stay on plan and keep working your strategy without running the risk of overextending yourself or becoming disenchanted early in the game.
Business first
"It needs to be in your head to be a business person first and an artist second," says Jirsa. "I see photographers on a daily basis making very bad decisions from a business standpoint, just for the artistry."
Jirsa cites the jumping pose as an example. You know the one: The bridesmaids, wedding party, or family leap into the air simultaneously. You may not want to shoot it because it's not original, but your client wants it. Because although it's been done a million times, it hasn't been done for them.
"We have to understand that it's all new, it's all interesting to them," says Jirsa. "When your clients want something cliché, you have to love it and say you'll make it the best cliché ever. You don't have to put it on your website, but if it gets shared on Instagram that's OK. It's their image to do what they like with. Once they buy it, it's theirs. Move on."
One of Jirsa's clients requested a Godzilla bride and groom image. Jirsa wasn't excited about making that photo, but he didn't let the client know that. His approach was to conceptualize and present the cliché so well that it would go viral. And it did.
"I'm a business person, and I'm in the business of making clients happy," he says. "But as an artist I also have the ability to make it better. That's the mentality to adopt. Photographers think a client is difficult when they simply know what they want. But those are the best clients because we know exactly how to make them happy."
Never stop learning
Jirsa is still reading business books, productivity books, management books, self-improvement books. He averages one a week, he says, in addition to educational content he consumes online and elsewhere.
Continuous learning ties back to expectations: It encourages you to set new expectations, which keeps you on track for growth. It's an ongoing process; there's no magic formula that will enable a business—a photography business or otherwise—to thrive indefinitely. That's what Jirsa wants passionate photographers to divert some of their energy toward: setting expectations, putting business first, and committing to continuous learning. It's a time-consuming, career-long endeavor that's absolutely worth the effort, he says.  
RELATED: See more of Pye Jirsa's work
Stephanie Boozer is a writer in Charleston, South Carolina.