Priolite MBX monolights
It isn't often that a new company delivers a set of innovative products in its debut line, but Priolite has. Headquartered in Germany and founded by a former director at Hensel, Priolite has introduced a line of self-contained monolights that are powerful, feature-packed, heavy-duty workhorses for studio and location portrait photographers, wedding photographers, and fashion photographers.
I'm fairly comfortable with a freeway of cables running around my sets, but if you're not, Priolite has the solution. Each of its monolights is completely self-contained and cordless—the battery and radio control are built into the head. Available in 500- and 1,000-watt-second models, the lights are powerful, with an adjustment range of 5 EV for the MBX 500 and 6 EV for the MBX 1000 in 1/10-EV steps.
The lights themselves are housed in a cylinder of extruded aluminum. The heads can take Bowens S-type mount as well as Priolite and Hensel accessories and have a roomy 10mm umbrella shaft opening. Controls are on the back of the units, but other than the on/off switch, there is little need to use them since all but the slave mode controls are duplicated on the remote. The Standard Remote Control for Canon, Nikon, and Pentax (including the 645Z), provides command of up to 36 Priolites, nine units in four groups (or "teams" in Priolite speak).
The controls themselves are completely intuitive, though it's very difficult to read the labels of the small buttons on the rear in a darkened studio—more reason to use the radio control. There is a stepless knob to adjust power output, but this function is also available on the radio control.
The removable battery slides into the center of the back of the unit, which has no AC outlet. If AC power is available, just connect the charger to the battery and stay charged during a shoot. Priolite specifies 220 full-power charges from the MBX 500 and 160 full-power flashes from the MBX 1000. Both units have modeling lights—80W equivalent LED in the 500Ws and 100W halogen in the standard 1000Ws—and I assume the modeling lights were turned off during that testing. Modeling lights switch off automatically to conserve power.
Both units deliver a flash duration of 1/4,500 second (t0.5) and a recycle time of 2.5 seconds at full power. At minimum power they can deliver three flashes per second.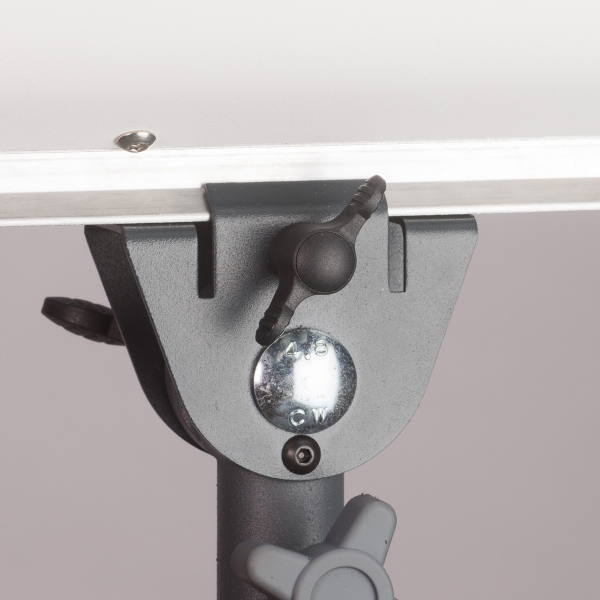 I tested the MBX 1000, and at just over eight pounds it's relatively heavy, but the battery accounts for about a quarter of the weight. Priolite designed a track that you can slide the head along to precisely balance the unit with different accessories and lock it in place—very nice.
The color temperature of the MBX 1000 measured out to 4,980 +/- 230 Kelvin over its entire range, which is excellent. At any given power setting repeat flashes gave identical color temperature readings.
I also tested the Priolite MBX 500 HotSync. The 500 and 1,000Ws HotSync models differ from their more conventional cousins in their ability to synchronize with camera shutters up to 1/8,000 second. Unlike other flash units where this is possible through repeated bursts of low-power flashes, the HotSync Priolites deliver a long and even flash output of 1/200 second (t0.5) during the exposure. I found there is about a 1-EV light output loss for each doubling of shutter speed over 1/250 second. So there is a 5-EV light loss at 1/8,000 second. If you are a sports or outdoor portrait or wedding photographer and need these short shutter speeds, the higher power unit is a better choice. If not, save your money and buy the standard lights.
The HotSync models require the HotSync Radio Control, available for Canon and Nikon cameras only. It looks identical to the Standard Radio Control except for a green hotshoe mount. Both radio controllers are powered by three AA batteries and have a low-battery indicator light.
Despite all the advanced and thoughtful technology, what I like most about the Priolites is how quickly I could set them up and how intuitive they are to use. It is really as simple as mounting the lights on their stands, attaching light shaping accessories, taking test shots, adjusting output with the radio control on your camera, and shooting. Using the remote, you can change lighting ratios, or maintain a ratio and power all of the units up or down to balance with the available light. All power adjustments are available in 1/10-EV increments.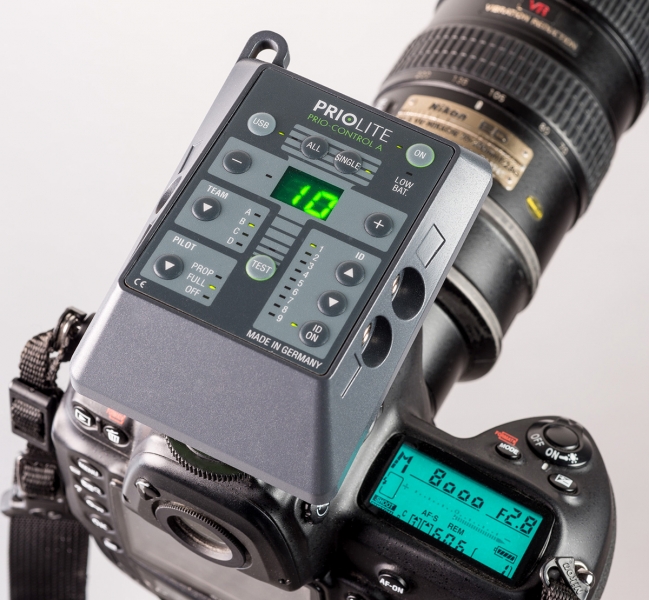 I can't think of much to criticize about the lights, although if the features and build quality were possible in a lighter and less expensive package that would be even better. I did have some issues reading the radio control display outside. I love the horizontal layout and don't mind the size, but in direct sunlight it is difficult to read the tiny LEDs that indicate team and ID (light). A couple of times I wasn't even sure if I had turned it on because the power indicator light isn't that bright either, and the membrane switches don't offer a completely positive feel when pressed. But since the remote automatically senses the lights on each team, a press of the test button quickly sorts things out.
Making large changes in power on the remote is slow. You must press the + button 10 times (or hold it down) as the power slowly changes in 1/10-EV steps. I wish I had been able to hold it down and have it change in full EV. These are small things, but they can slow down your rhythm.
Priolites are available in a number of versions. The standard strobes are available as 300Ws, 500Ws, and 1,000Ws monolights with MSRPs of $877, $1,224, and $1,404 respectively. The HotSync line includes 500Ws ($1,971) and 1000Ws ($2,286) models. There are also M-Pack units that separate the head from the pack for photographers who always need a light far off the ground. And there is an LED 400 continuous light source for video that you can control with either of the remote controls. Additional information is available at priolite-usa.com.
Stan Sholik is a commercial/advertising photographer in Santa Ana, California.