Add $50K or more to your bottom line
"Once you've been involved in performing arts, it gets in your blood," says Terry Bateman, M.Photog.Cr., CPP, a veteran of performing arts and music programs in his school days. "It's something that stays with you, becomes part of you."
In 1979, Bateman was able to translate his affinity for the performing arts into a budding photography career when a local lab hired him to photograph some nearby school music programs. He excelled at the work, and within a few years he was able to purchase that business line from the lab and strike out on his own. Since then, he's grown Indianapolis-based Performing Arts Photography by Bateman into one of the nation's leading studios specializing in the performing arts. He photographs marching bands, color guards, dance schools, school music program participants, orchestras, and more. Since his first year in business, he's earned solid six-figure incomes every year and expanded his reach nationwide.
Bateman believes that a skilled professional photographer who follows a few fundamental best practices could generate an additional $50,000 to $60,000 annually working with two or three good-sized school music and performing arts programs, or more than $100,000 by expanding the business line and investing more into the performing arts community.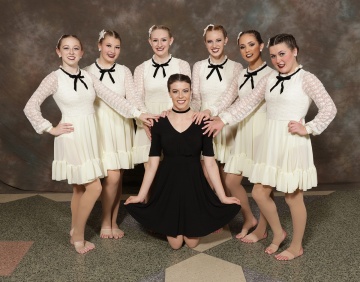 WHERE TO START
"I would always suggest that anyone coming into this line of work should start with a passion for the activity," says Bateman. From there, if you're familiar with performing arts from personal experience, he suggests using that background. If you're new to the field but interested, educate yourself so that you can demonstrate your knowledge of how to photograph these groups in the most efficient, artistic manner possible. 
The next step, says Bateman, is to build relationships with local music programs and dance organizations. Like so many specialty markets, the performing arts revolve around personal relationships—and a deep understanding of their unique space. Start with neighbors and relatives, and ask them about their involvement in local organizations, school programs, and private performing arts groups. Get to know administrators at these organizations.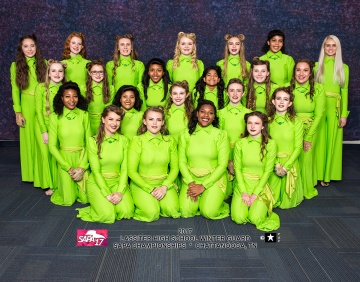 OPPORTUNITIES
"There is plenty of need for this kind of photography," says Bateman. "The key is matching the need with your talents."
Schools with music departments, marching bands, or color guards are a great place to start. That said, don't overlook independent groups. They often have a different set of requirements than schools, so you'll need to be flexible and listen to groups' expectations and needs—and also how they can assist you in creating the best possible experience and highest-quality product.
"It needs to be a win-win opportunity for you and the client," says Bateman. You need to provide a high level of quality, and they need to support you and provide you what you need. If you can establish that sort of symbiotic relationship, then you have the basis for a partnership that could last for years.
HOW TO STAND OUT
Performing arts photographers face competition from traditional school and team photographers, as well as larger group photography outfits looking to expand their franchises. "The key is to differentiate through customer service," says Bateman. "We set ourselves apart by offering customer service that really endears us to our clientele. It's more of a boutique style of service."
Bateman is also a specialist in the performing arts. He knows the instruments, the different roles people play, how to pose large groups for dramatic effect, and how to conduct a photo session with an extremely large, diverse group in a fast, efficient manner.
"The difference for us is this is a specialty, not something that we have to do as part of larger school contract," he says. "Some school photographers actually like us coming in to do this because they don't have to figure out how to pose and work with these groups. That can be difficult if you're not used to it. We've heard stories about other photographers taking two hours to do something that takes us 20 minutes."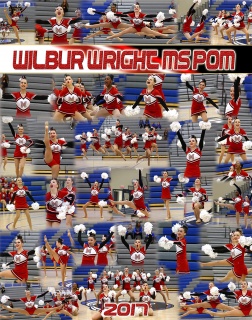 WORKFLOW
Depending on the engagement, Bateman may photograph on his own or bring an entire team. For dance, color guard, and indoor percussion competitions, he might have a couple photographers shooting the action with another out front doing portraits in front of a background. An additional assistant helps with logistics. The team could swell to up to six photographers for larger events, like state marching band competitions, which often produce more than 40,000 images.
The key to efficient processing, says Bateman, is good photo day planning backed by efficient, well-exposed captures. With good files to work with, his production team can quickly categorize image files for easier review and ordering. He describes the workflow system as similar to what a high-volume sports photography outfit might use.
 "Everything depends on how you handle the job on location," he says. "If you're not efficient or accurate on location, that creates tremendous disorganization on the backend production."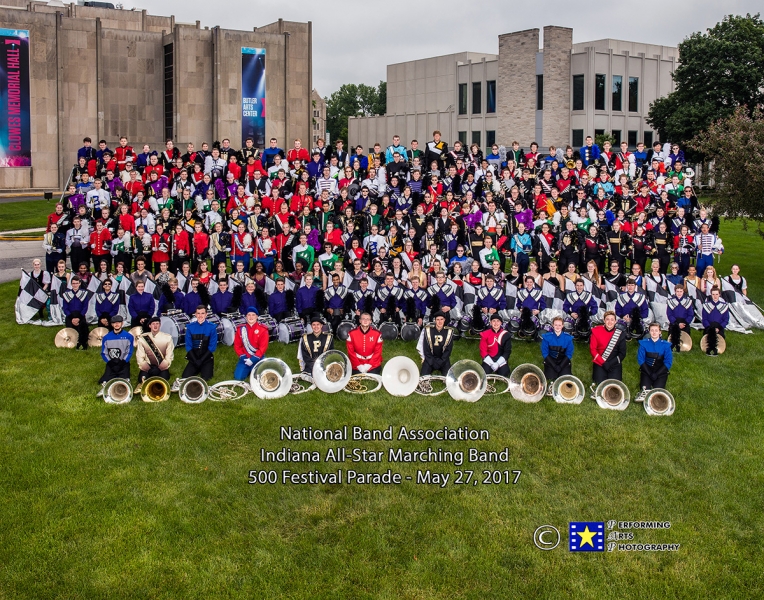 SALES
"The whole concept of this business is photographing one image and selling it multiple times," explains Bateman. This approach is best illustrated when working with marching bands. Bateman photographs 200 to 400 participants, depending on the size of the band, in a series of large group shots, which he then composites. He can then sell a few dozen to a couple hundred of that composite.
For products, Bateman sells a variety of prints as well as specialty products that consumers can't generally get on their own—like action collages, composites, group composites with each section of a band (tubas, flutes, trombones, etc.), and smaller keepsakes like buttons, magnets, and mugs. He custom-designed his order form so that it encourages upsells to multiple products. For example, he'll offer an add-on photo of just the senior members of a band or dance team, priced so that it's a discount from an a la carte purchase and an easy add-on.
Of course, to make these groupings and add-on products effective, Bateman has to capture all the key groups during the photo shoot. That means photographing the entire band, orchestra, or choir, then photographing the seniors as a group as well as each of the sections. This gives parents access to any combination of images they might want to purchase. 
Bateman supports multiple ordering methods—everything from online purchases to phone orders to kids bringing him money in an envelope on photo day. Unlike many photographers who take down online galleries after a set amount of time, Bateman leaves his up indefinitely. It may take away some of the urgency to purchase, but he has found it's worth it to keep the door open to later purchases. "People come back years later—sometimes as many as 10 years later—to purchase things," he says. "They might need images for a graduation celebration or a retrospective project. It happens quite a bit, so we leave the galleries open."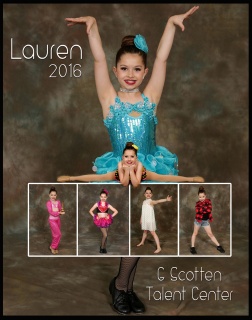 FINDING YOUR PASSION
Ultimately, Bateman goes back to his passion for the work, and for working with inspired young people, as the driving force behind his business. As the decades pass it's something that keeps him young at heart and energized about his vocation.
"Just as music uses both sides of the brain, having a heart-centered performing arts photography business that uses both analytical and creative thinking provides a tremendous amount of satisfaction," he says. "I'm very fortunate to do this for a living."
Jeff Kent is the editor-at-large of Professional Photographer.