When you're searching for the best way to carry your gear, first consider what's on your schedule for the day and think about what you need to have with you. Are you taking an invigorating creativity walk with your mirrorless? Are you traveling for two weeks overseas? Are you photographing a wedding? Are you taking portraits in the park?
I've tried out three bags over the past month and put them to real-world use.
DOMKE F-803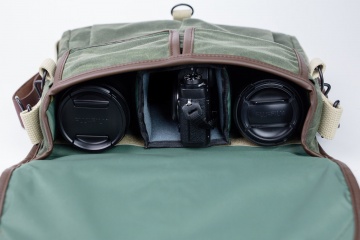 Tiffen produced a Domke line exclusively for Best Buy, and the F-803 is the smallest of that selection. It's now the bag I take to work every day. The weather-resistant waxed canvas exterior is durable and fits my style perfectly. (It even comes with a tin of wax for when it needs a touchup.) The bag is designed to appear weathered and broken in, and it doesn't look like a camera bag. You'll have to work on the leather strap a little to get the "new" off it, however.
It's small for a professional DSLR, but you could definitely carry one plus a speedlight. For my purposes, it works great with a mirrorless camera plus day-to-day stuff I like to have with me at any time.
It comes with one 4x4x8-inch padded lens pouch that can be fixed in any location in the bag with hook-and-loop strips. Two big pockets under the flap are pleated to expand, so you can use those for anything from business and media cards to a speedlight or large eyeglass case. Two exterior zippered pockets are great for flat items you want to have at the ready like a passport. The open pocket on the back is big enough to hold a file folder, magazine, tablet or small laptop, but obviously that's not secure.
All of the clips on the bag are steel snap hooks. The shoulder strap clips are the spring-snap type, but the one on the flap is a snap clip that requires a firm press between your thumb and fingers, which is great for preventing other people from dipping into your bag, but you also have to expend a little extra effort to shut it. 
These bags have an MSRP of $109.99.
PEAK DESIGN EVERYDAY SLING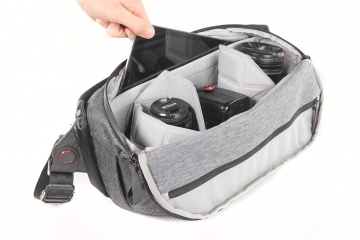 Peak Design is a brand that's grown steadily over the past several years. lt uses a crowdfunding model to launch new products. Its products cover a range of clip carry systems, straps, and bags. The Everyday Bag line includes backpack, messenger, tote, and sling designs.
I took the Everyday Sling to PhotoPlus Expo in New York last fall, using it as my plane carry-on, through days full of meetings, and on a photo walk on the High Line. Even stuffed and heavy, it was comfortable to carry, and the easy-adjust sling
design made accessing what I needed fast and easy. It's oddly both minimal and expandable in a sleek design.
The best thing is the extraordinary attention to detail in small features that make it a better bag than most. First, this is a photography bag. It's not designed to accommodate 8.5x11-inch paper products or big water bottles. There's an interior pocket that can fit an 11-inch tablet and two fabulously innovative FlexFold origami-inspired dividers to organize lenses, camera, and accessories. It's worth watching Peak Design's deep dive video to see just how they work.
The straps and strap hardware are exceptional quality, particularly the pivoting attachment points that keep the bag hanging comfortably in any position. Pockets and wraps conceal or fold any strap tails, so no excess strap length hangs loose.
The exterior soft pocket expands significantly when you need it to. At the same time, if you're storing this sling, the entire bag folds flat for efficient packing.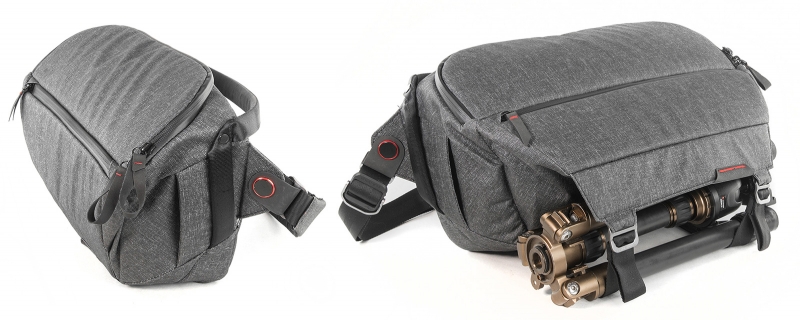 The Everyday Sling is $149.95.Finally, one of my favorite details is the sturdy hand strap on the back that also fits well over rolling luggage handles. This was fantastic to have when it was better to carry the bag briefcase style. Every detail of this bag shows an investment in quality design and material, from the weatherproof zippers to the 500 Kodra shell.
BREVITE ROLLTOP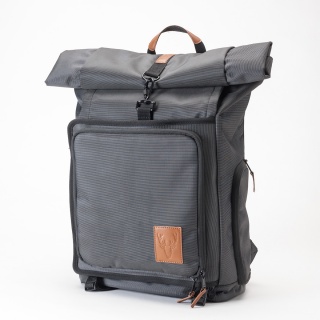 Brevite is a startup that offers Original, Rolltop, and Rucksack everyday backpacks. Each includes a removable protected insert called The System with movable dividers for camera gear. It can be swapped between Brevite bags and will hold a full-frame DSLR with attached lens, plus a 70-200mm lens and additional accessories. 
Each pack also has a tucked away rain cover and an interior 15-inch laptop sleeve. I tried out the Rolltop and loved almost everything about it. I used it for my overhead carry-on luggage on an international trip and spent a good bit of time with it on my back. There are so many neat little features on this bag that you won't ever use them all on a single occasion, but they fill needs that will crop up over time. For example, there's a removable lens cap holder on the shoulder strap that accommodates 52mm, 58mm, and 67mm lens caps. It's handy when you want it but not in the way when you don't.  I appreciated the zipper pockets on the belt padding because I could tuck away the waist straps when I didn't need them.
Let's be honest: No frameless backpack lets your back breathe, but this one isn't bad, and its sweat-wicking material worked pretty well. I love the polyester exterior, too. It has a pleasing tactile feel that's soft and sturdy but not stiff. The Rolltop opening has magnets sewn in that help you configure the closure. The construction and materials throughout are top notch.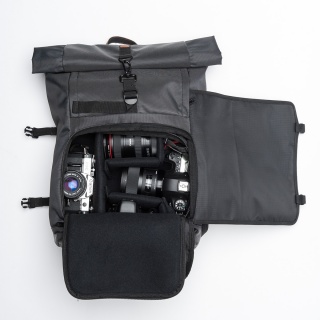 If you want to separate the Rolltop interior into two compartments, a stiff black shelf zips into place on the long side, so be aware that smaller items could still slide down into the lower part. Being able to see well enough to zip it in place was a real challenge, though.
All the organizational pockets and slots you'll ever need are found in the exterior flap that covers the largest camera gear opening. Plus there are straps on the side and bottom for a tripod, and a pouch for a water bottle. The exterior dimensions are around 18x13x6 inches.
The Rolltop sells for $185.
Joan Sherwood is the senior editor of Professional Photographer.