This year's international drone convention, Interdrone, was attended by more than 3,500 people and reflected the rapid maturing of the commercial drone industry. The FAA's new Part 107 regulations were prevalent throughout the convention and there was a particular focus on the data that drones capture. Here are some key highlights from the show.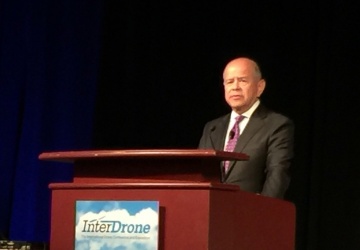 Part 107 drone regulations
From the keynote address of FAA Administrator Michael Huerta to commentary in nearly every presentation at the show, the new Part 107 drone regulations were one of the hottest topics at the show.  During his keynote address Huerta teased the crowd with two revelations: the FAA is actively working on how to implement beyond line-of-sight (BLOS) flight and identifying conditions that would allow operation of drones around crowds. Currently, the only way to conduct these types of flight is to apply for a waiver.
Aerial photography and cinematography
Workshops and presentations were offered for aspiring drone filmmakers. Most of the emphasis was on aerial videography with some detailed workshops by presenters including Douglas Spotted-Eagle, who shared tips and post-processing tricks of the trade. Colin Guinn, former chief revenue officer of drone maker 3DR, shared his experiences using drones with film director Michael Bay on the set of the movie "13 Hours."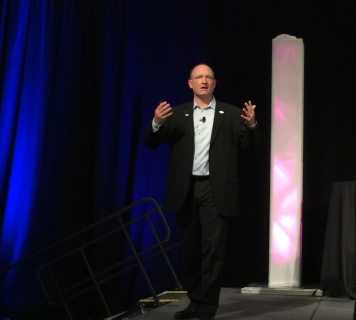 There was less emphasis on aerial still photography. A notable exception was a stirring presentation from keynote speaker and DJI Director of Education Romeo Durscher, who spoke passionately about his use of aerial photography and shared powerful insights on capturing amazing aerial panoramic images, including stunning vertical panoramic images. It's clear that having a background in photography or videography will increasingly become a point of differentiation for new commercial drone operators.
Data, data and more data …
A core focus at this year's show was what to do with all the data a drone collects, whether that's thermal imagery from a heat-sensitive camera or thousands of nadir images from a mapping mission. A number of exhibitors showcased services and specialized camera options to support drone operations in fields like agriculture, search-and-rescue and more. As drones evolve as data collectors their value will grow exponentially.
Starting your own drone business
There were several informative sessions aimed at inspiring drone operators to start their own businesses. "Take Your Drone Business to the Next Level" was moderated by Skyward CEO Jonathan Evans and involved an insightful panel discussion with four drone startups including DroneSeed—a company that's paid per acre to plant tree seeds. Skyward provides an array of planning and logging services to help drone operators plan safe flights and keep accurate flight records.
Dronalism
On the last day of the conference, keynote speaker and Emmy Award-winning "Good Morning America" Production Manager Maria Stefanopoulos mesmerized a large crowd with her  stories. Stefanopoulos is a pioneer in introducing drones into live broadcasts, including productions with drones flying over an active volcano in Iceland and inside the world's largest cave in Vietnam. 
Interdrone 2016 provided many learning and networking opportunities. Look for next year's show to demonstrate again how much can happen in a single year.
Justin Moore is a professional photographer and pilot in San Antonio. He is the owner of Moore Photography & Design as well as Airborne Aerial Photography.