When you work on location, you want your gear to get there in one piece. For the most part when photographers think "hard equipment case" they envision thick-walled molded plastic cases. Zarges Tubesca, an aluminum products manufacturer in Germany, makes aluminum cases that are light, stack securely, and offer secure gear protection.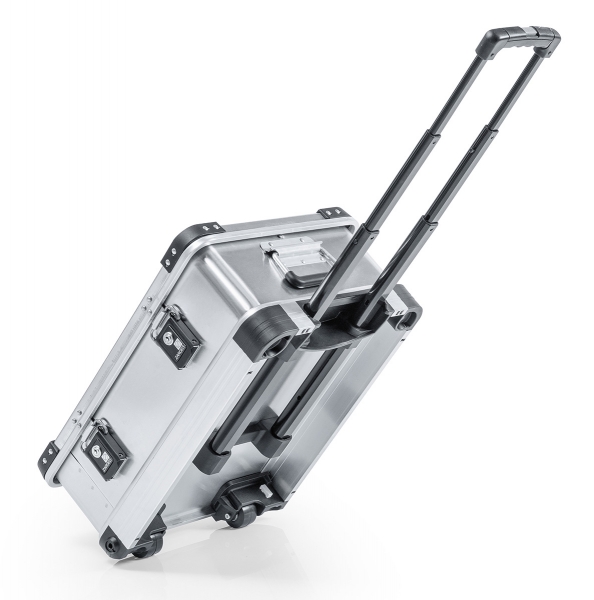 I was introduced to Zarges in the mid 1980s by business owners who regularly packed and moved rare and delicate objects. I like the cases because of their high strength-to-weight ratio, water and dust tightness, and ability to handle temperature extremes well. Best of all, they can be nested into a stable stack that won't slide in transport and can even be used as a sturdy platform to stand or sit on.
Zarges loaned me the smallest of its new K424 XC cases, the 28-liter capacity 41810, for review. With inner dimensions of 20.31x13.78x6.26 inches, it was just large enough to hold three Paul C. Buff Einstein E640 monolights, power cables for all, softbox speedrings, and padding. External dimensions are 21.65x15.75x9.17 inches. The K424 XC has two latches with integrated keyed locks, a full-length hinge on the opposite side, rubber-coated handles on each end, and water- and dust-tight seals. What makes the K424 cases different from the K470 series is a built-in full-length telescoping handle and rollers. Even better, you can install or remove an optional set of wheels in seconds.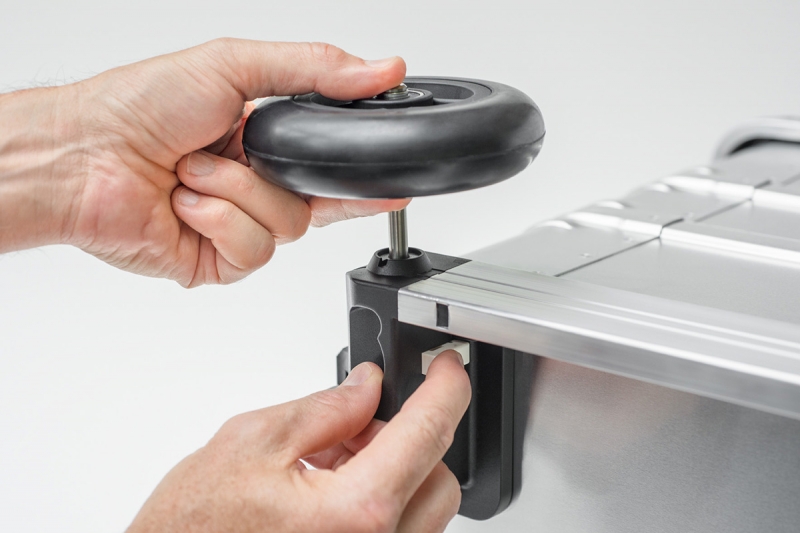 Two types of wheel sets are available: a 5-inch smooth-surfaced wheels for general use, which provide a ground clearance of 2 inches, and off-road wheels with 8.66-inch diameter inflatable wheels that increase ground clearance to 2.5 inches. If you need the off-road wheels, order that option at the time of purchase as the hubs for the shaft need to be factory installed along with a set of fold-away support feet. Both types of wheels are easy to install or remove without tools .
Other options include a removable padded liner with movable inserts and two sizes of internal lid bags for holding small tools, cables, or tablet computers up to 550x350mm. You can  opt for solid sheets or pluck-apart foam to create a custom fit to cradle specific gear.
There are five sizes of K24 XC cases with internal volume maxing out at the 41814's 11,922 cubic inches. The 41814 is large enough to hold a 27-inch Apple 5K Retina iMac or similar size computer or display if it's tilted inside the case.
The Zarges K424 XC model 41810 with optional 5-inch wheel set is $493.61.
Ellis Vener is a commercial photographer and contributing editor to Professional Photographer.