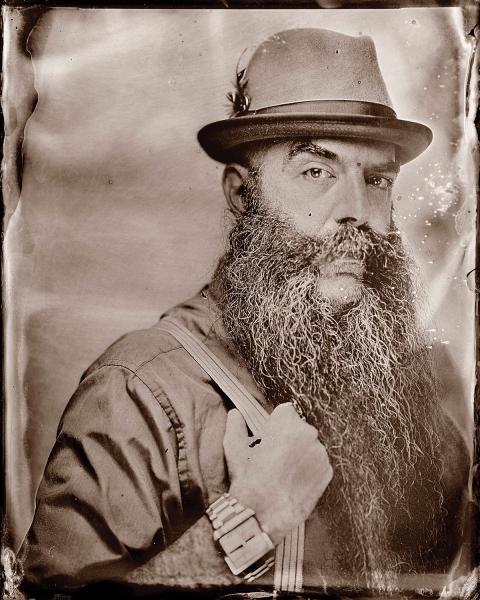 Greg Anderson has made portraits of participants in the National Beard and Mustache Championships for five consecutive years. (Read more about his portraiture success in our April 2017 profile.) In 2016 he decided to change things up by using an old-fashioned photographic technique, tintype. Here's how it went:
"I've been photographing the National Beard and Mustache Championships for the past four years, but I couldn't decide if I wanted to travel to Nashville in 2016 to shoot it again or spend the time and considerable investment on other personal projects I have in the works. I came to the conclusion that if I were going, I needed to have something new to further the project in some way. Six weeks to the day before the contest was to take place, I decided to supplement my studio-style images with tintypes, though, at that point, I had never shot a tintype.
"I ordered the chemicals, modified a 4x5 sheet film holder for my Graflex, and assembled a darkroom in my studio. The next six weeks were spent testing, researching, testing, troubleshooting, testing, and testing some more. I didn't realize how ambitious my intents were, not only learning to produce tintypes but to do so on location. I wasn't sure if, when I got to Nashville, I would end up with beautiful shots or blank plates, nor did I know how I would be able to either fix the bad images or replicate the good ones. But it was worth a shot.
"I flew out with my assistant and all the gear we could possibly check in with six Pelican cases, each weighing 49 pounds and change. At the hotel hosting the event, we set up the entire scenario before heading off to bed so that we'd be ready in the morning to turn on lights and start shooting. Luckily, the chemicals I had shipped were there in the morning waiting for me.
"At about 10 a.m. the guys I had arranged to shoot started showing up. When I saw the first image appear under the red safelight, I knew it was going to be a good day—into the fixer for a bath and then a minor celebration before clicking off shots for the next 10 hours, all without a hitch. I got some great shots, and this image of Nate Johnson alone made it worth all of the time and effort, not to mention the body of work and experience gained in the process.
"Special thanks to Stefan Ennals, Vada Ortiz, and MJ Johnson, without whom this project wouldn't have happened." 
See a gallery of Greg Anderson's portraits.
Eric Minton is a writer and editor in Washington, D.C.