Jeff Roffman Taps Into a Profitable (and Hilarious) Niche
Five years ago, Jeff Roffman held his first Santa day at his Atlanta studio. It was a modest event with about 15 sessions. Almost every kid cried.
Chalking it up as a failed experiment, Roffman readied himself to move on when he began getting feedback from the parents. They loved the photos. In fact, about halfway through the following year, clients started asking if he was doing them again. So he did, hosting another Santa day at the studio, this time adding more props and some activities for the kids. Again, most of the young subjects cried. And again, the parents clamored for more.
Roffman went all in. He purchased more props and decorations, added holiday themed activities for the kids, and transformed his studio into a winter wonderland. Word-of-mouth referrals started pouring in from greater Atlanta as images from the first couple of years spread across social media like an eggnog hangover.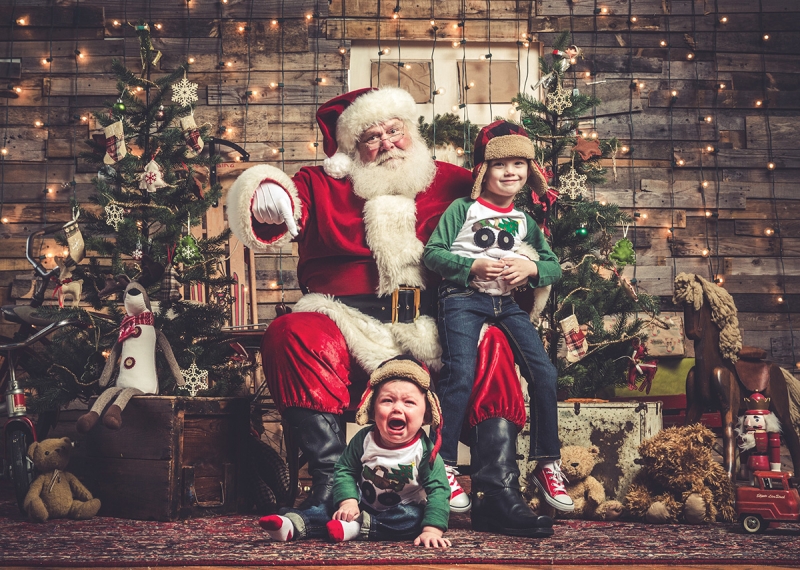 Roffman's efforts and referral-based marketing led to photographing more than 1,000 kids in last year's program. Within days of the event's conclusion, he was fielding inquiries for the following year. This year, he opened online booking in January and all available spots (about a week's worth of appointments) sold in 24 hours. He later expanded the program and added some private days, during which companies can rent out the entire operation for their own guests. This year, Roffman will photograph as many as 4,500 kids over 15 days.
How did the event get so big, so fast? In Roffman's view, the trajectory was launched by his efforts to outdo himself every year. Like a Clark W. Griswold of holiday-themed photography, he keeps adding more and more and more, until the photography—at least in the kids' view—is a distant distraction to the overall experience of visiting the North Pole in the middle of Georgia. This year's event will feature:
Operational Santa's workshop
Holiday-themed arts and crafts tables
Cookie decorating station
Indoor snow machines
Christmas movies projected on a big screen
Giant teddy bear for family selfies
Model train village
Eight-foot locomotive with lights and fog
Hot beverage bars: cocoa for kids and coffee for parents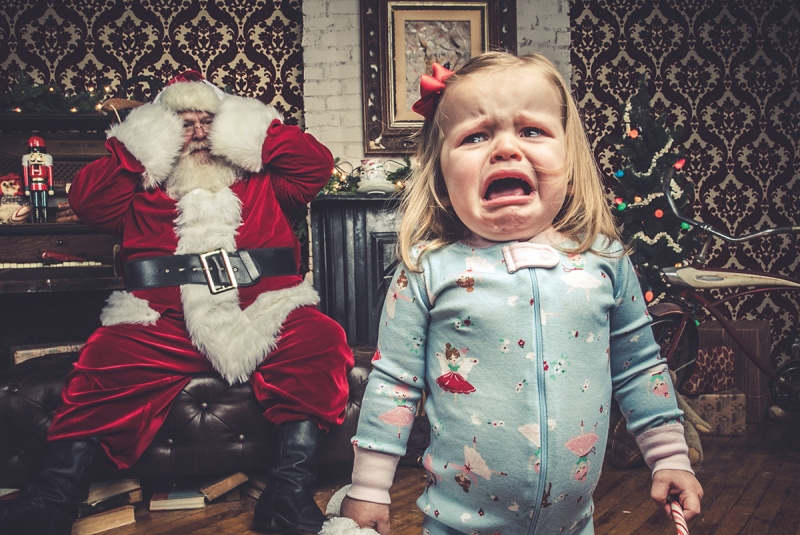 In many ways, Roffman has marketed his Santaland as the anti-mall Santa experience: "People hate going to the mall, waiting in line, dealing with the crowds and stress. We set up our whole studio like a Christmas land. It's a much more enjoyable experience. We also keep our pricing low, especially compared to the mall. We do that to get more people involved and make it feel more festive. We might have 200 to 250 people in the studio at a time. All those people help build excitement and a festive atmosphere. People come in nonstop during the day. Typically, families hang around to do all the activities. Some people stay 30 minutes, some stay two hours."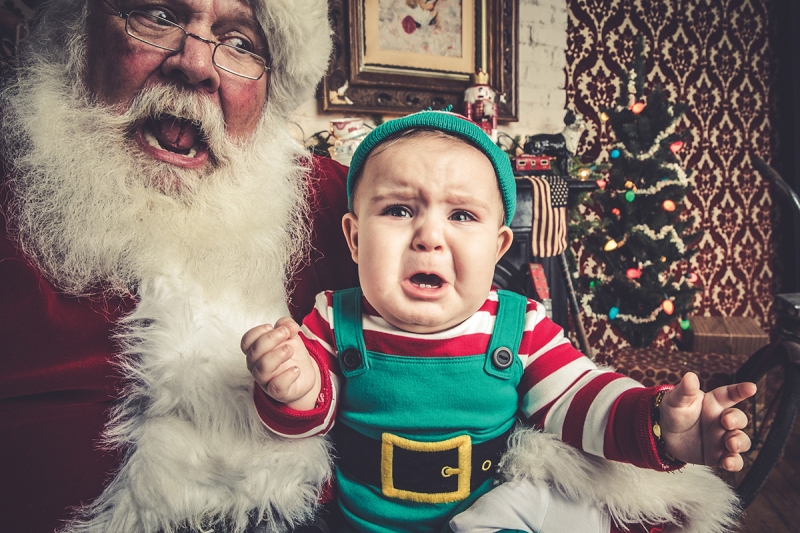 Planning and booking
As soon as the event ends, Roffman starts crafting plans for the next year. He peruses estate sales and online ads for props and decorations. He accumulates items throughout the year, working them into an updated theme or new attractions.
Using an online appointment program, Roffman starts taking bookings 10 months out. Parents can make an appointment, provide the needed information, sign an image-use waiver, and pay for the session. On the administrative side of the system, Roffman and his team can adjust schedules, send reminders, offer driving directions, and export emails so they can send promotions for other events throughout the year.
Roffman starts decorating two months before the event, which takes place in early November. Temporary seasonal workers assist with setup and staging. The November shooting days allow time to deliver images to clients well ahead of the holidays and give them options for ordering Christmas cards and other holiday-themed products.
Parents get a series of reminders and follow-up emails beginning two weeks before the event. Emails include clothing suggestions and information about special motifs, like the pajama theme last year.
Holiday session tips
Always have a plan B. Things don't always go the way you planned. Be able to troubleshoot and adapt.
Take it seriously, but not too seriously. It's work, but have fun with it. If you're enjoying yourself, your clients are more likely to loosen up and have a great time, too.
Focus on the client experience. It's not just about taking pictures. Your clients are giving you precious hours at a busy time of year. Make it enjoyable for them.
Solicit ideas. Bounce ideas off of other photographers and business people. And don't forget to ask your clients what they want.
Keep your eye on the ball. It's easy to get distracted by details. Stay focused on what you're doing and on creating a great client experience.
Photo day
On picture days, Roffman employs a small staff to help him. A greeter at the front door welcomes clients and directs them to sign in. Kids can then participate in activities and just have fun until their appointment. At photo time, Roffman's team announces the kids' names over a loudspeaker. Roffman and an assistant capture the images, and then the kids can go back to the activities for as long as they'd like.
Sessions are quick. Roffman does one every 2.5 minutes, but everyone gets his or her own scheduled time. This eliminates the long lines often associated with a mall Santa setup. It also allows Roffman to capture, on average, 20 to 30 images of each child. He photographs about 400 kids a day using this rapid-fire schedule. (The criers are quick to skeddadle, leaving time for older kids to chat with Santa.)
During the event, an assistant walks around with holiday treats. Another person keeps the arts and crafts stations stocked, makes sure the model train is working, and removes trash. An outside company manages the hot cocoa bar, a lemonade stand, and a coffee bar.
After initially trying onsite processing and printing, Roffman transitioned to an online ordering process two years ago. He uploads the photos as soon as they've been adjusted and then sends a coupon code to each client that allows them to order an image. Of course, some buy additional photos from the gallery as well.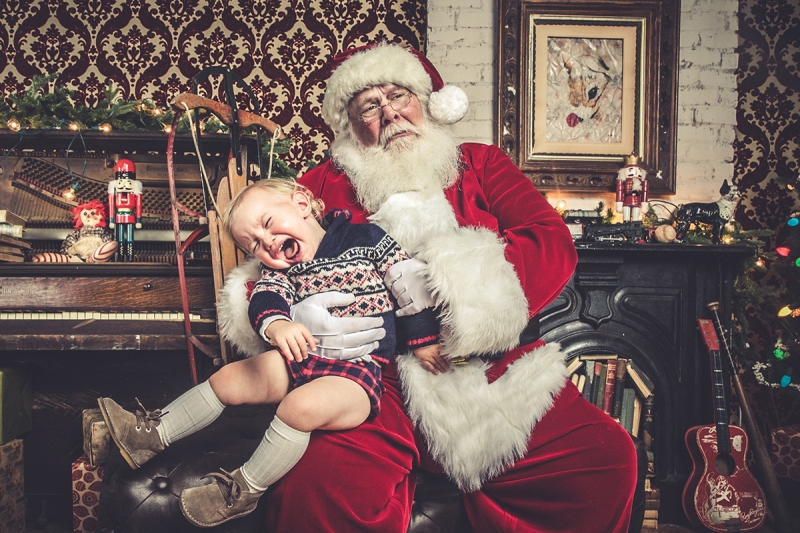 Business in the happy place
Revenue from his holiday event produces a big boost to Roffman's bottom line, accounting for a large percentage of his annual revenue. Additionally, he's gained a lot of new child and family portrait clients, not to mention referrals for commercial photography work.
These financial benefits are great, but Roffman concedes that the event has become something that he looks forward to every year—maybe as much as the kids. "I never thought I'd be doing something like this, but it's a lot of fun," he says. "I can look at this project, and recognize that I'm in a really happy place."
RELATED: Jeff Roffman turned pouty kids into viral gold with "The Naughty List."
Jeff Kent is editor-at-large of Professional Photographer.