There's been no lack of hype and excitement over the Sony Alpha 9 mirrorless camera. Though the a9's 20 frames per second (fps) capture specification initially makes it seem like a $4,500 one-trick pony for sports and wildlife photographers, after using for two weeks I'm convinced it will find a welcome home with portrait, wedding, child, and pet photographers as well as photojournalists.

I tested the a9 along with the latest Sony FE 24-70mm f/2.8 GM and FE 70-200mm f/2.8 GM OSS lenses. It's an ideal kit for professional photographers with a generous budget.
The a9 body features a 24.2-megapixel backlit stacked sensor. This translates as a virtually gapless pixel array (backlit) with integral memory (stacked) that passes on pixel data to the Bionz X high-speed processing unit. The stacked sensor technology, which until the a9 was primarily used in low-end cameras and camera phones, allows the a9 to move the 20 fps captures to the image processor and onto a media card quickly.
With the mechanical shutter in the a9, maximum capture speed is 5 fps. The electronic shutter offers three user-selectable frame rates: Hi for maximum 20 fps capture, Mid for maximum 10 fps capture, and Lo for maximum 5 fps capture. These rates are dependent on lens selection, shooting conditions, shutter speed, and manual or auto focus. While Sony says 20 fps is attainable with autoexposure and autofocus, my metadata shows I never reached this rate. It was close, though, for both the Hi and Mid settings.
After the novelty of shooting 20 fps and editing out more than half of the images, I realized that unless I'm shooting a baseball batter's swing, a hockey slap shot, or a hummingbird in flight, 10 fps is pretty much all I need.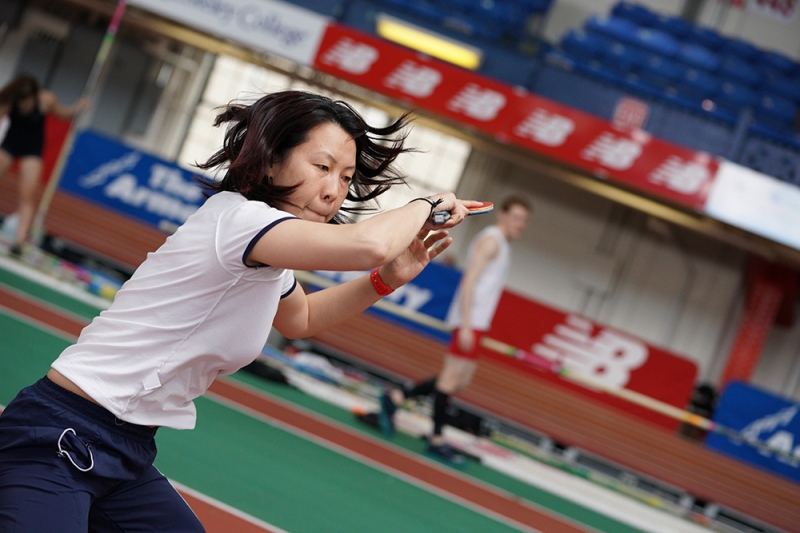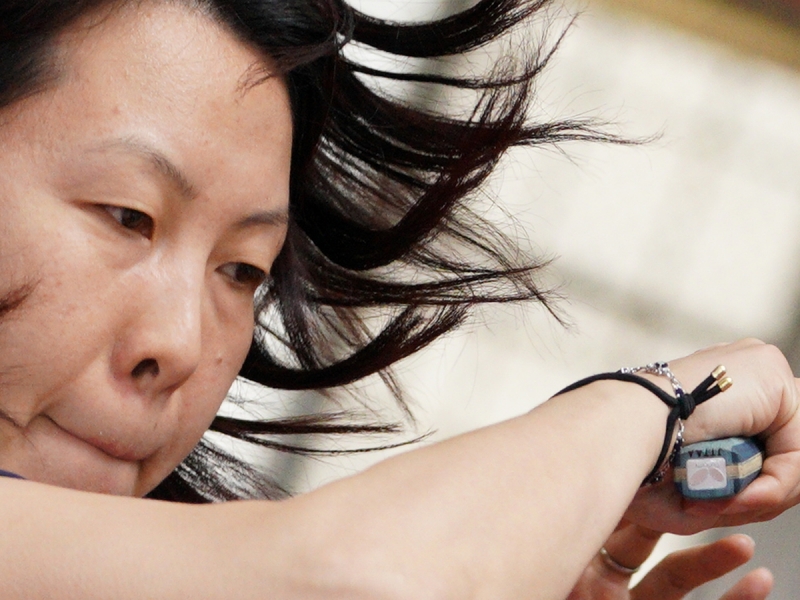 The electronic shutter offers additional advantages; however, the most important plus may be the lack of frame blackout. The subject is continually visible for the entire sequence. You can track every direction change of a running child, the arc of a garter toss, and the yawn of a pet with precision. And you can attain silent shooting when the electronic shutter is used, making the a9 ideal for classical music concerts as well as subjects such as professional golfers, babies, wildlife, and skittish pets.
The only distraction of the electronic shutter is a flickering black box in the viewfinder that marks each capture, but you can disable it in the menu options. If you turn off the black box and the sound, neither you nor anyone else will know you're taking photos at up to 20 fps. Another advantage to the electronic shutter is a minimum shutter speed of 1/32,000 second, compared to the a9 mechanical shutter minimum of 1/8,000 second, though I never actually found enough light to use that shutter speed. The disadvantage to the electronic shutter is its inability to sync to electronic flash. In the studio you must revert back to the mechanical shutter if you aren't using continuous light.
I found myself using the electronic shutter almost exclusively, and most often with single-frame capture. There's no need to chimp the final results when there's no image blackout to raise doubts. This is a good thing, too, as you have to dig deep in the menus to override the default to display the final image on the rear LCD.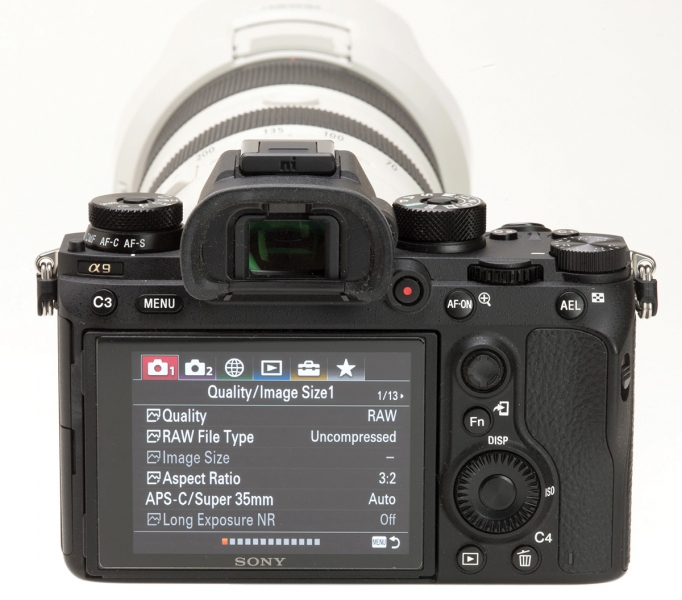 Speaking of menu setting options, the a9 abounds in them. In fact, it's a bit of a nightmare for new users like me. With 13 screens of options for still photography, nine for video, three for network settings, three for playback, and seven setup screens, there seem to be choices for practically everything. There are also five places to store custom settings, and this seems like a good plan since some of the settings I take for granted to be easily accessible are not. One example is the format setting, found in the Setup5 menu options, not accessible by pressing two buttons as it is on my Nikons. Sony says this is to protect us from deleting all images by pressing an easily found format button or combination. The names of the options weren't intuitive to me, and I often found myself wondering what a menu choice meant. There,s no help button or menu explanations available, and even the manual is often less than helpful.
While many of the a9's options are buried in the menu structure, this makes for a clean, uncluttered body. Three Custom Key buttons are preprogrammed: C1 for white balance, C2 for focus area selection, C3 for choosing the mechanical or electronic shutter, and C4 for trash. There's also a function key that allows quick access to 12 camera functions. Once you're familiar with these settings, the embedded menu structure can be nearly ignored. Or you can program all of these buttons with various functions, as you can with several other buttons on the camera. I counted 10 programmable buttons and maybe 70 different functions that  can be programmed.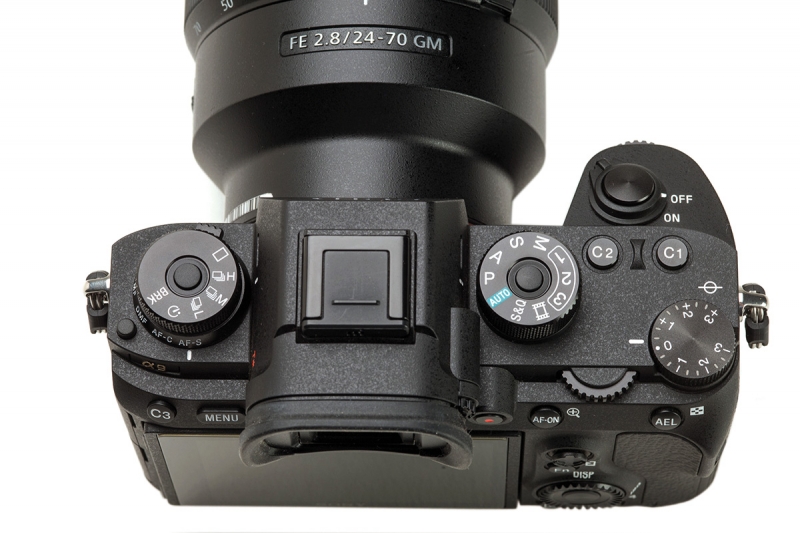 Three major dials reside on the top deck: a drive and focus mode stack, mode selection, and exposure compensation. The drive mode dial allows you to change from single -rame capture to high-, medium-, and low-speed continuous capture. The focus mode dial allows you to select single or continuous focus modes, manual focusing, and DMF, where you use autofocus to get you close to correct focus then touch up the focus manually. With phase detection autofocus, 93 percent of the sensor area is available for focusing.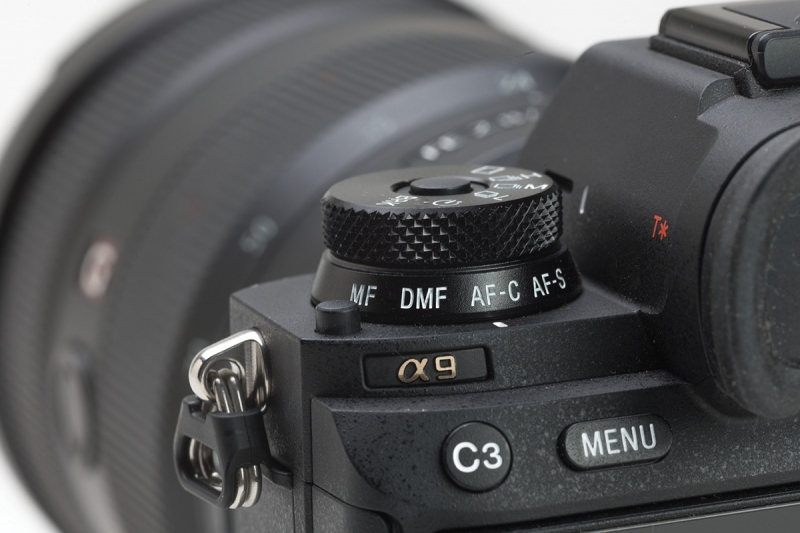 There are many other features in the a9 that users will appreciate. The Quad-VGA OLED Tru-Finder viewfinder has a resolution of 3,686k. Even in significantly low light the viewfinder displays a bright image with little delay as you pan the camera. The sensor itself boasts excellent low-light focusing and capture abilities that are not quite up to the Nikon D5, but they're close.
Sony uses a new Z battery in the a9 with specs claiming 480 captures using the viewfinder or 650 captures using the LCD screen. I never had a problem with my short periods of shooting, but battery life will be far less than that of DSLRs with optical viewfinders.
Dual SD card slots are available, one of which is UHS-II compatible, though I would rather have had one XQD slot if space is the issue rather than two SD cards slots. The a9  includes an Ethernet port to deliver images via FTP to a remote server.
Other features include a standard ISO range of 100 to 51,000 that you can expand with menu settings to 50 and 204,800. Image quality throughout the range is excellent, and ISO 12,800 is easily usable for quality captures. If you prefer lower ISO settings, the built-in 5-axis image stabilization provides excellent results at lower shutter speeds when shooting handheld.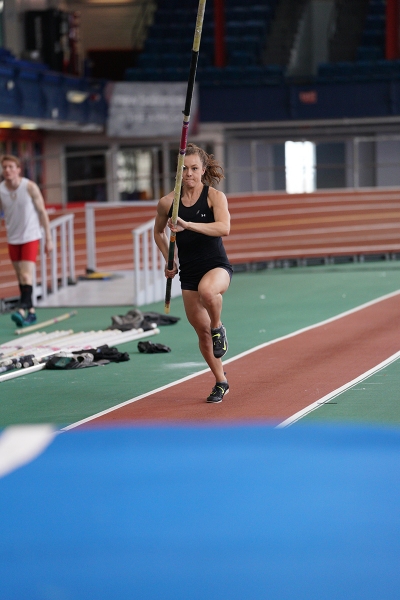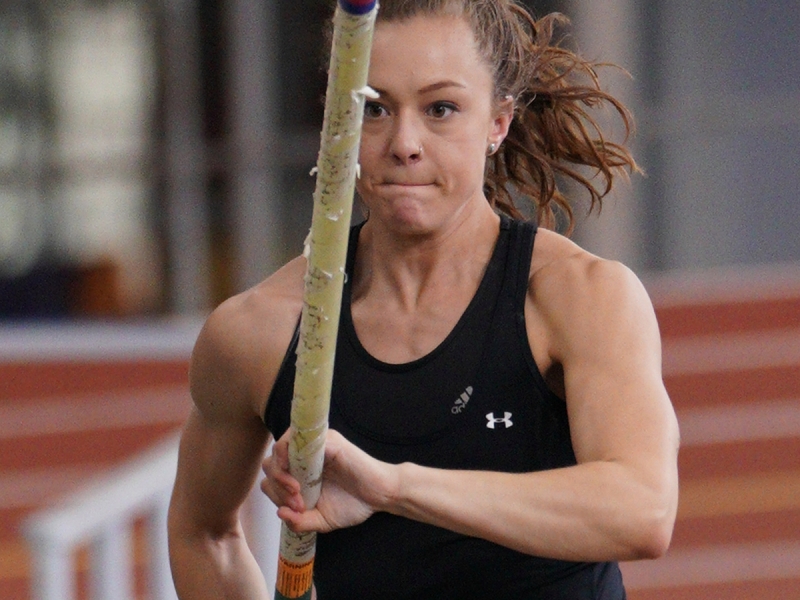 Also worthy of mention are the video capabilities of the a9. You have the choice of 24, 25, or 30 fps 4K video at 100 and 60 Mbps and a wealth of other capture rates and video formats. However, video does not seem to be a major strength for the a9. Wedding photographers and videographers might want to wait a bit for a more video-centric version of the a9 to appear.
The 24-70mm and 70-200mm lenses performed to professional standards. However, they are the size and weight of DSLR lenses, reducing the value of a smaller, lighter-weight camera body. I found the balance of the camera/lens system to be decidedly lens heavy compared to the balance of my Nikon DSLRs.
The a9 is an impressive piece of work, suitable for nearly every photographic specialty other than perhaps studio still life and landscape, where higher resolution is always a goal and capture speed generally isn't. Sony is still building a range of GM series lenses for the a9. At present there are only five. What are needed are quality single focal length lenses and long focal lengths for the sport and wildlife professionals. The Alpha 9 appears to be Sony's first serious move into the professional photography market, and it is a formidable one.
Stan Sholik is a commercial/advertising photographer in Santa Ana, California, specializing in still life and macro photography.