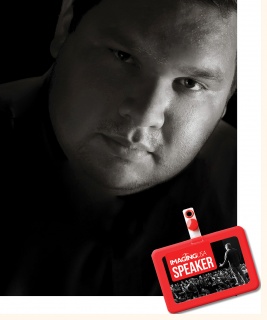 There's a common notion among pro photographers that they have to choose volume or art. The idea is that quality declines as speed increases and that a fast-paced, high-volume environment is not conducive to high-quality work.
But is that necessarily true?
Andrew Faulds, M.Photog.Cr., CPP, is a photographer for the Scottsdale, Arizona, branch of Cilento Photography, a division of Lifetouch. He spends an average of one hour per portrait session. Yet Faulds has racked up more than 25 merited images in PPA's International Photographic Competition— including a dozen Loan Collection photographs—almost entirely from his client work. He's earned IPC platinum, gold (twice), silver (twice), and bronze medals over the past six years and is the reigning Arizona Photographer of the Year for the second time.
When he's not making eight to 10 portraits a day, Faulds instructs other photographers on technique, workflow, and perhaps most important, efficiency. Faulds argues that speed isn't the enemy of creativity. On the contrary, he says, the more efficient you are, the more you free your mind from the doldrums of process and concentrate on creativity.
"In our business, we need to work with tight timeframes but also create really high-quality imagery," he says. "That is one of the things that all portrait photographers need to work on—creating high quality in short time frames. I hear from too many photographers who talk about these marathon sessions that take an entire day, but they aren't making any money because the sales don't justify the hours. If you're taking nine hours to shoot a portrait session, that is too long."
Faulds has established best practices for working fast and efficiently while maintaining competition-level quality. His approach isn't just for high-volume photographers: The principles can be applied by any photographer who wants to operate more profitably.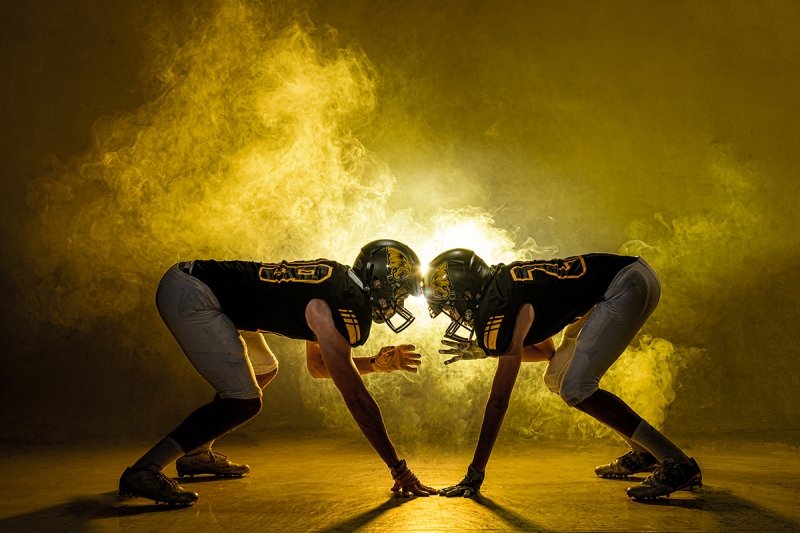 Prepare
Faulds' first key to workflow efficiency is preparation. He gathers information about clients prior to their session and crafts a few portrait setups before they arrive. This includes selecting backgrounds, metering the lights, setting his focal lengths, and setting up light configurations. When clients arrive, he can tweak as necessary, but the main technical elements have already been established.
"The idea is to take the equipment out of the equation so you can focus on being creative," says Faulds.
Faulds pre-visualizes sessions with the goal of creating a flexible artistic plan. He considers a few different scenarios—maybe something traditional, something casual and fun, and something more avant-garde—and then comes up with lighting and technical plans around those scenarios. When clients arrive, he's ready to run with one of those plans.
Adapt
We all know what happens to best laid plans. Because they're apt to go awry, it's important for photographers to be adaptable. That doesn't mean starting over from scratch. Instead, photographers can build off their preparation and pivot, ever so slightly, to customize the session for the particular traits of the subject.
Faulds suggests that photographers practice making quick judgments about subjects based on their style, clothing, complexion, body language, and how they present themselves. Experienced photographers should be able to make assessments within seconds and adjust their shooting plan.
"I usually start by observing their clothing and body language, which helps me make decisions about posing," says Faulds. "For example, are they more fashion forward or traditional? The posing, in turn, will determine lighting and other specifics."
Consistency is critical, and this is where pre-visualizing multiple scenarios is helpful. Let's say, for example, that a client shows up in a traditional blue button-down shirt. Faulds will choose a more traditional background that provides color harmony and then pose the subject in a traditional fashion.
That pose will determine the lighting approach. "Light the pose; don't pose to the light," says Faulds. "If you're using a nice, traditional pose with a smiley, happy expression, then light to that pose and expression. Avoid high-contrast lighting with a lot of dark, moody shadows. That lighting is inconsistent with the pose and expression. Instead, try loop lighting or butterfly lighting to play up the lighter mood and expression."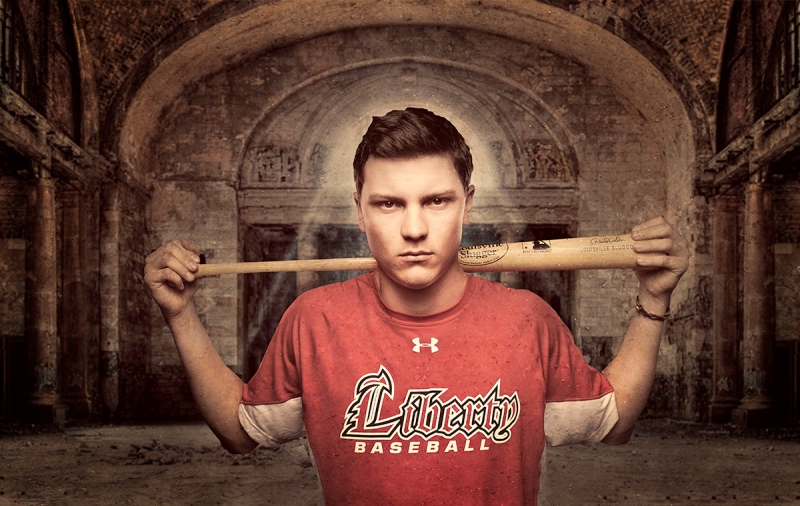 Personalize
It can be difficult to build a bond with a portrait subject during a short session. Again, Faulds turns to preparation. He gathers background information about his subject beforehand and then uses his notes to create an environment that's as comfortable as possible. This includes playing music his clients like, greeting them by name, and demonstrating a genuine interest in them.
"You can absolutely build a rapport during a shorter session," says Faulds. "It starts with being genuine and trying to get to know them. I always tell photographers, 'It's better to be interested than interesting.' It's not about you and your awards and how great you are. It's about the clients, their interests, and what they care about."
While he's talking with his clients, Faulds multitasks. He looks at their outfits, picks out backgrounds, and fine-tunes session styling. By the time he's finished making his tweaks, the client has settled in and everyone's ready to begin.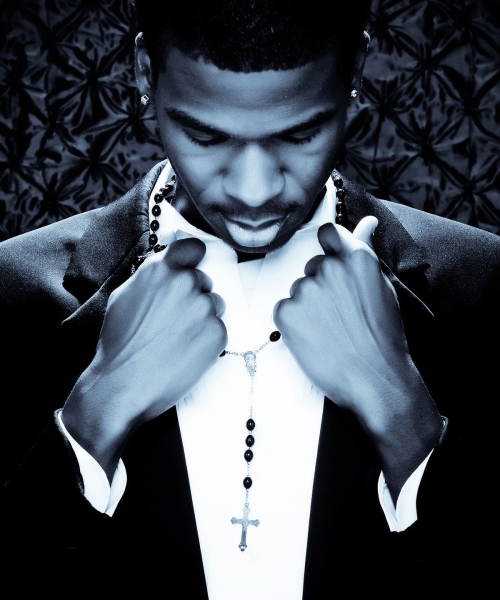 Produce
Post-production time should match the session length, says Faulds. So if it's an hour session, that's one hour to edit, retouch, and set up the sales presentation.
To fast-track the culling process, Faulds suggests editing based on visual variety, never keep-ing multiple images that are essentially the same. His method is to identify three distinctions from image to image. If he can't, the image is deleted. The elements he looks for include:
Horizontal vs. vertical orientation
Pose
Clothing change
Background change
Use of a prop
Lighting patterns
Lighting quality (hard vs. soft)
Lighting ratios
Expression
 Eye direction
Thinking about these elements affects your photography, as well. If you consider all the elements each time you click the shutter, you'll create more visual variety. This is important not only for easing the editing process but also for building a more saleable collection of photographs.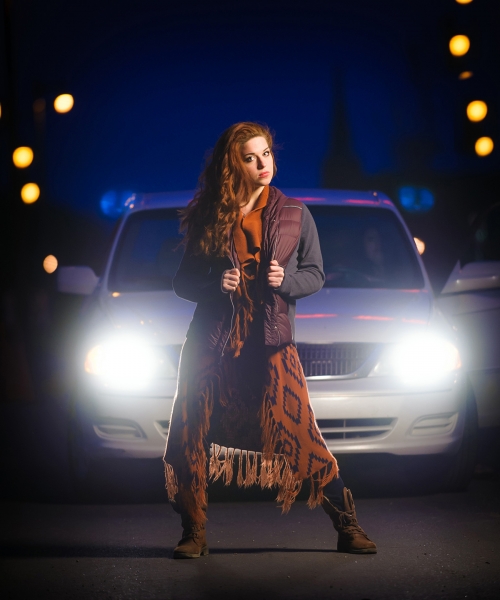 "Clients don't want to see the same image over and over," says Faulds. "It makes them unsure and erodes their confidence in you as a photographer. They don't know how to distinguish between very similar images, and they start to wonder, Why did he take the same image three times when he could have done something new? That can affect your sale. So your objective should always be variety but also the best quality images that are different from each other."
Faulds finds Adobe Lightroom essential for fast processing. With custom presets based on the backgrounds and light ratios used during the portrait session, he conducts about 95 percent of his editing and retouching directly in Lightroom. He also uses synching functions that will sync across the board for images with similar exposures. When he imports images to Lightroom, the presets enhance the images most of the way. Then Faulds just needs to make minor adjustments to get the images ready for client viewing.
Once again, having a plan can make this process much more efficient. "Understand what type of photographer you are," advises Faulds. "Then create a plan of when to apply certain effects. Don't have 100 presets to play around with. Narrow it down to five or so based on your different styles of photography. Have those ready to go, and then fine-tune to perfection."
Present
Introducing these efficiencies isn't just about working faster; it's about working better. Faulds stresses that efficiency in process is the route to better quality.
"It is possible to make an award-winning image in a one-hour session," insists Faulds. "If you are as efficient as possible, it allows you to concentrate more on creativity. You don't need to hire a model and spend 10 hours shooting to make a competition image. You just need to work more efficiently so you strip away all the parts of your process that are bogging you down and then apply the additional focus to making the highest-quality images possible."  
RELATED: Andrew Faulds' corrective posting and lighting tips.
RELATED: See a gallery of Andrew Faulds' images.
Jeff Kent is editor-at-large of Professional Photographer.