Ever heard of an aerial camera that shoots 4K video, folds down to the size of a water bottle, and can stay aloft for nearly 30 minutes? Until several months ago, no one had. In September 2016, drone maker DJI introduced the Mavic Pro and with it, a new genre of personal drones that are small, capable, and full of technology.
You have to get your hands on a Mavic Pro before you can fully appreciate how compact it is. For your convenience, DJI offers a Fly More combo that features a small shoulder bag that holds the remote and two extra batteries. The combo comes with a car charger, battery hub, and other accessories that make the Mavic road-trip ready.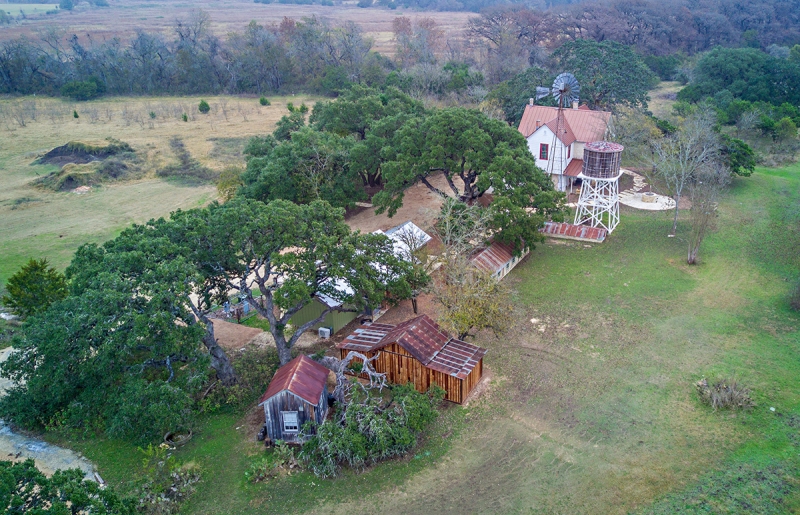 Flight Setup
Preparing the Mavic Pro for flight is as simple as folding the drone's front arms out and the rear arms down and back. Unfolded, the Mavic Pro looks like a robotic leaf-footed bug that stands ready to fly at your command. Grab your Apple or Android phone, connect it to the small remote controller, and you're ready for some flying. The Mavic Pro, like all DJI drones, uses DJI's Go app.
Remote Controller
The remote controller is a big departure from DJI's standard unit. It looks and feels like a controller on a game console, but closer inspection shows that it's full of sophistication. A new LCD panel on the controller communicates critical information, including flight mode, controller and drone battery levels, number of satellites acquired, and much more. Two arms fold out from the bottom of the controller to cradle a smartphone that allows the pilot to use the app; this provides a live view from the drone camera and access to the app's features.
The sticks are much smaller and have a different feel than DJI's standard remote, but they still provide plenty of control authority to enable pilots to expertly maneuver the Mavic in the sky. Unlike any previous DJI drone, the Mavic Pro supports control using only a smartphone through the use of "virtual sticks" that appear in the app. This mode is range limited since it uses Wi-Fi but can be handy for a quick photograph with your friends.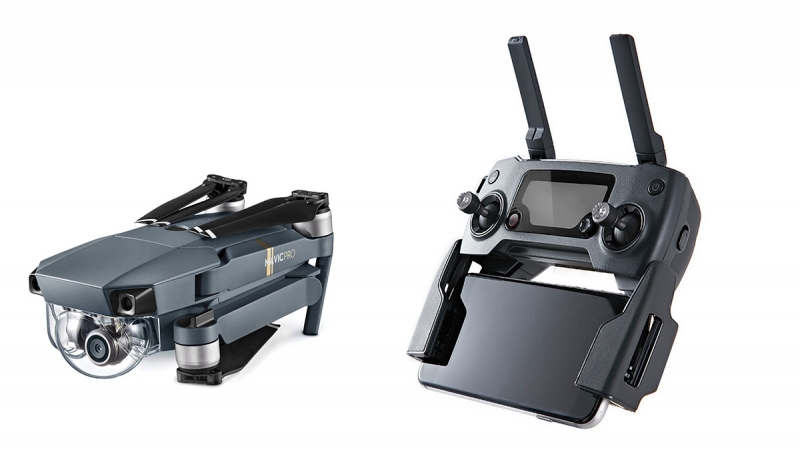 A rich set of features
Don't let its diminutive size fool you: The Mavic Pro is full of features. It inherits the front obstacle sensors that debuted with the Phantom 4, allowing it to scan the world in front of it and stop on a dime if an object is detected ahead. Five sensors work together to avoid obstacles and provide precise hovering using an updated version of DJI's Vision Positioning System.
A new OcuSync wireless transmission system provides a detailed live view from the drone and a range of up to 4.3 miles. It allows for wireless transmission of the image to multiple devices, including DJI's goggles that provide a cordless, first-person view.
The camera
One look at the size of the Mavic Pro camera might lead you to assume that having a super portable drone requires sacrificing image quality. Despite its size, the specs on the camera are comparable to the Phantom 4, providing video capture up to 4K Ultra HD and 12-megapixel photographs that support Adobe DNG for maximum post-processing flexibility. Image quality is great despite some visible noise above ISO 100. A unique feature is the Mavic's ability to rotate the camera sensor and take a wide-angle portrait photograph. This opens up new creative opportunities and aids in the creation of beautiful panoramic images by overlapping multiple vertical photographs across a horizontal plane.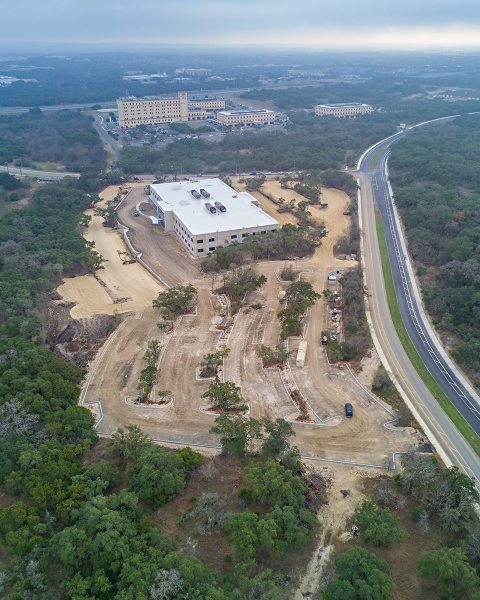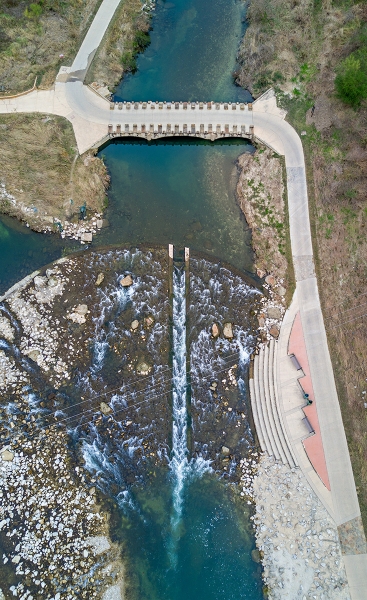 Intelligent Flight Modes
The Mavic Pro inherits the Phantom 4's popular Intelligent Flight Modes such as ActiveTrack, Waypoints, and Point-of-Interest. It also introduces some fun options. With Tripod mode the Mavic's top speed becomes 2.2mph and control inputs are dulled. This provides an opportunity to safely fly the Mavic indoors, in tight quarters outdoors, or at any location where you want maximum control and stability.
The ActiveTrack Profile mode identifies the subject and then tracks it from the side as it moves, which creates dramatic scenes. Finally, the Gesture mode allows you to create a selfie without the controller. Just wave to get the Mavic's attention, and it starts following you. Use your hands to create a photo frame, and the Mavic starts a self-timer so you can pose for a "dronie" shot with your friends.
Flying The Mavic
This drone is a joy to fly. Despite the smaller size, it's responsive and handles much like the Phantom 4 for the operator willing to provide smooth control inputs. In Sport mode, the Mavic Pro's nose dives down as it cuts through the air at speeds just over 40mph. Agility and responsiveness are greatly improved in Sport mode with the sacrifice of disabling the collision avoidance features. Use this mode only if you're an experienced pilot or are willing to risk your flier becoming one with a nearby tree. Spend some quality time with the Mavic to get a feel for its flight characteristics.
Close But Not Perfect
So is the Mavic Pro the perfect drone? Not quite. Sunset photographers won't be able to capture a sky full of fiery clouds as the Mavic's camera can't rotate 30 degrees above the horizon like the gimbal option on Phantom and Inspire series drones can. The Mavic's shoulder bag is beautifully compact, but that's at the expense of a design with an uncomfortably tight fit when fully loaded with two extra batteries.
Despite these minor drawbacks, the Mavic Pro is a game changer. It's a super portable, take-anywhere drone that has a rich feature set, is fun to fly, and boasts the latest innovations.
Justin Moore is a photographer and pilot in San Antonio.