While printing can, and in some cases should, be outsourced, being able to offer customers large-format high-quality prints made in house can offer an increase in profitability and faster delivery times. When considering the cost of a printer, photographers need to take into account the ongoing operating costs of ink, media, and time.
Though the Canon imagePrograf Pro-2000 shares a lot of technology with the 17-inch Pro-1000 reviewed in our March issue ("New Pro Line"), its 24-inch roll media print capacity puts it on another level. The imagePrograf Pro-2000 features upgrades introduced with the Pro-1000: new formulations of ink, ink delivery, paper handling, and user interface that made significant improvements to the print quality and printing process. Compared to older Canon Pro Series printers, the 11 color inks and Chroma Optimizer in the Lucia Pro ink set gave smoother results in gloss and semi-gloss media as well as improved ink efficiency. In addition, the new paper handling system not only improved print sharpness and resolution, but it also allowed for borderless printing. The operating system became much clearer and more straightforward.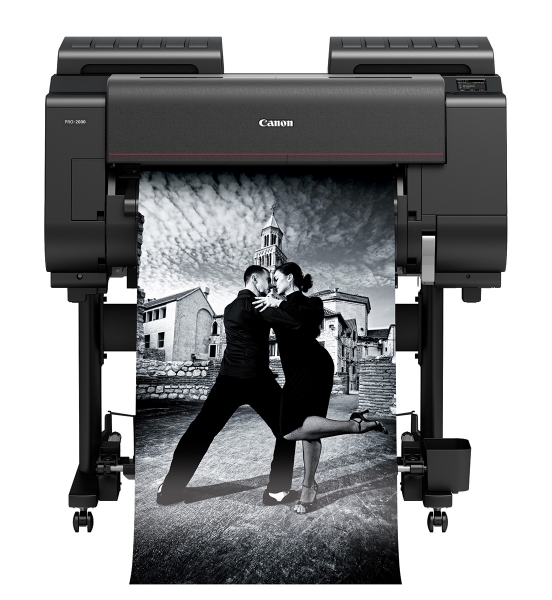 The Pro-2000 also features Canon's internal color calibration tools that allow you to use the same media profile and get matching output from Canon Pro-1000, Pro-2000, and the 44-inch Pro-4000 printers.
Internal calibration yields lower operating costs at the beginning in terms of both time and money spent creating custom profiles for different printers. And if you prefer to use non-Canon media from companies such as Red River Paper, Moab by Legion, Hahnemuhle, and Canson, their profiles are comparable to the custom versions I made using the X-Rite i1Profiler system.
The imagePrograf Pro-2000 and 44-inch Pro-4000 are production printers, and using roll media is far and away a more efficient workflow, though you can also feed sheets into it one at a time. Roll media printers are larger, heavier, and initially more expensive than smaller printers, but savings from using roll media add up quickly. Roll media costs less per square foot than pre-cut sheets, and with larger capacity ink tanks there is a lower per-milliliter ink price, too. On top of that, Canon's inkjet nozzle technology is comparatively frugal to begin with.
---
Readers can request samples printed on the Canon imagePrograf Pro-1000, imagePrograf Pro-2000 and imagePrograf Pro-4000 devices featuring images from Canon Explorers of Light. Samples include prints made on Canon Photo Paper Pro Premium Matte, Premium Fine Art Bright White, Premium Fine Art Smooth, Premium Polished Rag, Photo Paper Pro Premium Platinum and Photo Paper Pro Luster media types. Visit www.usa.canon.com/imagePROGRAFprintsample to request a sample set. 
---
Although the Pro-2000 can be placed on any table sturdy enough to support its weight and size, it's better mounted on the included stand, which makes it easier to move around and allows the option of adding a second roll feed system. The Pro-2000 weighs 223 pounds without the weight of inks and media. On the stand it measures 46 inches high, 43.7 inches wide, and 38.7 inches deep.
One prominent change between the older Canon iPF printers and the 24-inch imagePrograf Pro-2000 is the new roll feed system. Integration into the front of the body under the output and sheet feed table makes it faster and easier to swap out media. Mechanically, the longer travel path helps relax the naturally occurring curl in both cut sheet and rolled media prior to printing. As the media travels across the platen, negative airflow (vacuum) keeps the media flat to maintain a consistent height between the printhead and the media, and a positive air system advances the media. The end result is a print with greater edge-to-edge definition than you'll get from other printer designs.
An optional Multifunction Roll System attaches to the stand below the body of the printer. It allows you to add a second type of roll media and switch on the fly, or it can be used as a takeup unit for long prints or large multiple print orders, reducing the risk of print damage. This system is $800 and can be ordered with the printer or added later.
The Lucia Pro inks and optimizer load into two easily accessible banks on the top rear of the printer. When the system is initially charged, much of the starter inks goes into the printhead and delivery tubes but it isn't lost; you'll go through a lot of media before you need to start replacing inks. Replacement inks come in three sizes, the 160ml PFI-1100, the 330ml PFI-1300, and the most economical 700ml PFI-1700. Canon further lowers operating costs by making improvements to the feed system and ink formulation, and the coating used on the inside of the tanks means every drop of ink you buy gets used.
Canon's promotion of the print quality from the imagePrograf Pro Series printers isn't just sales talk. My tests yielded fantastic results across an array of media. Canon supplied three papers for this review: Photo Paper Pro Platinum, a heavy, stiff, high-gloss media that incorporates optical brightener to exploit the full color gamut and contrast range potential of the Lucia Pro inks; RC Photo Luster, a lighter weight semi-gloss media with optical brightener; and Photo Paper Pro Premium Matte, a smooth matte surface paper that looks great for portraits and fine art prints. I also used Red River Paper's Palo Duro SoftGloss Rag, a beautiful heavyweight fine art paper. Before using non-Canon media, follow instructions for installing profiles and AM1X configuration files that allow you to add custom media types to the printer's firmware and driver.
Older technologies have given in-house printing a bad rap, but modern printers and software have mostly solved these problems. In this case, Canon's Print Studio Pro software greatly clarifies printing workflow and bypasses limitations imposed by computer operating systems.
Last, consider the deep satisfaction in holding and beholding a well-made print. Beyond the pride in knowing that you've crafted something fine, printing your own images makes you a better photographer because there's something fundamentally different between viewing a photograph on a screen and holding a print in your hands. It's a new level of commitment. When you have made a tangible print you truly own it, and that makes you want to do better the next time.
Ellis Vener is a Professional Photographer contributing editor and a commercial photographer.