Working with clients to create senior albums, wall art, and other heirlooms is one of the easiest and fastest ways to ignite sales. If you're a senior photographer, there's no reason to limit yourself to selling just the photo shoot and a collection. The key to increased revenues is establishing rapport with clients, educating them, and selling with intent.
Beyond capturing the client's story with a camera, our job is to guide the client to the products and artwork that fit them best. It's their senior experience, so let them tell the story.
Before we get to the process of igniting sales, here are some tips to consider:
Educate clients about ways they can tell their story with images, explaining that some images serve different purposes.
Know what products the clients wants to purchase so you understand the best way to photograph their session.
You're the expert, so guide clients and their choices.
To help get you started on igniting your own sales or to improve what you're already doing, here's a five-step process I use:
1. Guide the sale
Throughout the photo session, I'm selling as I go, explaining products and images along the way. Remember, we're the experts. When the session is complete I immediately schedule the sales meeting, preferably within a week after the shoot. Clients pressed for time? I also let them know I can have images ready in 10 minutes if needed.
I explain that everyone involved in financial decisions must be at the sales session. It's important to be sure that the family is aware of this and that they know they'll be making purchasing decisions at the session. Once again, remind them about different images and collections and how each product can represent different emotions and bonds (and of course, the pricing for each). When I have a remote-location client I do a hybrid office session and screen share. They appreciate the convenience and love the way I can custom design their products right in front of them.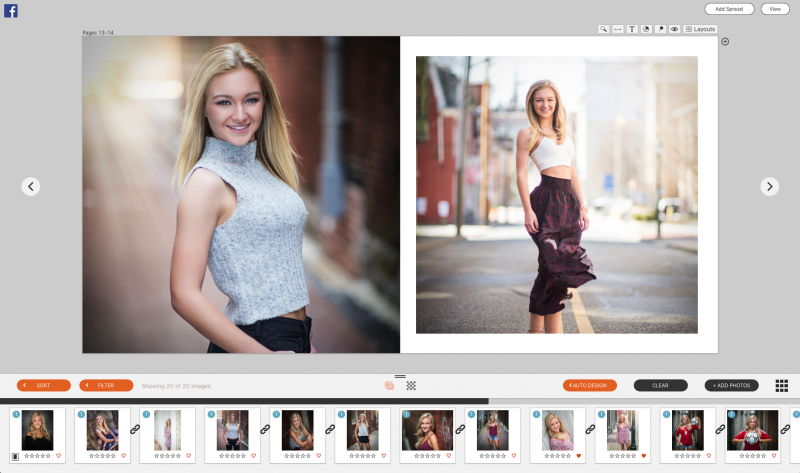 2. Show and sell
I engage clients in the creative process so they're emotionally attached to the images I've curated for them. When it comes time for their sales session you don't want them asking, "Why are we here?" I explain my role as their partner, guiding them during the process so they spend their budget wisely.
Using Fundy Designer presentation, design, and sales software, I visually educate and explain how specific products help them tell their story in different ways. Knowledge is important for the client going into the sales process. Emotion is also paramount, so I show how feelings toward loved ones can be represented through various products. For example, for family sessions, you may have a three-image set of siblings, which would be perfect for a three-image collage, which also delivers a strong emotional connection.
3. OFFER Instant gratification
Instant gratification helps eliminate Why are we here? questions. Wall portraits connect the client, in a subconscious and abstract way, to why they are dedicated to the family connections that bond them. Albums further represent the synergy of family, relationships, and interactions.
Music during the sales slideshow presentation also engages clients. The more emotional attachment you can generate for an image, the better. You can further build instant gratification and emotion into the sales session by projecting images.
I like to have clients take a picture of their space, then we project what their portraits might look like in that space. This helps them get a sense of what will work as well as the best locations for images in their home.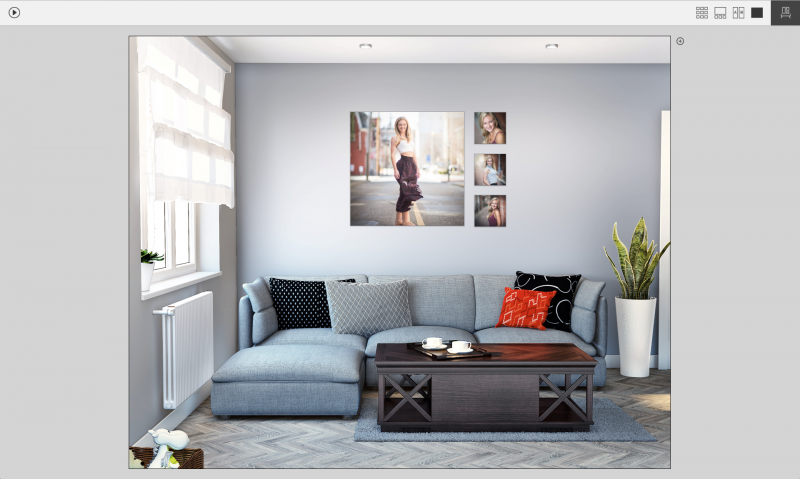 4. UNDERSTAND THE Psychology of the sale
I let clients know that images are not edited, and start the sales session with a slideshow of curated favorites.
In our sales studio we use a table with high stools instead of couches so it feels more like a business transaction. Be sure to have a proper table, images, and projector. Show the wall portrait first; this shot is always the favorite. To drive client participation in the creative and decision-making process, I ask what their favorite three or five images are, then guide them to why one of those images may be better than another, and so on.
I also guide them to think about gift portraits, such as one for grandma, framed portraits for work desks, or prints to send to extended family. This also helps you create a wish list that's on budget. Instead of removing an item from the list, I can offer cost-effective alternatives such as replacing larger images with wallet images. This lets clients stay in budget while getting the images they want.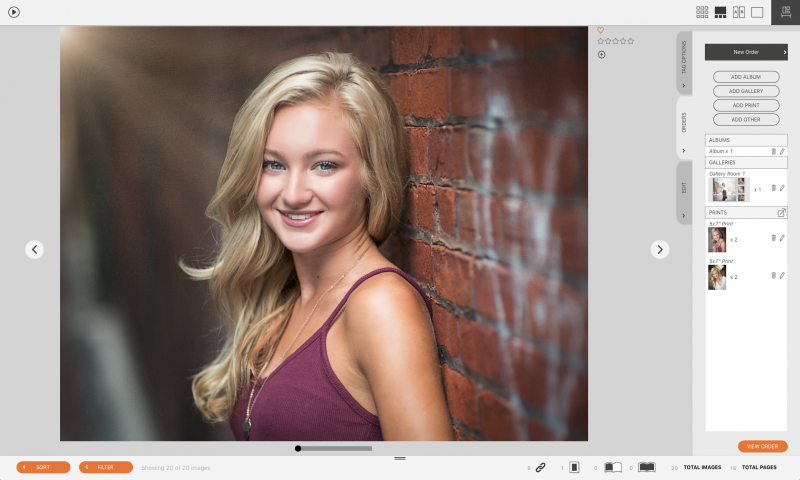 5. CLOSE THE SALE 
At the end of the session I print out the receipt but don't verbalize the total, instead circling it and then letting them sign off for production. You don't want them to change an order once you begin processing it. It's always better to leave them with room to opt for additional products later.
Conclusion
When engaging clients, educate them that you can provide full service from creative, to design, to sales. Find the tools to make your workflow efficient, then watch those sales ignite.
Melanie Anderson, Cr.Photog., CPP, is a portrait photographer and owner of the Anderson Photographs studio in Hagerstown, Maryland.