Over the past 14 years, I've increased my studio's annual revenue nearly tenfold, with consistent, predictable gains each year. And in the past four years, according to the PPA Benchmark, my studio has ranked in the top 5 percent of PPA member studios across the country in both gross and net revenue. This isn't bragging. It's an illustration of the power of in-person sales (IPS).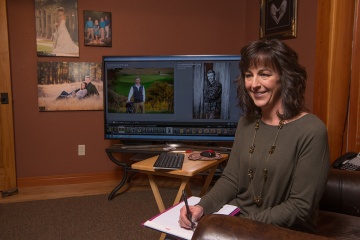 There's a distinct difference between the photographer who conducts live, in-person sales and the photographer who hosts photos online or provides the customer with a CD of images. Thriving in the photography profession takes much more than IPS, but it's a great place to start if you want to run a profitable business.
Photographers who sell face to face earn more money per hour than those who don't.
IPS creates an atmosphere of professionalism, value, quality, and respect.
It gives you the opportunity to address client questions, concerns, and potentially negative perceptions on the spot, turning them into non-issues.
The images you present and the care you take in presenting them demonstrate to your customer that quality is important to you, as is meeting their unique needs.
When you price your work appropriately and treat image presentation with respect, you reinforce the value of professional photography as a whole.
But I'm not a salesperson. I don't know how to do IPS. I'm petrified, you think. IPS is not difficult, and once you understand the process, it's not scary. In fact, the hardest part of IPS is getting over your negative thinking, believing in the worth of your work, and valuing your own time and expertise.
10 tips for in-person sales
Set up a clean and neat room for your sales sessions that includes a TV or projector, computer, comfortable chairs or couches, cordless keyboard, and mouse. Darken the room like a theater. I use Adobe Lightroom to present the images and create the slideshow, but there are many good programs specifically tailored to selling.
For image previews, less is more. If you shoot 300 photos of a senior, choose the best 50 to 75, and use a good variety for building an album. Having too many choices confuses clients, which makes them less apt to order. Don't take the time to polish all the images before the sales session; some quick post-production edits is all you need.
We start our sales sessions with a slideshow that takes fewer than 30 seconds to prepare. It's set to appropriate music, and clients are often in tears before it ends. There's a lot of impact when a client sees their photos for the first time, but that initial impact wanes the more times they view them. So when you host images on a website that clients view over and over, you're losing the valuable emotional momentum that results in sales.
Sometimes customers resist returning for an in-person sales presentation; for example, they traveled from elsewhere for the session and they don't want to make another trip. When you meet this challenge, explain to the client that preparing an online gallery not only adds cost, but it doesn't show images at their best—that's why you'd prefer they return when it's convenient for them to place an order. There's no need to be pushy. You're a professional, and you have quality standards as well as business policies. Another option is to do a same-day sales presentation.
Understand that you're doing your clients a favor by selling them prints that can be displayed in their home. They will enjoy them every day like the valuable pieces of art they are. Clients don't need hundreds of digital files they'll never look at again; they need a large print on their wall that warms their home.

In addition to prints, offer some well-chosen specialty and add-on items. For example, we have metal layered prints, 10x20-inch collages, 8x8-inch senior albums, print wraps, canvas prints, holiday cards, and standing collections. Whichever products you choose to offer, they should make sense for your brand and your client base.
I provide low-res social media files of all the images the client purchases in print. Other studios make digital files available for purchase only after a certain amount of print products have been bought. There's no single best way to handle the sale of digital files. Just remember that PPA Benchmark data shows you won't have a sustainable business if you sell digital files exclusively. Selling print products is non-negotiable, and clients need to be on board with that before their session.
Portrait photography is very affordable; you must internalize that belief before you can sell it to customers. Most families hire professional photographers only a few times in their life, typically spending $500 to $2,000 for products that result from a one- or two-hour session. That's nothing compared to all the other discretionary family expenses typical for middle-class Americans. Think how much it costs for a child to be on a sports team or the expense of caring for a family pet. Scouting trips, piano lessons, dance recital costumes, dinners out, vacations, designer clothing—the lists goes on and on. For a few hundred or thousand dollars, you're creating a family heirloom that will be valued for generations.

Calculate your cost of sales so you can price products and services appropriately. When you set your prices based on those numbers, you may be surprised that they look high. Don't apologize for earning a living and growing a thriving business. Explain to customers why you're more expensive than shoot-and-burn alternatives. Point out that your small business pays taxes that help support the community and contributes to local charities. Let them know that you want to understand their needs so you can create products that suit them. Explain that each photo is carefully retouched, that your prints are Masonite-backed, linen-textured, UV-coated, printed at a first-rate lab used by professionals, and guaranteed. Anything to show your prices are valid.
Most new photography businesses fail in fewer than five years. This has nothing to do with the size of the town or the number of shoot-and-burn amateurs trying to make a few bucks on the side. It has everything to do with taking responsibility for all aspects of your business. To succeed as a photographer, you must be good at your craft and meticulous in your business.
Johnny Sundby is the owner of Johnny Sundby Photography in Rapid City, South Dakota.