Thanks for taking part in a Super 1 Day class!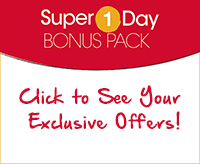 Hopefully you engaged yourself fully, left with valuable takeaways and even expanded your professional network!
Make sure you take advantage of your Super 1 Day Bonus Pack—a collection of deals offered exclusively for you by several PPA vendors. And great news: The bonus pack is now digital! Find and redeem an offer now.
Please also let us know how your class went with the form below! This will greatly help you and your peers get the most out of future Super 1 Day programs.