Mentoring at Imaging USA
Sometimes, the best way to grow as a professional is under the guidance of a more experienced peer.
Well, at Imaging USA, our industry's premiere– and biggest– trade show, you can do exactly that. If you sign up for one of these FREE mini mentoring sessions at Imaging USA, you'll get a jolt of energy. Photographers are encouraged to bring some of their work to these mini mentoring sessions as they'll allow you to:
Receive impartial advice and encouragement
Develop a supportive relationship
Get directions on what to develop or practice

Every year, photographers who come to Imaging USA can take part in these mini-mentoring sessions with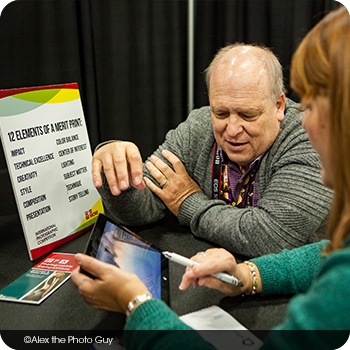 official IPC judges. By scheduling your appointment in advance or stopping by the IPC Mentor booth, by the Merit Café on the trade show floor at Imaging USA, you can sign-up to get one-on-one time with a pro who will give you honest, constructive feedback and advice. This is a one-of-a-kind opportunity that every professional looking to advance their skills and business should take advantage of! And best of all: it's free!
Don't wait to sign up, as space is limited! Schedule your mini-mentoring session at Imaging USA 2018 today!