Professional Photographer magazine
What do you get when with your Professional Photographer magazine subscription?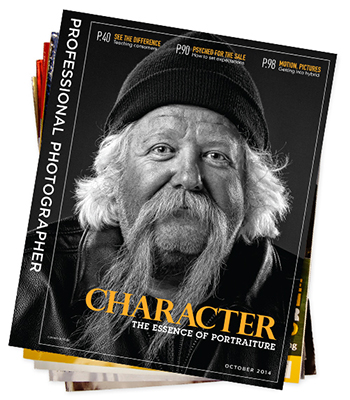 --A lot.
Professional Photographer magazine has been around for more than 100 years, providing relevant insights on the latest tech, profiles of the biggest names in professional photography, lessons in cutting-edge techniques, and business advice. But that's just scratching the surface.
One Professional Photographer magazine — Many Ways to Read It
Each month, you'll find amazing and rich information in Professional Photographer magazine. Best of all? You get to choose exactly how to access all that great content:
Print magazine: Get a beautiful new print edition delivered to you each month. Then sit down in a cozy chair and enjoy page after gorgeous page of this award-winning publication.
Digital edition: The same great magazine we provide in print can be read digitally. Log in online, zoom in on your favorite images and click links to see related information. You can also download digital editions to your computer or tablet and read them off-line at your convenience. And digital subscribers have access to a library of digital editions dating back to 2008.
You want more? You've got it! The Professional Photographer website has even more news, profiles, photo galleries, product reviews, and business advice than you'll find in the magazine. Log on any time to get what you need.
Don't miss out on learning more about photography and developing your photography business! Professional Photographer is a favorite resource among pros because it can help change the way you practice your craft and run your business. Start your subscription to Professional Photographer Magazine right now!