Bridge the Gap Book Recommendations
Whether it's the latest books from Imaging USA speakers or recommendations from PPAedu, you're going to want to keep reading to ensure you have all the tools you need to bridge the gap between you and your clients. We're sharing the best books we could find on everything from finding your "why" to succeeding with in-person marketing.
Where should you begin? The Imaging USA 2020 speaker lineup was is a great place to start. Most of the talented speakers who are sharing their knowledge and experience to help bridge the gap between photographers and consumers are recognized authors who've already helped creative small business owners in their respective industries.
The fastest, easiest, and most profitable way to have a successful business is to work with your ideal customers. They value your offering and pay you what it's worth and they are a joy to serve. But how can you rise above the noise in a crowded marketplace to attract these customers?
You learn to speak their lingo.
In LINGO, serial entrepreneur, brand consultant, and host of Creative Warriors podcast Jeffrey Shaw reveals how to make your business irresistible to your ideal customers by showing them that you get them.
In this book you'll learn: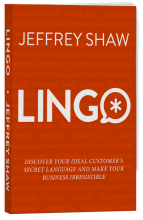 How pricing can attract, not deter, your ideal customer
How to develop a brand image that magnetizes your ideal customer and filters out the rest
With game-changing insights, practical action steps, and relatable examples, Jeffrey Shaw opens a groundbreaking conversation to make business easier, more profitable, and more positively impactful for any entrepreneur.
---
Do you wish you could decode people? Do you want a formula for charisma? Do you want to know exactly what to say to your boss, your date, or your networking partner? You need to know how people work.
As a human behavior investigator, Vanessa Van Edwards studies the hidden forces that drive our behavior patterns in her lab - and she's cracked the code. In Captivate she shares a wealth of valuable shortcuts, systems, and behavior hacks for taking charge of interactions at work, at home, and in any social situation. These aren't the people skills you learned in school. This is the first comprehensive, science-backed, real-life manual on human behavior and a completely new approach to building connections.
Just like knowing the right formulas to use in chemistry or the right programming language to write code, the hacks in this book are simple ways to solve for people. For example:
The Social Game Plan: every party, networking event, and social situation has a predictable map - discover how to work a room and the sweet spot for making the most connections.
The Seven Microexpressions: learn how to speed-read the seven universal facial expressions and how they can be used to predict people's emotions.
Conversation Sparks: all conversations can be hacked - if you know how certain words generate dopamine in the people you meet.
When you understand the laws of human behavior, you can get along with anyone, and your influence, impact, and income will increase as a result. What's more, you will improve your interpersonal intelligence, make a killer first impression, and build rapport quickly and authentically in any situation - negotiations, interviews, parties, and pitches. You will never interact in the same way again.
---
One Tech Action: A Quick-And-Easy Guide to Getting Started Using Productivity Apps and Websites for Busy Professionals
Most professionals are overloaded and don't have enough hours in the day to finish everything they need to complete. All the prioritizing in the world won't fix that problem. The only viable option is to push things off their plates! That's where "One Tech Action" comes into play!

In addition to finding that perfect time allotment between our professional and personal lives, the line separating our home and work time is both fuzzy and curvy, often having no clear demarcation. When busy people feel as though they're not checking items off their to-do list at home, it becomes challenging to concentrate on completing tasks at work. And vice-versa when projects at the office are not properly executed, they have difficulty being attentive in their home lives.

There is a solution--it's called technology. Just as the invention of the washing machine and car saved past generations' time, so can mobile-device technology save us time. This book provides practical solutions that allow readers to better leverage the devices they already carry with them to increase their efficiency at home, work, and all the places in-between.

This book is written in a conversational tone, free from overuse of tech jargon. It's easily accessible and presents pragmatic solutions to challenges busy professionals face daily. The chapters contain real-life illustrations of how apps can be used to automate chores at home, present solutions in a work crisis, build deeper relationships, and assist with self-care. The book also offers online safety solutions from a cyber security expert and FBI computer scientist.
The Social Media WHY: A Busy Professional's Practical Guide to Using Social Media Including LinkedIn, Facebook, Twitter, YouTube, Pinterest, Google+ and Blogs for Business
The Internet and social media have created a new group of Haves and Have-Nots in business. The Haves enjoy a competitive advantage, access to nearly unlimited information, and are pushing the Have-Nots out of leadership roles (and sometimes jobs) in organizations. In The Social Media Media WHY, marketing strategist and international speaker Crystal Washington dispels the myths surrounding using social media for business and concisely demonstrates the very practical ways that innovative professionals are using social media to become more efficient, effective and connected.
---
Top-ranked social media influencer of 2019 and founder of Smart Hustle Media, Ramon Ray is speaking at Imaging USA 2020 in Nashville. Ramon Ray will talk about how small business owners and entrepreneurs can ATTRACT, SELL and WOW. Learn the three phase process which helps you attract more customers, educate them until they buy, and wow them so that customers buy again and again...and tell others.
The Celebrity CEO is the complete guide to creating a strong personal brand. By developing your personal brand, you will set your business apart from your competitors and become known as the expert in your industry. Written for entrepreneurs and small business owners who want to make a massive impact and build a loyal fan base, The Celebrity CEO is the source for celebrity status in business. Learn from the founder of Smart Hustle Media, Ramon Ray, the mind-set of a celebrity CEO and the tools to cultivate your tribe.
---
Change happens. Either intentionally or unintentionally, we find ourselves entangled with change on a daily basis. Depending on the day and our mood, our ability to successfully "rock" change or "roll" with the punches can come and go faster than a one-hit wonder.
True rock stars understand that change is a journey. They then find the will to grind it out in the face of adversity to achieve the kind of lasting change they seek. Rock 'n' Roll with It offers a unique approach to creating and accepting powerful and lasting change in your life. Presented through the lens of our beloved Rock 'N' Roll, this book will help you create and perform a personal "set list" designed to keep you engaged while developing the characteristics needed to become a true Rock Star of Change.
Thought-provoking interviews with legendary change makers will inspire you to put on your leather pants and shake what your Mama gave you. Brant Menswar and Jim Trick, both real-life rock stars and passionate change agents, skillfully guide your journey through change, soundly explaining how change works and equipping you with specific strategies to accomplishing the kind of transformational change that leads to the type of life you really want...one that bears fruit and enriches those around you.
---
The book that Phil M. Jones presented at Imaging USA is a special edition made specifically for photographers. It's called 'Exactly What So Say for Professional Photographers.' This book is such a useful read… and one that will help you with sales in general! Phil has three other books you might want to check out – all on his website: PhilMJones.com/sales-training-books/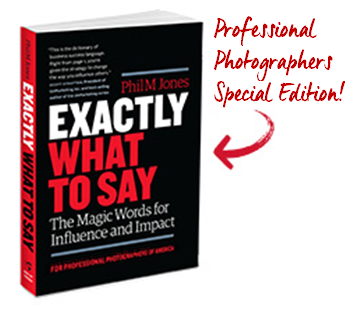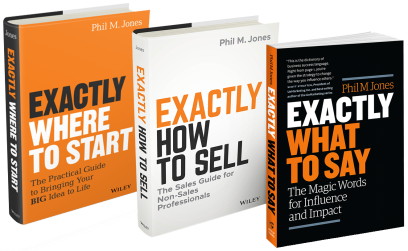 Exactly Where to Start: The Practical Guide to Bringing Your BIG Idea to Life: this book is to help you get out of your own way and bring your ideas to life! It's a playbook for everyone with a great idea, everyone with a goal in mind, and everyone with a specific destination but no journey. We've been told all our lives that "good things come to those who wait"—but that's a myth. Good things come to those who do and too often, we get stuck in the "getting ready" stage. This book coaches you through the journey with precise, actionable steps that help you discard the distractions, break through the overwhelm, and get going for real with a real-world blueprint.
Exactly How to Sell: The Sales Guide for Non-Sales Professionals. This book walks you through a tried and true process that draws on time-tested methods that are designed to attract and keep more customers. No matter what you are selling (yourself, your product or your services) this simple read is certain to provide you actionable strategies to deliver you more of the sales results you are looking for.
Exactly What to Say: The Magic Words for Influence and Impact teaches you the tactics to get more of what you want by mastering the simple persuasion triggers of language. Often the decisions between a customer choosing you over someone like you is your ability to know exactly what to say, when to say it and how to make it count. Phil created a professional photographers editions, specifically for PPA, so if you didn't get your copy at Imaging USA, order yours now!
---
Mike Michalowicz has 5 perennial bestsellers that can help you bridge the gap! Endorsed by Simon Sinek, Daniel Pink, Seth Godin, and Guy Kawasaki he goes down to the brass tacks to help you get stuff done!
In Profit First, Mike Michalowicz explains a profoundly simple yet shocking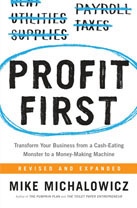 ly effective accounting plug-in that will transform your business from a cash eating monster into a money making machine. This new method is the easiest and smartest way to ensure your business becomes wildly (and permanently) profitable from your very next deposit forward.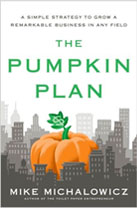 In The Pumpkin Plan, Mike Michalowicz reveals how applying the same few simple methods farmers use to grow colossal prize-winning pumpkins can lead entrepreneurs to grow colossally successful businesses. Who would have ever thought, that the key to explosive entrepreneurial success was held by pumpkin farmers? Just as almost every pumpkin farmer grows ordinary Halloween carving pumpkins, most entrepreneurs grow ordinary, unremarkable businesses. Yet by tweaking their approach in small ways, farmers can grow giant, prize-winning pumpkins that get all the attention and press coverage.
---
By 2020, Generation Z is expected to comprise 40 percent of all consumers. The time to learn who they are and what they want is NOW. Drawn from original quantitative research and interviews, Marketing to Gen Z paints a fascinating portrait of the newest buyers now entering the scene. Having internalized the lessons of the Great Recession, this pivotal generation blends the pragmatism and work ethic of older generations with the high ideals and digital prowess of youth. Marketing to Gen Z: The Rules for Reaching This Vast– and Very Different– Generation of Influencer is a book by Jeff Fromm and Angie Read. It offers dozens of examples and insights for connecting and conversing, including how to:
Get past the 8-second filter
Avoid blatant advertising and tap influencer marketing
Reflect their values
Understand their language and off-beat humor
Adapt content and social media strategies
Offer the shopping experiences they expect
& more.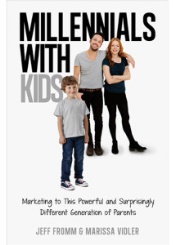 Millennials with Kids: Marketing to This Powerful and Surprisingly Different Generation of Parents, by Jeff Fromm and Marissa Vidler
This book changes how we think about this new generation of parents and uncovers profound insights for marketers and brand strategists seeking to earn their loyalty. Building on the highly acclaimed Marketing to Millennials, this book captures data from a new large-scale generational study, and reveals how to: • Enlist Millennial parents as co-creators of brands and products • Promote purpose beyond the bottom line • Cultivate shareability • Democratize the customer experience • Integrate technology • Develop content-driven campaigns that speak to Millennials.
Through a goldmine of interviews, digestible segments brought to life and examples of brand successes and failures, this book helps marketers rethink the typical American household—and connect with these critical consumers in the complex participation economy.
---
Here are some very useful books from their arsenal that are specifically curated to help photographers and creative small business owners: