Drone Knowledge Center
As drones have become an integral part to running a successful events photography business, you need somewhere to turn to keep you safe and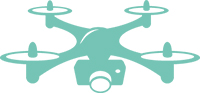 legal.
PPA has the resources available for you to take to the skies…and push your photography further.
Below you'll find resources to enhance your understanding of insurance options and waivers for your device, information and guidelines for flying, compensation and pricing, safety and etiquette, business applications, and more.
Want to set yourself apart from the rest of the pack?
Learn more about PPA's Drone Certification and get certified! Or find everything you need to know about and keep up with the ever-evolving FAA Drone Regulations.