Alright, PPA community, who's ready to explore yet another remarkable studio? This month, we are going to be showing off Mark Turner's Studio which resides in Bellingham, WA.
Most of Turner's studio work is business headshots, but he's been able to photograph high school seniors and families as large as a dozen or so people during his career.
In late 2013, Turner purchased his property and remodeled a former feed store (which really looked like a barn inside-and-out when he bought it) into his studio in 2014. It opened in August of that year.
The camera room, which has 18% gray walls to be color neutral, is spacious and looks out through French doors to Turner's backyard and outdoor studio.
"I wanted to create a warm, friendly, welcoming, and somewhat upscale looking space. By all client and visitor accounts, I succeeded," says Turner.
After all of the work put into the remodel, it's safe to say that it paid off. Turner's open-but-inviting space allows clients to feel comfortable, but also as if they are in their own lap of luxury.
The majority of the clients can agree that the best feature of the studio is the first thing you walk on when you enter through the door.
"One of the features that everyone loves (and which photographs well) is the red oak hardwood floor throughout."
When the clients make it through the doors, they are also put right in the heart of Turner's creative works.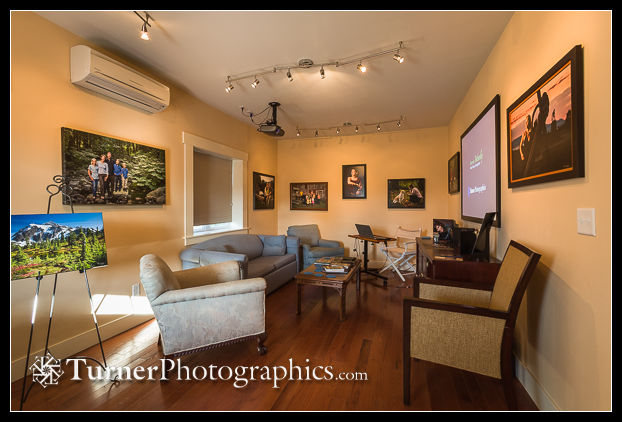 "My reception and salesroom are combined, so clients walk in and see a sampling of wall portraits with nice lighting on them."
This is a great way for clients to decide how they want their portraits to be framed in their households.
As another special touch to the studio, there is a spiral staircase that connects the camera room to the office upstairs. Almost everyone who enters the space comments positively on it.
Turner also occasionally incorporates the staircase in shoots by having people pose on it.
Although the studio is amazing, Turner has found one thing he wishes he could fix.
"I'd love to have a higher ceiling than the 9' I have, but it works."
To bring the ambiance of the studio and the nature of Washington state together, Turner adds a dash of fragrance oil to the studio.
"I use a soft pine-scented fragrant oil to add a bit of pleasant smell to the space. It's subtle but connects the space to the outdoor ethic for which I'm known."
Even when the clients are behind the camera, Turner wants to make sure that they feel comfortable in even room that they're in.
"The bathroom and dressing room are combined and spacious enough to have several beauty pageant women doing hair and makeup at the same time."
To ensure that his customers stay hydrated and satisfied during their shoot time, Turner likes to provide beverages and sweets for his clients.
"Coffee, tea, and our good well water are always available. I also keep a bowl of top quality dark chocolate (from a local business) on the coffee table in my saleroom. I tried having fresh-baked treats during sales sessions but found that most of my clients didn't go for them," says Turner.
If you're ever in the Bellingham area and are in search of a good studio to shoot at, make sure to check out Mark Turner's studio!
Thank you so much for your contribution, Mark! If you want to join the "What's in Your Studio?" segment, feel free to head over to theLoop and comment in the thread with a photo of your studio and what makes it unique!
Our community is filled with incredible photographers and we want you to be a part of it. Do yourself a favor and join PPA today to get access to all of our resources!