If you're an event photographer, you know the importance of offering photography that sets you apart from the competition. Chromakey technology allows you to create unique photos on-the-spot that can help distinguish you as the event photographer to hire in your market, and Bill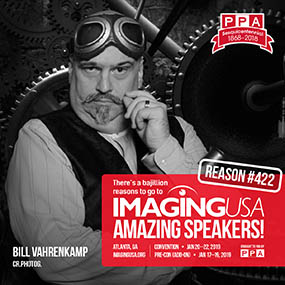 Vahrenkamp, Cr.Photog., will show you how to use it at Imaging USA 2019!
During Bill's "Chromakey- Why Should Hollywood Have All the Fun?" Imaging USA session, you'll see how this technology is not only so easily available to photographers, but it gives the ability to photograph events while providing custom-themed photos printed on-site! Bill will teach you to use this technology to make your client's events more memorable. Learn lighting, backdrops, exposure, software options, and locating and creating Chromakey backgrounds.
Bill's session at Imaging USA will take place Tuesday, January 22 from 10 - 11:30am. Be sure to join us in Atlanta, GA, January 20-22, 2019 (and January 17-19 for pre-con classes!) for networking, shopping, and everything photography!
Meet Bill Vahrenkamp, Cr.Photog
Alongside his wife, Bill Vahrenkamp is the co-owner of Albertex Photography, providing wedding, portrait, and event photography services in the Dallas/Fort Worth area. In addition to his photography business, Bill is also director of technical operations at Imaging Spectrum. There, he helps customers design and build the best printing systems possible to meet their needs, while also providing training and technical support. He holds a Bachelor of Arts degree in photography from Sam Houston State University and his Photographic Craftsman from PPA.
With over 30 years of photography experience, he enjoys sharing his knowledge by teaching classes on photo booth and event photography.
Web: albertexphoto.com
Facebook: AlbertexPhoto
Instagram: albertexphotography
Q&A with Bill Vahrenkamp
Why do you love photography? "Since that first roll of black & white film I pulled out of a processing tank, I have been hooked. It fulfills my artistic passion and the look on the face of a satisfied customer makes it all worthwhile."
Bill Vahrenkamp is one of the many amazing speakers you'll get to meet and learn from at Imaging USA 2019! Registration is open now at ImagingUSA.org/Register, so take advantage of the early bird savings for tickets and your hotel (you can book your hotel now and will be charged later)!