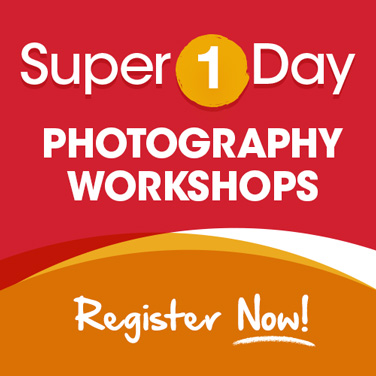 As a photographer, you can't afford to stop learning - even if you have to go out of your way to do so. But what you absolutely shouldn't miss is a learning opportunity that comes to you. Super 1 Day classes are face-to-face photography workshops that offer you the opportunity to learn from your peers at a nearby professional studio or location. Online registration closes September 28, 2018, so sign up today!
Super 1 Day is designed to fit any photographer's educational needs and schedules with classes featuring portrait and wedding photography, posing and lighting, digital retouching and workflow, sales and marketing strategies and much more-a full day of peer-to-peer photography education. All Super 1 Day Photo Workshops will be held October 8-22, 2018. Check out the upcoming Super 1 Day classes in your area!
Participants will have the opportunity to experience classes like:
Building a Profitable, Sustainable, and Affordable Photography Business, Finding Your Voice & Value, Lighting Techniques for Competition Success, Print Your Work: A Beginner's Guide to Making Your Art Awesome, Lightroom® and Photoshop® Workflow, Tips and Tricks, and much more!
These don't even include the workshops on different post-production methods and posing techniques, becoming a certified professional photographer (CPP), or branding and sales knowledge. The point is: if you want to learn it, there's probably a Super 1 Day class for it!
In addition to what you'll learn, these classes also help you get closer to earning an official photographic degree! PPA members earn one service merit for each paid attendance, which go toward earning a degree.
Registration for Super 1 Day Photo Workshops is available for $99 until September 28, 2018. On-site registration will be available for $120 per class and space permitting (as many classes tend to sell out, interested parties are required to contact the instructor prior to traveling to the class to ensure space is still available).