PPA has kicked off 2020 with another strong push for small-claims copyright protection in the form of the passage of the CASE Act.
Imaging USA in Nashville hosted nearly 10,000 creators from all over the world for three days of workshops, trade show, and parties. Yet again we had the Social Box set up near registration. Social Box is literally a booth you step into and record your story about how copyright law has affected you and why Congress needs to get moving on passing the CASE Act.
The CASE Act is currently being held up in the Senate by Mitch McConnell, with "just one" hold placed on the bill by Oregon Senator Ron Wyden. PPA plans to deliver 2,000 personalized postcards addressed to Sen. McConnell and 157 video testimonials intended to show how real, working photographers are affected by the stalling of the CASE Act.
Sen. Wyden has received a barrage of messages from his constituents demanding that he lift his hold on the CASE Act. And yet, he's caving to Google's whims in the hopes that they keep donating to his reelections. Please stand with us and help by calling his office at 202-224-5244 to demand he listen to the people, not major corporations. Also, PLEASE take a photo of yourself holding up one finger (NOT the middle one) and tag it #Just One to participate in our social media campaign.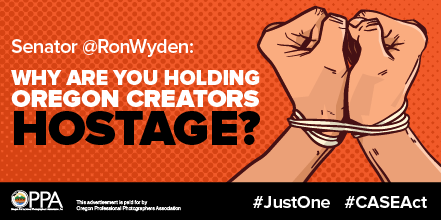 Post-Imaging USA Updates
Negotiations have taken a downward turn since Senator Wyden's office proposed the statutory cap be taken from $30,000 to $750, a 95% reduction that wouldn't cover the cost of filing or opportunity cost of taking time away from your business. The negotiations are further apart now than they were three months ago because of Wyden's office moving the goalpost.
Wyden has deferred almost completely to his staff but he is feeling the pressure being exerted on him. We are ratcheting up the campaign so he will call off his staff and capitulate to the overwhelming majority of legislators, creators, and Americans wanting this legislation. We have a lot of ammunition from Imaging: videos, postcards, photos, testimonials. We are ready to release the floodgates!
Be sure to send emails, often, right from our easy-to-use platform at www.ppa.com/smallclaims and make your voice heard! It only takes 30 seconds and it really helps!