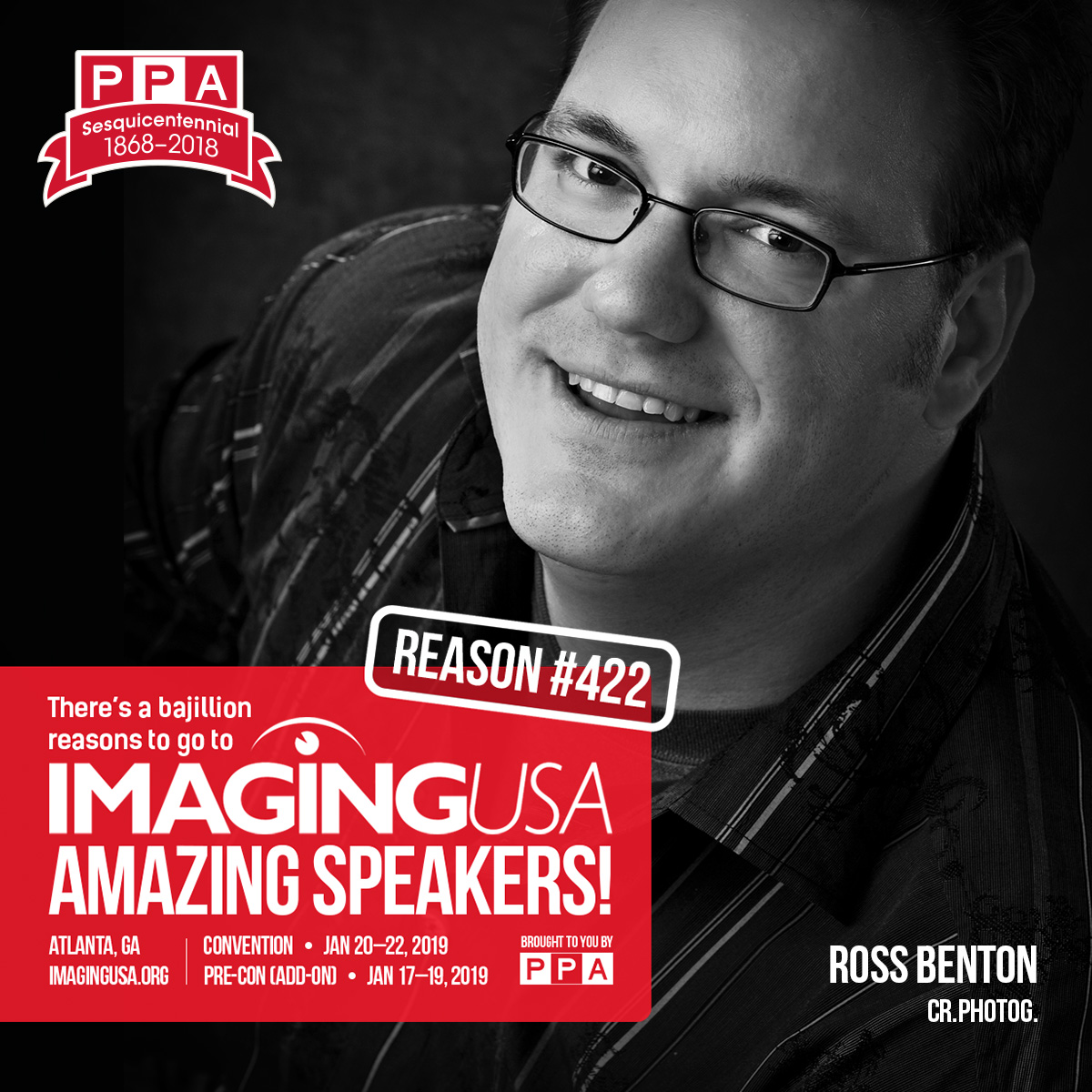 If you desire to stop "taking pictures" and start "creating images", then don't miss Ross Benton, Cr.Photog. and Steve Kozak,'s M.Photog.Cr., CPP "The Secrets to Success When Turning Pro" at Imaging USA 2019. It will forever change the way you look at the craft of professional photography.
Ross' recipe for business is as unique as his photography. Known for his weddings, his market rapidly expanded into the family and senior markets. His laid back approachable style creates a relaxed environment for his clients, which you will also find flowing over into the classroom. Many students have said his programs are not only easy to follow but also chock full of time-saving, money making and creative tips.
A successful career in professional photography is built upon a foundation of lighting, posing and good business practices.  With this class, you'll gain a wealth of knowledge and a unique insight into creating images at a professional level. Steve will have you looking at your career from three aspects: The Fundamentals, The Business and The Art of Photography.
This course covers:
Creating Portraits Using Natural Light
Seeing and Measuring Light
Fundamentals of Flash Photography
Studio Lighting Made Simple
The Basics of Posing And Composition
Getting Your Business Off the Ground
Marketing Professional Photography and Finding Clients
Developing Pricing Strategies for Profit
"The Secrets to Success When Turning Pro" Imaging USA 2019 pre-convention class will take place Thursday, January 17 - Friday, January 18, 9:00am - 5:00pm. Keep in mind that pre-convention classes require an additional fee and space is limited, so sign up today! 
Contact Info:
Web: studiobenton.com
Ross Benton, Cr.Photog. is just one of the many amazing speakers you'll get to meet and learn from at Imaging USA 2019! Registration is open now at ImagingUSA.org/Register, so take advantage of the early bird savings for tickets and your hotel (you can book your hotel now and will be charged later)!