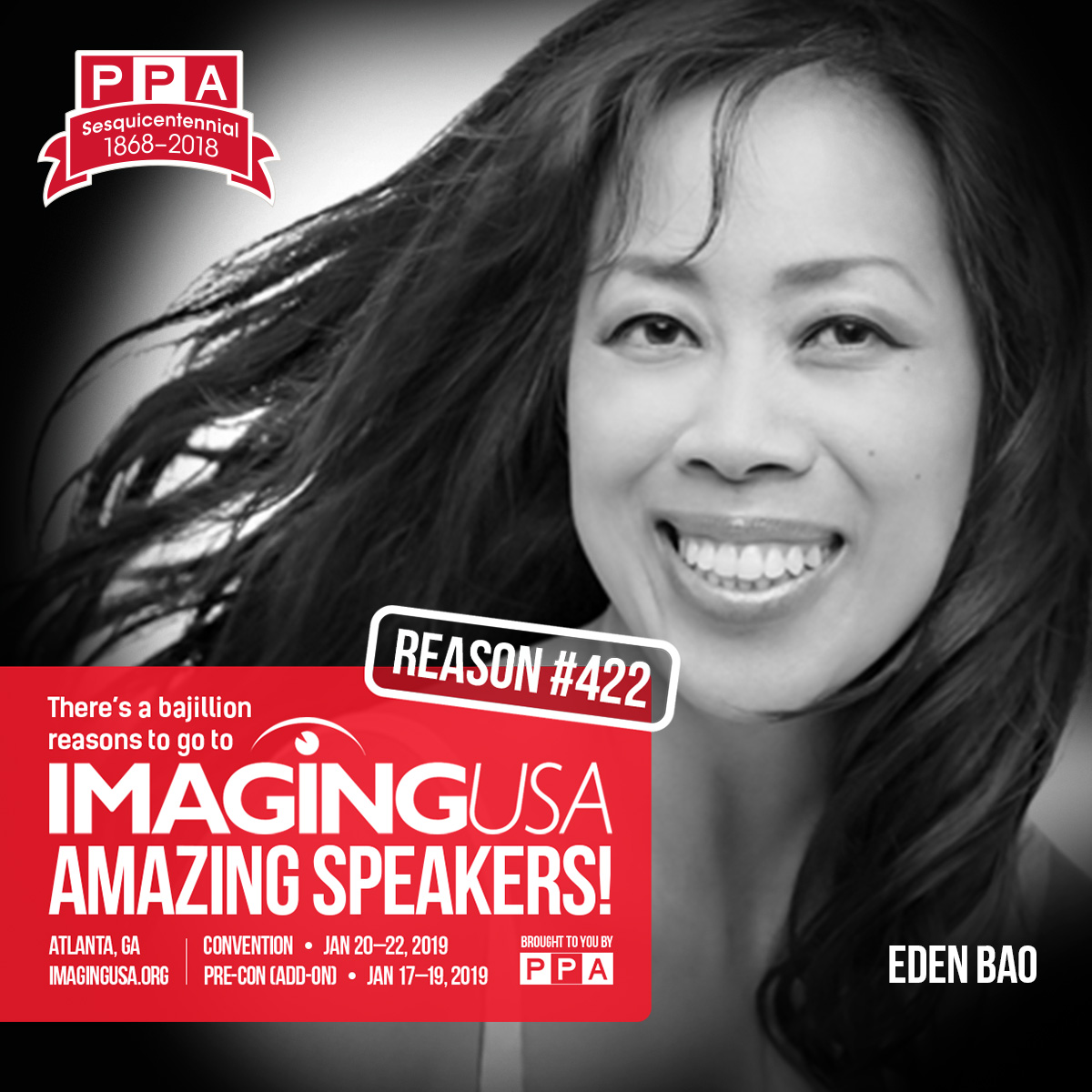 Join Eden Bao at her Imaging USA 2019 class "Mastering The Foundation of Newborn Photography" to dive deep into everything there is to know about newborn photography. Eden will cover all the basics, and you'll be treated to a live mother and infant posing demo. She'll discuss lighting and angles that flatter newborns most, and the safety precautions you'll have to take in order to make sure your pregnant client or their infant are safe during the shoot.
Eden's class will be held January 20th 5pm-6:15pm during Imaging USA 2019. Imaging USA is THE place to see the best speakers in the photography industry; missing it would be a mistake. Visit Atlanta, Georgia, January 20-22, 2019 for networking, shopping, and everything photography!
Eden Bao has her own photography business in Seattle. She focuses on maternity and newborn photo shoots and has a Bachelor of Business Administration with a concentration in Marketing and Public Relations. She's spoken at photography events all over the world, and she's devoted to helping fellow photographers achieve their goals.
Contact Info
Web: edenbaophotography.com
Facebook: EdenBaoPhotography/
Twitter: EdenBaoPhoto
Instagram: eden_bao
Q & A with Eden Bao:
What's your life motto? Start small, dream big
Why do you love photography? I get to capture time and memories that family can cherish forever, and I make a living doing it.
If you could have any superpower, what would you choose? Teleportation. Because I hate commuting.
What did you want to be as a kid when you grew up? Corporate business person. Check. Photographer. Check.
If you could have a theme song, what would it be? OK, backstory: I arrived to Canada as a refugee (Vietnamese Boat People crisis in the 1970s) almost 40 years ago. Me: (mispronounces an English word). TrophyHusband: (corrects the mispronunciation). Me: (pulls the immigrant card) I immigrant. No speak Engles. TrophyHusband: plays Tom Petty's ..."Don't have to live like a Refugee!"
What was one of the defining moments in your career? Mine was similar to Deanna Kuehn Duncan's. At my last corporate job, HR was prompted by my co-worker's formal request to assess our jobs with the intent to raise our salaries to management level. Instead, they dropped our salary by $20k! That's when I became a full-time photographer and had to be top of my game to make it financially.
Who has been one of the biggest influences of your work? Lindsay Adler, Ben Von Wong, Nikki Harrison, Joe McNally, and Peter Hurley.
What was your experience like with your very *first* client AND what did you learn from it? Nervous, butterflies in the stomach, sweaty hands... and the resulting images were cringe-worthy and very apropos being an amateur. My clients, however, were thrilled with their images... so much they came back for their baby's first birthday and family photos. I have no idea why they came back but they obviously had more confidence in me than I did in myself. So the journey of improvement and self-development began.
In the magical world of Harry Potter, if the Sorting Hat placed you into a house at Hogwarts, which would it be? Ravenclaw
Eden Bao is one of the many amazing speakers you'll get to meet and learn from at Imaging USA 2019! Registration is open now at ImagingUSA.org/Register, so take advantage of the Early Bird rates for tickets and your hotel!