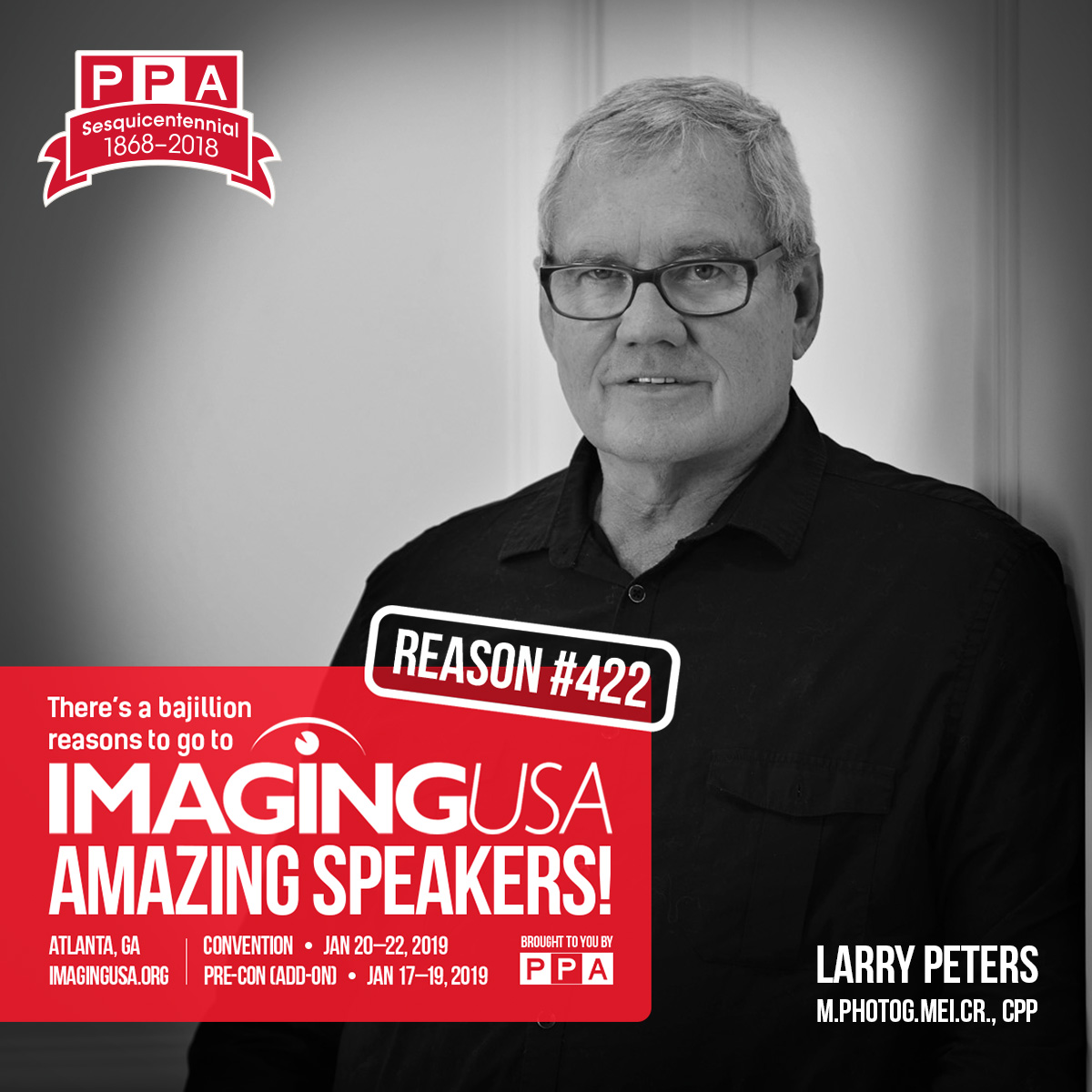 With the increased competition in the photography industry, standing out as a photographer can be challenging. Renowned photographer, Larry Peters M.Photog.MEI.Cr. CPP, will show you exceptionally creative ways to improve your skills and bottom line in "Keeping Your Studio Profitable" at Imaging USA 2019.
Join Larry, owner of two established Ohio studios, as he discusses how his senior business has changed in recent years. Larry will share studio lighting and discuss opportunities that you may be overlooking. This will include images from underclass, senior portraits, family and children portraits and more!
Larry Peters' Imaging USA 2019 class takes place Monday, January 21 from 8 – 9:30am.
Meet Larry Peters, M.Photog.MEI.Cr., CPP
Larry Peters is humbly known as the "Father of Modern Senior Photography."
He developed "State of the Art" photography for seniors using props, which had
never been used before.  He continued this business providing props and unique ideas for photographers worldwide.  He also developed a very solid sales procedure, which has given the studios great sales throughout the years. He also introduced outdoor photography and underwater photography to the senior world over the years. He patented the "eyelighter" which has revolutionized the photography business with its unique "eye lighting" results. Speaking to photographers both home and abroad has made him a household name in the photography world. The business is comprised of two studios in Central Ohio which photograph families, children, business and of course, seniors. Larry holds a Masters Degree in Education, Bachelor Degree in Business, Master of Photography, Master of Electronic Imaging and Photographic Craftsman. He enjoys his family, playing in a local band and traveling.
Web: petersphotography.com
Facebook: Larry Peters
Twitter: clickerpete1
Instagram: Larry Peters
Q & A with Larry Peters, M.Photog.MEI.Cr., CPP
If you could have any super power, what would you choose? Brains         
What's something you are continuously captivated by? I am captivated by a creative mind.      
Larry Peters, M.Photog.MEI.Cr., CPP is just one of the many amazing speakers you'll get to meet and learn from at Imaging USA 2019! Registration is open now at ImagingUSA.org/Register, so take advantage of the early bird savings for tickets and your hotel (you can book your hotel now and will be charged later)!