Results are now available for the 2018 International Photographic Competition! Congratulations to all the photographers who earned merits or had their images chosen to be part of PPA's prestigious loan collection.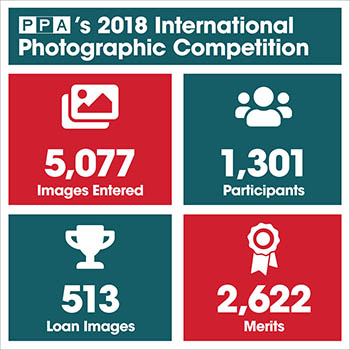 This year, your scores from the IPC are available in your MyPPA profile! Simply log-in and head there to see how you did.
The 2018 IPC saw 1,301 photographers participate, with 5,077 images entered for judging. Of those, 2,622 (51%) earned merits in the competition. So, you can see what a big accomplishment earning a merit is!
Thanks to all the photographers who participated! Don't forget that if your image was chosen to be part of the loan collection, it will be on display at the IPC Exhibit at Imaging USA 2019, January 20 - 22 in Atlanta, GA. Plus, you'll be eligible for the Grand Imaging Awards, also presented at Imaging USA.
Check your scores today, and we'll see you at Imaging USA!