Become a PPA Affiliate or Renew Your Affiliate Status
Does your association have an interest in becoming a PPA Affiliate? Wonderful! We'd love to have you!
PPA has many partners across the U.S. and abroad, and that's why we have developed a set of principles for all associates to abide by.
Are you a current PPA Affiliate and need to renew? Download the form or complete your application online.
Complete the Affiliate Renewal Application Online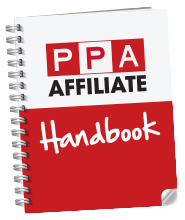 To become a PPA Affiliate, your association will need to Download and the read the PPA Affiliate Handbook PDF.
The Handbook has everything you need to know to be a successful PPA Affiliate. From the application process and The Principles of Affiliation to renewing your affiliate membership and much, much more, this handbook will walk you through the entire Affiliate application process and beyond.
It's easy as 1-2-3 to renew PPA Affiliate membership!
Complete the Affiliate Renewal Application or print this form and mail it with all its attachments.
After your filled out the form online...
 
Upload an Excel document with your association's most current membership roster. In order to do that, simply use the Affiliate Membership Roster Upload Form.
Remember: the roster will need to be submitted in an Excel-format to be accepted.
 
Download the annual PPA Principles of Affiliation document.
As part of your affiliation with PPA, you are required to download and read PPA's Annual Principles of Affiliation. While all PPA affiliates are autonomous organizations, sometimes we all have to work together towards a common goal.
Thank you for working with PPA! Together, we will continue to elevate the photographic industry.