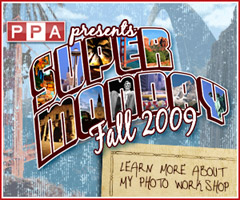 On May 17, more than 80 of your colleagues across the country will open their studio doors to share their knowledge with you.

There'll be Super Monday classes dedicated to babies and seniors, posing and lighting, retouching and digital workflow, marketing and sales strategies. It's a chance you won't want to miss--a full day of instruction, inspiration and networking brought to you by fellow professional photographers.
The popular Super Monday bonus pack is back! View the sponsors and the goodies here.
Learn more about Super Monday on www.PPA.com. Browse our online course catalog to find a course near you, and register by May 3 for only $99.