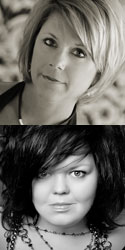 Kay Eskridge &
Jennifer Hillenga
Would you say that one of your goals is to tell the story behind an image? To show the external and internal beauty of each subject? Jennifer Hillenga, M.Photog.Cr., and Kay Eskridge, M.Photog.Cr., CPP, believe in that...and they bring those statements to life in their boudoir photography, too!
These two award-winning photographers have created their own successful boudoir divisions, one of today's hottest photographic specialties. But their success is not all due to great photography. A lot of it has to due with the client experience, from photographing with sensitivity to making the client feel beautiful and empowered.
Kay and Jen will spend a day at Imaging USA showing you how to do it all. They'll demonstrate what has worked for them, from connecting with clients to marketing ideas to hands-on practicing of poses and set designs that sell. By the end of the class, you'll have images for your portfolio, PR cards designed and ready to be printed and the knowledge needed to begin your own boudoir division.
The goal here? To increase the client's confidence with an experience she won't stop talking about! So if you're thinking about bringing a little spiciness to your photography business, do it the right way: Join Kay and Jen's pre-convention class, "Boudoir: Bold & Beautiful" (Friday, January 14th, 9:00am-5:00pm).
We'll see you there!