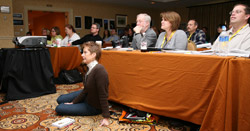 Cooks know that preheating the oven is essential for getting the best results from baking. But did you know that the same goes for photography education?
Coming in early for Imaging USA's pre-convention classes is the perfect recipe for the best educational and networking results--it makes the entire experience more rewarding. You will have access to more instructors and more in-depth education, for many pre-convention classes last all day (or at least several hours). And that can also lead to tighter connections with your fellow pre-conventioneers.
"Preheat" your Imaging USA experience with the following early-bird specials:
Speed Shooting with the Pros classes - learn a multitude of tips from one hot photographer after another.
PPA's Studio Management Services (SMS) workshops - get your business on the path to success with these business, financial and marketing hotshots. (The Business of Wedding Photography, The Business of Portrait Photography & the 3-Day SMS Business Workshop)
Daylong classes on creating and refining your senior, boudoir or pet photography specialties.
Corel® Painter™ classes to help beginners and those more advanced take your art to new places.
And that's just a bite-sized sample of the opportunities available in these three extra days of education! Get your creative fire started--choose your pre-convention classes online now.
Your Imaging USA Team
P.S. Be sure to book your hotel room according to the times of your chosen pre-convention classes!