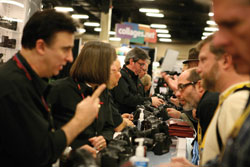 Do you have your holiday wish list already? Yes, I know it's only September, but there are so many hot new photo products and services out there...why wait?
Hop on www.ImagingUSA.org/floorplan and make your list, courtesy of Imaging USA's upcoming Imaging EXPO, one of the largest professional photo trade shows in the U.S. (and the first one of the year). You can even cruise the interactive, live floor plan! It's constantly updated, so you can see who is coming, where their booths are and what kinds of products they'll be offering come January 16th.
Have you been wondering if a lens is right for you? What about that new album or background you've heard about? Come see for yourself how these (and many, many more) products look and feel in person. You might discover something new that will change the way you do business.
But it's not just great deals and products--the Imaging EXPO also includes live, in-booth demos by experts. In fact, GraphiStudio Theater dedicates an entire theater-style space to their demonstrations!
Make your wish list now for great products and services that fan the flames of your inspiration. Then turn those wishes into reality at the Imaging EXPO.
We'll see you there!
(Image ©Victor Bruce)