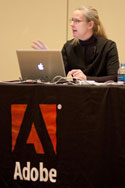 Image ©Victor Bruce
Hands in the air: who uses an Adobe ® product somewhere in your photography workflow? Chances are, most of us do. That's why Adobe sponsors classes at Imaging USA, including the Adobe Photography Solutions educational track.
Monday and Tuesday are your days for Adobe edification, focused on the newest Adobe Photoshop® and Adobe Photoshop Lightroom® versions. And not only can you learn new tips, tricks and timesavers to accelerate your workflow and increase your creative freedom, you can also get specific help on how to use your HDSLR camera to create videos and edit them via Adobe Premier Pro CS5!
You have the chance to catch any--or all five--of these Adobe-sponsored classes at Imaging USA:
Join us in San Antonio to learn from those Adobe aces.