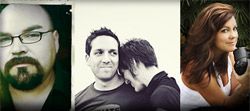 Trusted Voices & New Faces
Proven methods, new ideas and fresh inspiration are delivered by the hottest names in photography. You'll see speakers you recognize and new faces you won't forget.
You simply can't learn everything based on your own experience--that's another reason why Imaging USA is so handy. You can come to one place and hear from dozens of professional photographers who've found success in their art and their businesses, the true photographic rockstars!
From trusted voices like Yervant, Tony Corbell, and Ann Monteith, to newer faces like Jose Villa, Scott and Adina Hayne, and Alycia Alvarez...these photographers will share their experiences, helping you gather ideas and innovations to try back home. And that's really the key. Take what these photographers share and tweak it to make it work for you.
As you anticipate the www.ImagingUSA.org for the latest instructor additions, and we'll see you in Nashville soon!
Your Imaging USA Team